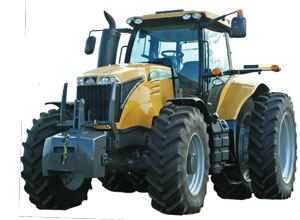 AGCO's newest series of row-crop tractors offer power and traction. The MT500E series features five models (the MT555E, MT565E, MT5575E, MT5585E and MT595E) with 185 to 255 maximum engine horsepower. The Tier 4 Final six-cylinder 6.6- and 7.4-liter diesel engines provide great throttle response and torque at all revolutions per minute, says John Slama, AGCO's marketing specialist for high horsepower tractors.

The high performance engines feature twin wastegated turbochargers and a new Engine Performance Management system. This provides a higher pressure fuel injection system for cleaner combustion. 

All tractors in the series feature an efficient continuously variable transmission (CVT) for an infinite number of speeds. "The CVT offers higher horsepower capability, and farmers can see 25 hp extra as a result," Slama says.

Farmers can choose to upgrade to a 50-gal.-per-minute hydraulic system (with the CVT) for better control of large implements. The tractors are particularly suited for tillage, planting and big baler operation, he adds. A front PTO is a factory option. 

To ensure traction in various terrain, the MT500E tractors are equipped with an upgraded front-axle suspension. Independent, double-acting cylinders are mounted directly to the frame, allowing the operator to adjust the suspension to any task, Slama says. 

The dash features high-definition color graphics, with a new screen that is 50% larger with 10 times higher resolution. The Auto-Guide 3000 system, a fully-integrated precision farming package, is included. 

For more information, visit www.agcoiron.com.