The New Holland Guardian series includes four front-boom sprayer models with two chassis sizes. The sprayers are powered by Cummins engines (rated at 300 hp, 320 hp or 380 hp) with selective catalytic reduction (SCR) technology to comply with Tier 4B emissions standards. Tank sizes range from 1,000 gal. to 1,600 gal. for fewer refill stops. Boom lengths of up to 120' and 6' clearance allow use on corn throughout the growing season. Four-wheel hydrostatic drive is standard on all Guardian sprayers. A four-wheel crab steering option is available. Weight is dispersed equally to all four tires for maximum traction and flotation. Both configurations feature an industry-leading tight turning radius for maneuvering in tight spaces and providing effortless headland turns.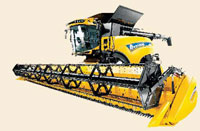 Harvest heavyweights. The new CR Series combines feature Twin Pitch rotors, Dynamic Feed Roll, SmartTrax rubber tracks, Tier 4B ECOBlue Hi-eSCR engine technologies and the Harvest Suite Ultra cab. The combines offer more power—from the CR6.90 at 401 hp to the flagship CR10.90 Elevation at 653 hp. The CR10.90 Elevation is equipped with the Cursor 16 engine, which features Common Rail technology for precision fueling. Grain tank capacity ranges from 315 bu. on the CR6.90 and CR7.90 to 410 bu. on the CR8.90, CR9.90, CR9.90 Elevation and CR10.90 Elevation. Auger unloading speed is up to 4 bu. per second, and an extra-long 34' folding auger is available. The new Harvest Suite Ultra cab offers ample room at 131 cu. ft. and 68 sq. ft. of glassed area, with a sloping front windscreen for excellent visibility.  

For pricing and other information, contact your local dealer or visit www.newholland.com/na.