What do I love most about compiling auction data on farm equipment for the past 25 years? The answer is easy: tomorrow.
Every tomorrow is a new day with new auctions across the U.S. and Canada. Each day is its own adventure filled with surprises. What's up? What's down? Where? Why?

In this column, I usually answer those questions by type of machine. But this time, I'm narrowing the lens to a single day: Saturday, March 15, 2014. That's right, just one day of auction results looking at a wide swath of tractors sold at different types of auctions all over the country. 

Check out the table on page 58 to learn more about the 28 tractors I've selected from sales that day. It was a challenge to winnow down the list, but the table highlights a variety of tractors: new, old, big, small, new records, and bargains from both consignment and farm auctions.
 This 1992 John Deere 4055 two-wheel drive with only 498 actual one-owner hours brought many bidders to the Big Rapids, Mich., sale. It sold for a record $63,750.

Token tractors. On March 15, I was keenly interested in the 7th annual Voelker Implement consignment auction in Big Rapids, Mich. One particular tractor caught my attention at this sale: a 1992 John Deere 4055 two-wheel drive with only 498 actual one-owner hours. The owner was a vegetable grower who bought the John Deere 4055 new but didn't use the tractor a whole lot. It was a nice-looking tractor that I would describe as drool-inducing.

Apparently, many bidders were salivating at the opportunity to own the John Deere 4055. The bidding was strong and finished at $63,750, which is a new record auction price by $16,750. 

Also sold at this Michigan auction was a mint condition 1982 John Deere 4640 with 4,645 hours. According to the serial number, the quad range was one of the final 4640s made by John Deere. It sold for a healthy price of $32,000.

Just for fun, the night before the sale, on Friday evening at about 8 p.m. central time, I posted pictures of these two tractors to our Machinery Pete Facebook page and asked folks to guess the final sale price for the pair. By the next morning, we had just shy of 800 guesses. The winners, both from Kentucky, received a Machinery Pete hat and t-shirt.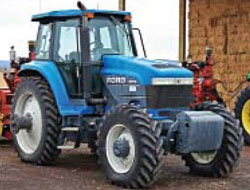 Also on March 15, 2014, this front-wheel-assist, 1995 Ford 8670 with 5,433 hours sold for $35,000 at a north-central Oregon farm auction.

A few states away in eastern Maryland, a Farmall/International Harvester Company collector auction was underway. This sale was full of restored red beauties. A restored 1953 Farmall Super C sold for $11,000, and a 1957 Farmall 450 gas went for $10,000. Another fun combination was a 1947 Farmall B, restored, with canopy and sold with a nifty parade cart pulled behind. The tractor and cart sold for $12,000.

Sometimes you find a deal. An auction almost always produces some bargains. Another good buy on March 15 was a 2001 Caterpillar 75E with 3,909 hours and 30" tracks for $34,000 at a northeast Colorado farm auction. Likewise, a 1995 New Holland 8670 front-wheel assist with 5,433 hours sold for $35,000 at a farm auction in north-central Oregon. But this Pacific Northwest farm sale also saw a 1975 John Deere 4430 sell for $18,000, 47% more than this past year's average auction sale price on John Deere 4430s of $12,246.

One trend I've been watching develop in early 2014 is how the market is changing for John Deere 4440s in solid condition. Made from 1978 to 1982, I'm under the impression that this model is on the cusp of being sought after not only as a reliable working tractor, but also from those with an eye toward the future as a "collector" tractor. I know it doesn't sound right to mention a John Deere 4440 and collector in the same sentence, but check out the 1982 model that is listed below. The 1982 quad range with 6,777 hours sold at a consignment auction in west-central Illinois for $29,000. This is the fifth John Deere 4440 that sold between $27,000 and $30,700 just in 2014 with between 4,700 hours and 9,120 hours.

These are just a few examples of how watching auctions day in and day out can reveal trends as they develop.