The price of corn sagged in July. Did used farm equipment values follow suit? Well, yes and no. 

Yes, I did see softening auction prices on large late-model (one to five years old) equipment. When the bidding hovered around $200,000, buyers would back off. Lower corn prices were definitely a driver but so was a surplus of large late-model used inventory on dealer lots, including four-wheel-drive tractors, 200-hp or more tractors, larger class combines, 24-row planters and self-propelled sprayers.

The "no" answer comes into play when trying to generalize and say all used farm equipment values have fallen since the price of corn dropped. That couldn't be farther from the truth. I've had a stream of super strong price data flow in throughout July to prove the point. Perhaps, there was no individual farm auction more telling than a sale in southeast South Dakota on July 24, 2014.

Wow, what a sale! Where should I start? First, the Knight 1140 manure spreader sold for a record high at $17,250. On the night of the sale, my auctioneer friend Joel Westra told me the owner paid $10,000 for that spreader two or three years ago.

That price jives with other record high sales for manure spreaders in good condition this year. Now the livestock farmers are having their turn at the trough to bid up used equipment after standing back and watching grain farmers do so the past six years.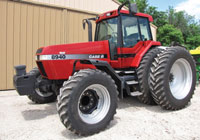 Tied for a record high price of $92,000, this 1997 Case IH 8940 had 2,675 hours when it sold on July 24, 2014, at a farm auction in southeast South Dakota. 

The second highlight from the South Dakota farm auction was a Westendorf WL-42 loader that sold for $7,000. That's a new record price by $700. 

An International 105 grinder mixer went for $1,700, also a record. An International 720 5-18 plow sold for $3,500. That one made me scurry into our database where I found that price to be the highest on that type of plow in 18 years.

Let's talk tractors. Still at the same South Dakota sale, three red beauties burned up with bids. A 1976 International 1066 (black stripe) with 6,400 hours sold for $19,500. That is the fourth highest auction price I've seen in more than 18 years. A 1990 Case IH 7120 two-wheel drive with 3,900 hours sold for $52,000, which is the third highest auction price in 17 years.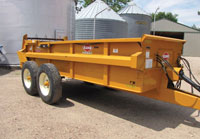 At the same South Dakota auction, this Knight 1140 manure spreader sold for a record high price of $17,250. The farmer paid $10,000 just a couple years earlier.  

Then there was the 1997 Case IH 8940 with 2,675 hours. This 200-hp tractor brought a record-tying sale price of $92,000. The other record price holder is a Case IH 8940 with only 1,875 hours that sold at a Jan. 11, 2011, farm auction in northeast Illinois. 

There are two reasons for the rise in these values despite the drop in commodity prices—age and simplicity. A 1997 model is now 17 years old, but the cost of a new similar model is increasing. As for simplicity, you've all heard the chatter. There's an increasing number of farmers placing greater value on acquiring older simpler machines that don't require a computer to fix. According to the data I compile, this trend is only intensifying.

You could sense this sentiment in action during the chilly and rainy Sept. 28, 2013, farm auction I covered in east-central Iowa. A 1998 Case IH 8940 with 2,436 hours sold for a strong price of $87,000. The same was true at a March 1, 2014, farm auction in northwest Pennsylvania where a beautiful 1999 Case IH 8950 with 3,325 hours sold for a record at $90,000. I posted a YouTube video of that Case IH 8950 selling, and the bidding was some of my favorite of the nearly 500 YouTube videos I've posted during the past five years.

The winning bidder was standing directly in front of the auction truck. You could tell he really wanted this tractor. As the bids crept past $80,000 he began to fidget. When the bid was with someone else at $88,000, he stepped toward the auctioneer, raised his arm and emphatically said, "90!" That jump bid nailed it—and the tractor was his.

Such bold bidding is what it takes these days to get your hands on a super condition 15-year-old tractor with low hours at a farm auction. Even with the lower price of corn.