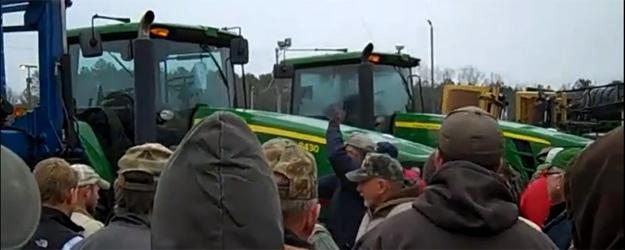 Looking to add some new iron to your farm in the next few months?
Auction prices for used machinery stayed strong through the end of 2013. "I was thinking values would probably be flat, given the more profit-challenged environment we're in," says Greg Peterson, who tracks the equipment market and is Farm Journal Media's used equipment values expert.
Peterson, who spoke at the recent Tomorrow's Top Producer conference and Top Producer Seminar in Chicago, Ill., says so far in 2014, auction prices have remained strong, which is typical. "Farmers need to be aware of what's happening in the used machinery market to buy at good prices," he says.
If you do want to add some new iron to your operation in the next few months, here are Peterson's top tips.

Consider alternative auctions.
Typically, Peterson says, used machinery goes for the highest price at farm auctions. Buyers know the seller and know the history of the machinery.
"You see big premiums on farm auctions," he says. "I think folks need to look at other types of auctions, such as consignments, dealer auctions and online auctions, as a buying opportunity." Peterson says equipment tends to go for around 10% less than farm auctions. "With elevated used equipment values, if you can save 8% on a $200,000 item, that's a good savings," he says.

Know the market's rhythm.
Timing is important when it comes to buying used machinery. Peterson says the first and fourth quarters tend to have the highest prices, while the second quarter shows softer used machinery prices. "With the Section 179 down to $25,000 and no guidance on what will happen, the second quarter might be even softer," he says.

Section 179 of the Internal Revenue Service tax code allows for an immediate income write-off for any business asset purchase (new or used) made during that calendar year. In 2013, it was at an all-time high of $500,000. There's still a chance the price level may be increased, but this uncertainty is keeping many farmers from big-time machinery purchases, Peterson thinks.

Buy the right aged equipment.
Petterson, who has been tracking used machinery prices for around 25 years, says the biggest trend he's seen develop in the market is age of equipment. He says farmers should aim to buy machines that are between three and eight years old. He says they will hold their value the best. "The market sees machines that are 10 to 12 years old and much older and less valuable," he says.
Don't let your emotions run wild.
Live auctions are known to be high energy. Peterson says while that makes them fun to attend, farmers must learn to stay focus the true value of the machinery. "If you are buying, you need to strip out the emotion as much as you can," he says.
His advice is to do all of your homework before you attend the sale. Know what the item is worth and stay solid at that level.

Take good care of your machinery.
While many might think the color of a machine or the local market are the biggest factors in determining a price level, Peterson says it all comes down to condition. "There is a lot of demand for good, older equipment," he says. "If equipment is under 10 years old but in good condition, it is going up in value. It literally pays to take good care of your equipment."
Listen in as Peterson provides insights on the used machinery market:
For more information on the Top Producer Seminar or Tomorrow's Top Producer events, visit www.TopProducerSeminar.com. 
.................................... 
Thank you to the 2014 Top Producer Seminar sponsors:
Premier Sponsors: Agrigold, Apache Sprayers, BASF, Bayer CropScience, Cargill, Case IH, Challenger, Dow AgroSciences, DuPont Pioneer, ESN, Firestone, Koch Agronomic Services, RCIS, SFP, Syngenta, Top Third Ag Marketing
Co-Sponsors: Advance Trading, CliftonLarsonAllen, The Gulke Group, Kennedy and Coe, Michelin, Novozymes, OPI Integris, Soybean Premiums, Wyffels Hybrids