Electric enhances reliability and control of machines and implements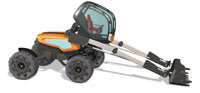 A revolutionary concept tractor from Valtra, ANTS consists of two modules: a 100-kW soldier and a 200-kW worker, which can be used together or separate.
Pure electric power is no longer in the farm-of-the-future realm. Possibility has become practice, and in the next decade, electric-powered machines and implements are set to make inroads across U.S. farmland.

In 2010, AGCO debuted the first E-RoGator, a self-propelled sprayer with a diesel hybrid generator and electric motors instead of hydraulic wheel motors. 

"We saw fuel efficiency savings of 20% to 30% on the first iteration," says Matt Rushing, vice president of global Advance Technology Solutions, AGCO. "Component size is a concern, along with weight and cost, which has to be balanced to ensure safe, efficient and reliable operation."

The next step in electric technology for AGCO will center on implements, such as planters, Rushing notes. Compared with hydraulics or ground-engaging mechanical hardware, electric motors offer greater control for seed metering and eliminate mechanical issues associated with moving fluids and parts.

On diesel engines today some parasitic components are driven by electric power. Transferring the ancillary drives to electric power again provides more reliability and generally eases the engine load, he adds. 

Another challenge for electric power is storage. Battery technology is consistently improving, but in many cases, electricity must be stored on the machine.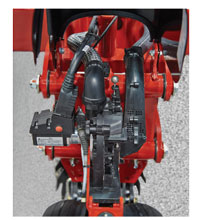 Horsch built its planter with electric drives on every row unit to minimize vibration for even seed placement.
What about the possibility of eliminating fossil fuels altogether? "People are already looking down the road at agriculture vehicles powered 100% by electricity," Rushing says. "The machines will likely be small units that perform multiple jobs."  

AGCO introduced the Valtra ANTS concept in 2011, which replaces one or two large diesel machines with 10 to 15 small electric-powered machines to handle the same work. "The machines act like an ant colony and provide more productivity, avoiding downtime when a huge vehicle is sidelined," Rushing says. "I think we'll see that in fields in the next 10 to 15 years—small, purely electric machines acting like an insect swarm completing jobs in the field."

Farmers' comfort and familiarity with electric machinery have grown in tandem, especially alongside 
advances in the consumer world. 

Horsch has been using electric motors to meter out seed and fertilizer for several years, says Luke Thornton, Horsch director of sales. "Our electric-drive planter eliminates significant maintenance and allows us to more precisely control how our metering unit is working," he says. "Parts don't wear out, and we don't lose accuracy." 
To learn more about electric machinery innovation 
as it makes headway to the farm, visit www.FarmJournal.com/farm_of_the_future