Kinze Manufacturing and other companies are  building mammoth machines that take size to new lengths.
Since mechanization, farm machinery has consistently grown in power and size. Productivity demands are converging with equipment technology, resulting in a new baseline for iron.
A chain reaction occurs as a jump in size cascades through the industry. Tractors, planters, sprayers and combines are going to new lengths to match the demand.
"What we consider a row-crop tractor used to be 100 hp or more. Then, it was 140 hp, and now it is 180 hp. It keeps creeping up," explains Tom Dean, Case IH marketing manager for high-horsepower tractors. "Really, the largest farms are beginning to favor 200 hp and 250 hp and up for front-wheel-assist tractors."
Two important factors in farming are moving in opposite directions. Farm sizes are getting larger while the pool of qualified help is decreasing.
"It's harder to find good operators, so when you have a good operator you want to use them across as many acres as you can," Dean says.
The horsepower hike in front-wheel-drive tractors is catching up to four-wheel-drive tractors.
"As we get bigger with front-wheel assist, everything is moving up, including four-wheel drives. The small end of the four-wheel-assist market keeps dropping off—there is a kind of horsepower creep going on," Dean says.
The overall power surge has yet to reach peak horsepower, but the largest on the market today is the Challenger MT975B with 570 engine hp.
A driver for the greater horsepower requirement is the larger implements that go on the back.
"The most popular sizes are 16-row planters on a 40' toolbar and 24-row planters on a 60' toolbar," says Wade Christensen, product planner with John Deere's seeding group. "Farmers are considering narrow rows, but there hasn't been a noticeable trend in the number of row units sold increasing faster than the size of toolbars."
Christensen says the most common row spacing remains 30" across the Corn Belt. The largest planter from John Deere is a 36-row unit on 30" spacings (90' toolbar).
"While 16-row and larger planters have definitely trended upward in recent years, 12-row and smaller planter sales have not increased at the same rate," says Craig Harthoorn, sales manger for Kinze Manufacturing.
Kinze's biggest model is a 36-row machine on 30" centers, as well.
Harthoorn has observed a growing demand to handle bulk seed on planters as farmers want to reduce fill times and stay on the move. He credits this trend to farmers having more acres to cover in the same planting window, as well as new technologies enabling consistent planting across wider planter widths.
"Today's planters must handle a wider variety of seed sizes and seed treatments, and they must be able to place those precisely," Harthoorn says.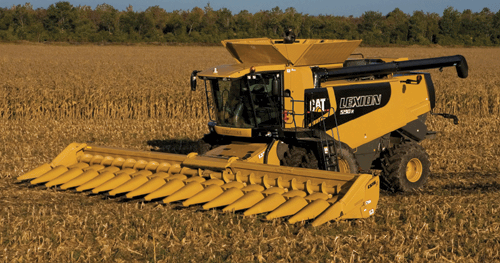 The Lexion 590R is the largest combine available   in North America. It powers through harvest with a 462-hp CAT engine and a   360-bu. grain tank. It has a cousin on tracks—the Lexion 595R.
The ripple effect carries over to sprayers, which are also gaining in size, capacity and technology adoption.
"Farmers are trying to cover more acres faster and minimize the number of passes to reduce wheel tracks and compaction," says Jim Williams, product marketing engineer at Hagie Manufacturing. "If farmers are following wheel tracks, larger wheel widths help match up to the larger planter tracks to not have to count rows."
These bigger sprayers come with larger booms. Hagie, Case IH, John Deere and Miller-St. Nazianz offer 120' boom options on their models.
"Europe has had 120', 130', and 150' booms for years, but they are content with going 6 mph, whereas some of our customers expect to go more than 15 mph," Williams says.
The self-propelled sprayer market has been given a boost during the past couple of years.
"The initial self-propelled market boom started to hit right around soybean rust, and it was about the same time the farm economy started to get its legs underneath it," Williams says. "There seems to be more chemical being applied, and late-season fungicides have driven this market."
At harvest, the size upgrades continue as farmers employ more powerful combines with greater capacities. Kevin Bien, combine marketing manager for AGCO, says a year like 2007, with upward movements across all commodities, shows interesting trends. Sales of combines in general are up, but there are breakouts in combine classes exemplifying the shifts in size of these machines.
"The real upswing in combine size can be seen in the Class 8 and above market," Bien says. "A year ago, this segment accounted for 13% of total North American combine sales. This segment continues to grow, and now in this year's combine market, Class 8 and Class 9 machines are 19%."
Combine class is now determined by horsepower (global standard of kilowatts), whereas bin capacity used to also factor in the standard. There is one machine on the market advertised as a Class 9, the Lexion 590R and its counterpart on tracks, the 595R.
Bien says Class 6 and Class 7 machines add up to 72% of combine sales. He attributes the growing attraction toward larger combines to the same factors influencing other machinery trends—larger farms and less-qualified labor.
"There is a migration as farmers buy a new machine to move from a Class 6 to a Class 7 and from a Class 7 to Class 8," he says. 
This ripple effect doesn't stop at machines. Grain-handling equipment, such as augers, wagons and storage bins, are becoming grander in scale compared with their predecessors.
As larger machines dominate, expect iron to reach a new size plateau. 

Hagie Manufacturing has joined other machinery  makers in offering a 120' boom option on its sprayers.
---