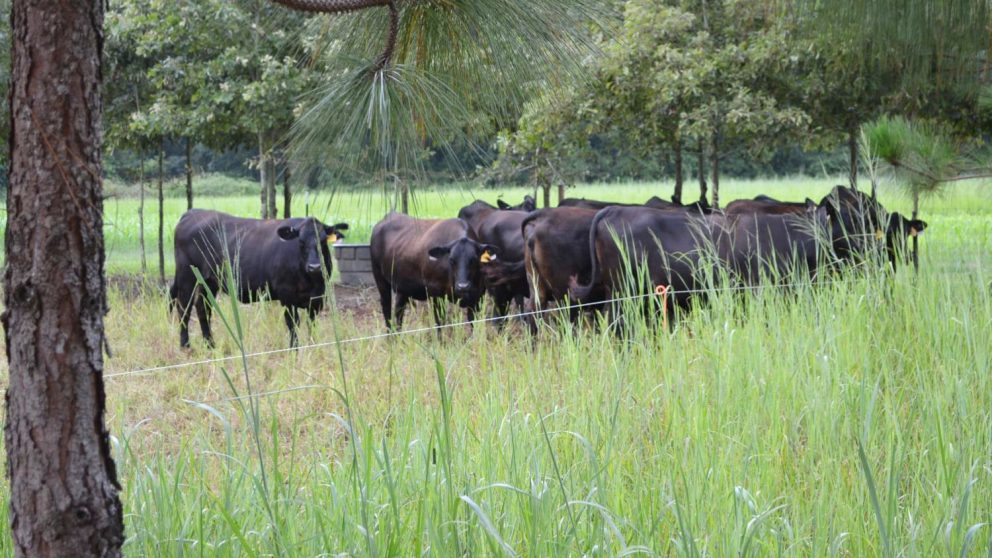 Silvopasture – the practice of combining forestry with forage and livestock production – is rare in North America, but the practice could bring both economic and environmental benefits on marginal lands where traditional row cropping hasn't worked.
To find out, scientists from NC State University and the U.S. Department of Agriculture are studying the practice at the Cherry Research Farm in Goldsboro, N.C.
Alan Franzluebbers is coordinator of the Center for Environmental Farming Systems' (CEFS) research unit at the farm, where the studies are taking place. The USDA scientist, affiliated with NC State's Department of Crop and Soil Sciences, said he and fellow researchers Miguel Castillo, an NC State crop scientist, and Matt Poore, an NC State animal scientist, are interested in learning more about silvopasture's potential here.
The site where they are working has proven difficult for conventional agriculture, Franzluebbers said. That's because it's in a flood plain and features a wide diversity of soil types and slight variations in elevation.
Previous researchers converted an open field into one designed for alley cropping: They planted rows of crops interspersed with stands of native loblolly pines, longleaf pines and cherrybark oaks.
Franzluebbers said that they found that the crops — corn and soybeans — didn't do particularly well. In some years, drought pushed down yields in sandy areas, and, in others, floodwaters decimated low-lying areas.
Rather than giving up on agroforestry altogether, scientists recently decided to try another approach: planting native warm-season grasses where the crops had been and allowing Black Angus cattle to graze there during summer months in the protection of the trees' shade.