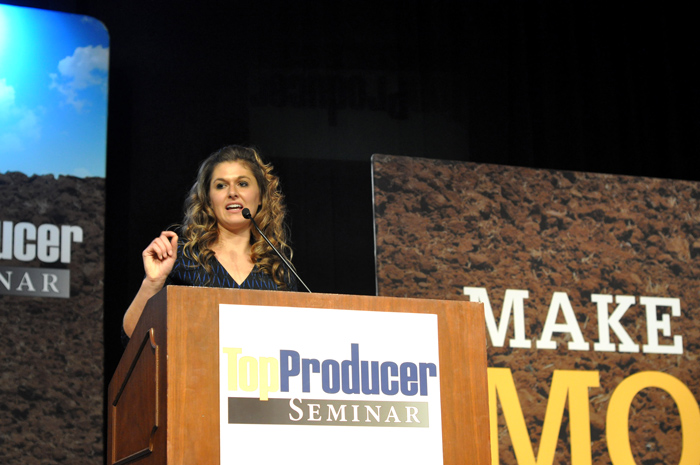 Maggie Holub always knew farming would eventually be her profession. To arm herself with vital financial skills and experience, she earned an agribusiness degree at the University of Nebraska and became a credit analyst for Farm Credit Services of America.
In October 2014, her world changed. Her father passed away from brain cancer, leaving her Scribner, Neb., operation with no leader and a crop in the ground. Holub's family rallied through harvest and started making important decisions about the future.
"My mom presented the opportunity for [my sister's] husband to farm half of the acres and then I farm the other half of the family ground," Holub says.  
In 2015, Holub entered her first year as a farmer while keeping her job at FCSAmerica. Like many young farmers, she had little working capital. She secured operating financing through her local Farm Service Agency, calculated her break-evens, projected her cash flow and improved the operation's record-keeping. This was on top of developing her agronomic skills, learning to operate all the farm equipment and increasing her grain marketing knowledge.
"I was totally scared but I was also really excited at the same time," she says.
In her first year of farming, Holub's goal was simple: put a crop in and harvest it—all by herself. Her goal the following year was centered on grain marketing. She developed a marketing plan to capture better basis and make contract sales. Her goal in year three was to not just break even, but to earn a profit. All of these goals, she has proudly met, and she has already set more goals for her corn-and-soybean farm.
"I would like a diverse diversify my operation even further and I want to build a hog building and I want to bring hog production back onto our farm," she adds although she's not ready to give up her career at FCSAmerica anytime soon. "I love it here too. That's the struggle I have. I mean it's real. It's a real struggle."
Congratulations to Maggie Holub for being named the 2018 Top Producer Horizon Award winner.
Thanks to the 2018 Horizon Award sponsor:
The winner received an all-expenses paid trip to the Top Producer Seminar in addition to other great prizes from DuPont Pioneer.
Top Producer Horizon Winner: Maggie Holub