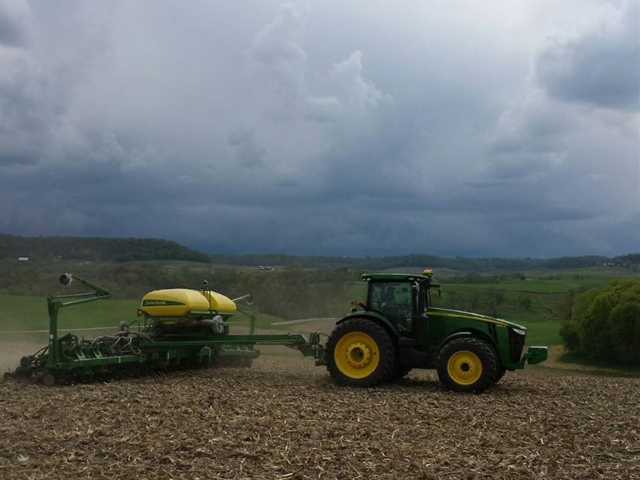 After a few days of warm and dry days in parts of the Corn Belt, farmers had the opportunity to plant, but midweek showers are moving across the Midwest, adding new moisture to soil that's seeing adequate or surplus levels.
"We need a few more weeks before we start getting panicked about not getting a corn crop in," said Todd Hubbs, ag economist at the University of Illinois. "May 20 for corn and around May 30 for soybeans, and I don't think we are in any danger right now."
According to Brad Rippey, a meteorologist with USDA, the upcoming rain in the forecast is spread out, so it won't be a concern like it was in 2008 and 2011 where there were widespread planting delays.
"May seems to be, the forecast and the jet stream pattern, setting up in a way that could bring some dryer weather into the Midwest and that would encourage a rapid pace of planting if we got drier weather moving in," said Rippey.
Last week, planting progress for the major grains was behind because of the excess moisture.
Corn planting has recovered from some delays and sit nearly at the five-year average of 18 percent, but still lags behind last year's pace of 28 percent.
As for soybeans, 6 percent is planted, twice the five-year average. By state, Mississippi and Louisiana are leading the way with double the average pace.
AgDay meteorologist Mike Hoffman's precipitation estimate shows Minnesota, Wisconsin, Missouri, Illinois, Indiana, Michigan, Kentucky, Tennessee, Louisiana, Mississippi, Alabama will receive anywhere between 0.1" of rain up to 3" by Thursday evening.
Watch AgDay's weather forecast every weekday. Check your local listings or watch on the Farm Journal TV app.
---
NOAA Long Range Flooding Forecast
Click the dots to get more information on potential flooding in your area, or visit NOAA for more information.