Working alongside multiple generations on a family farm is rewarding—and challenging. Knowing that there is a new generation coming up in the ranks solidifies all of the hard work of previous generations.

"Multigeneration family farms generally go through stages," acknowledges Dick Wittman, a family business consultant who also farms in a multigenerational partnership near Culdesac, Idaho. "The first generational transfer is easy and the second is generally manageable, but the third stage involving siblings and cousins requires the leadership to conduct some robust discussions that often get ignored," he says.

Meet a family who know a thing or two about involving multiple generations on the farm or ranch.

Rob A. Brown Ranch
Rob A. Brown was reared on a Texas ranch that has been in his family since 1895, but his entrepreneurial spirit led him to expand his own operation in order to ensure that his children and future generations have the chance to continue in the family business.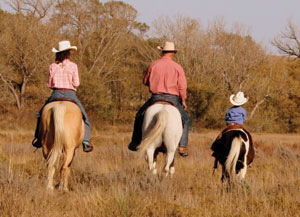 On Talley and Rob A. Brown's ranch in Texas, all of their seven children help out with the daily chores, even six-year-old Ike.
PHOTO: Amy Brown
He's still actively involved in the 40,000-acre R.A. Brown Ranch that is owned by him and his wife, Talley; his parents, R.A. "Rob" and Peggy; his sisters, Betsy and Marianne, and their husbands, Jody and Todd; his brother Donnell and his wife, Kelli; and 17 grandchildren.

Like Rob A. and his family, each family operates its own businesses, but the ranches rely on the expertise of each family unit to thrive. For example, Donnell and Kelli manage a seed stock business, and Rob A. and Jody have developed a few partnerships, including stocker cattle, for which Jodi grows wheat.

"We are blessed to be able to work together separately for one common goal," Rob A. says.

In the past 10 years, Rob A. and Talley have purchased and inherited ranches to expand their commercial cattle and quarter horse operation, which is headquartered in Hutchinson County, Texas. Their planning and business savvy is paying off: Their oldest son, RA, is now managing one of the ranches that was inherited from Talley's family.

"I feel so fortunate that our son will be able to start his family on land that was my father's," Talley says.
Read about other families who have success in working with multiple generations.