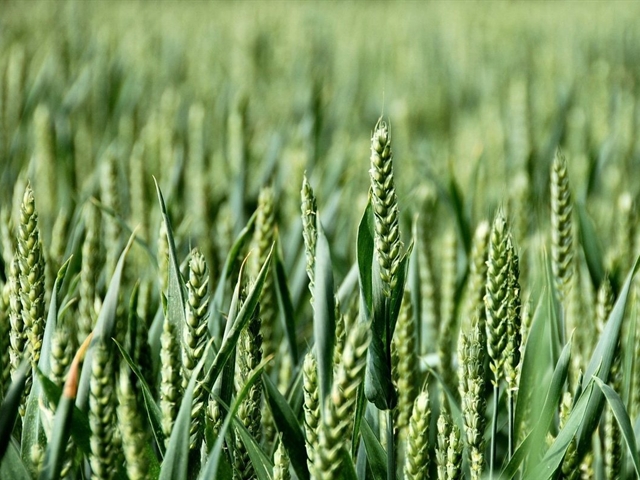 Wading through wheat, Justin Krick, a farmer in Frankenmuth, Mich., is looking at one of his best wheat crops yet, but it's what's going on below the ground that's so unique.
"You can see how far those roots are going down," said Krick.
His family's roots started six generations ago, with three generations standing on the family farm today. Soil conservation and planting cover crops to improve soil health is nothing new in Krick's Michigan wheat fields, but what applications are applied and when has changed.
"Our inputs are more scientifically researched now, and especially like our nitrogen preservation products, we're able to feed these plants and minimize our risk of loss," he said.
About 70 miles northeast, Rita Herford, who farms with her family near Minden City, Mich., is doing the same. This is Herford's sixth season on the family farm, helping raise the bar on conservation.
"We're doing things like cover crops to keep the soil from eroding to keep the soil organic matter to increase that," said Herford. "We're soil sampling, grid soil sampling so every two acres is soil sampled. Then, we take those results and we apply fertilizer where it's needed."
Both Herford and Krick are doing all of this, with the help of Kellogg Company.
"We're in their Great Lakes Origin Program, and that means we're giving them all of our information, our crop records, so they can turn around and show the consumers the sustainability side of their farmers," said Herford.
"We keep track of all our inputs, our applications and our farm management practices, and at end of the year, we are able to look back and track our sustainability efforts using certain metrics," explained Krick.
Farmers and the Kellogg Company may have different backgrounds, but they all have the same goal: improving soil health.
"That is the number one most important thing to us, because the soil is where everything happens," said Krick. "If the soil is not healthy, it's not active it doesn't have plant nutrients, this wheat field would not be looking as nice as it is."
"We seek to understand what are the areas of opportunity, what are the needs, and they vary," said Diane Holdorf, Kellogg Company's Chief Sustainability Officer. "What works on one acre, doesn't work on another acre, much less state-to-state, crop-to-crop."
Holdorf says from farmers to consumers, to even their own employees, the company cares how their key ingredients are grown.
"Without robust food systems, and strong healthy farms and farmers who can make a good livelihood, the Kellogg Company can't exist," she told U.S. Farm Report host Tyne Morgan.
The iconic Kellogg brand has been parked on grocery store shelves since 1906, and the hands digging in this soil, are also the hands that indirectly feed Kellogg their grain.
"This has been a real learning journey for us, because the Kellogg Company doesn't own farms, we don't have farmers in our business," said Holdorf. "We work with suppliers who are often one, sometimes two to three steps removed from the farm, so we had to do some real investigation to work with our suppliers and understand where are these ingredients truly grown."
Holdorf says as a company, Kellogg has a clear purpose.
"We're purpose driven, and our purpose is to nourish families so they can flourish and thrive and we take that to the fullest extent across our value chain," she said. "We don't have full traceability—we can't because of the nature of the ingredients that we buy, we're primarily grains based, but we can have transparency."
It's transparency playing out on farms all across the country.
"Soil health and sustainability has kind of always been a priority, but becoming involved in programs like the Great Lakes Origin program, maybe it's kind of brought to the attention where we're documenting everything and we're talking about it more," said Herford.
Kellogg's not using a blanket approach on  helping farmers improve production, but Holdorf says many farms have similar conservation goals.
"We know there's key things where there's opportunities: soil health, water quality, yield potential, appropriate inputs to manage costs," said Holdorf.
It's those opportunities helping create lofty goals for the Kellogg brand, with the commitment to sustainably source 10 of their ingredients by the year 2020.
"We've quantified that to mean by 2025, we want to have helped improve the livelihoods of over half a million farmers," said Holdorf.
She says they're already more than halfway there around the globe, including touching more than 350,000 acres across the U.S., but it's a journey Kellogg isn't taking alone.
"We were able to get over $60 million of USDA grant funding that we could bring to three different regions: wheat farmers in Michigan, rice farmers in Louisiana and their broader national rice program -that brought real money to the table," she said.  
Kellogg's also partnering up with the soil health partnership to help growers discover which conservation practices are making tangible differences on the farm.
"When we focus on the soil, we create greater resilience in our crop production systems," said Nick Goeser, Director, Soil Health Partnership.
"We're really excited about the work we do together with farmers all across the U.S. to really reinforce conservation outcomes and make sure we're thinking about sustainable agriculture," said Amy Braun, Sustainability Director, Kellogg Company.
It's the work already, moving the needle to even more "sustainable" agriculture, and it's the definition of sustainable that digs deep on these farms.
"Sustainability for me would be to continue that and pass it down to another generation," said Krick.
"To me, the real definition of 'sustainability' is ensuring that my kids are going to have somewhere to farm," said Herford. "It's doing things right, it's doing things environmentally friendly, keeping the soil healthy, replenishing nutrients into the soil, because if we don't have land to farm on, if we don't keep that quality up, we don't have a farm."
As the mom of a little girl, it's her future that's driving her work and motivating her to push the boundaries on building a sustainable future.