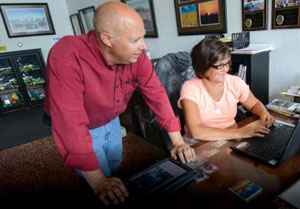 Lee Lubbers finds success by building first-rate relationships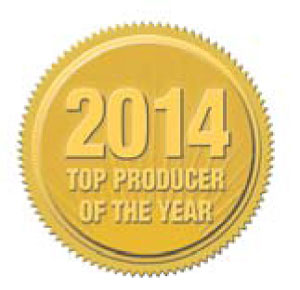 Lubbers Farms has a carefully crafted six-point mission statement. "We strive to think progressively, remain positive, adapt to change creatively and develop ever-strong business practices to ensure long-term stability and success," it reads in part.

Lee Lubbers, 2014 Top Producer of the Year Award winner, could probably boil the whole thing down into three words: do unto others.

"It does start with the Golden Rule," he says. "If people are there for us, we're there for them. That's our philosophy. We treat people like we want to be treated. Be honest and upfront. Take care of the land, even when prices are low."

Having a good memory doesn't hurt, either. Lee and his brother Terry began farming outside of their hometown of Gregory, S.D., during the mid-1980s. "Terry and I saved some grain tickets from those hard times," he says. "One harvest, during the era of PIC certificates, we sold corn for 89¢ a bushel after moisture discounts. Things like that you don't forget. Basically, we have seen corn from 80¢ to $8 during our careers. We try to learn from every year, every challenge."
Brick By Brick. Lee and Terry's parents took over a run-down operation in the 1960s and turned it into a respectable farming venture. It included 400 crop acres, 200 stock cows and 200 sows for farrowing each year. Yet if Lee and Terry wanted to stay on the farm, they needed a pathway to growth, and there were no easy paths. What they lacked in finances, they made up for in grit. Terry sold his car so the brothers could buy and refurbish an ancient John Deere 105 combine. Lee, meanwhile, had saved back a bit of his college scholarship money and put it toward a down payment on a John Deere 4630 tractor. He also rented 170 acres of sandy sod ground on the salary he earned as a stock boy at a local ag supply store.

The Lubbers brothers had built the foundation of their farm. As Lee learned from his first landlord, though, strong relationships are the true muscle.

"I asked him if he wanted a contract," Lee says. "He laughed and said, 'Let's shake on it.' He said, 'You are only as good as your word, and a crooked man will try to wiggle out of a contract.' That always stuck with me."

Lee and Terry took that Golden Rule blueprint and applied it to every business partner, including landlords, bankers, employees, crop insurance agents and key suppliers. Little by little, the farm grew. 

Roger Johnson, senior vice-president of Midwest Bank, recalls the impression the brothers made on him when they were first introduced during a meeting 25 years ago.

"Lenders gave hesitancy to funding any type of loans [at that time], especially to young operators with little equity," Johnson says. "At the time, the enterprise farmed 4,000 acres. Lee and Terry had a strong presentation, and we approved an operating loan based upon their ability to produce and market."

Growth has continued steadily since then. In 1996, the brothers incorporated the farm as an S corporation. This became a catalyst for additional growth, Lee notes, though along the way they never forgot farming is a people business.

"We are proud of the team we have assembled. We view them not just as our strategic partners but also as our extended family," he says.

As Lee and Terry explain it, building relationships is a team sport, and communication is key to goodbusiness. For example, the farm practices complete transparency with its accounting firm and lender. "I've been at jobs where you didn't know what was coming around the corner," office manager Paula Sundquist says. "The transparency here makes my job easier and makes me feel invested in the farm."
Communication Matters. The Lubbers also send a newsletter three times each year to various stakeholders. Lee and Terry do their best to narrate an honest account of what's happening on the farm—both the good and the bad. Even when something goes wrong, Lee says, there's usually a moral to the story or a lesson to be learned.

In its mid-season 2014 newsletter, the Lubbers told about a broken auger and their adventures in getting it fixed. Substandard steel and a poor weld proved to be the cause of the challenges they faced.

"Everyone pulled together and made it all happen," Terry explains. "Everyone practiced good safety during that time, and no one got hurt. That is the most important part–safety."

Recently, Lee found a new audience with whom to communicate in the political world. In conjunction with National Ag Day in March, he traveled with two other farmers to Washington, D.C., to help the Farm Journal Foundation's Farmers Feeding the World initiative launch its Farm Team program. The program aims to train farmers and ranchers to educate policymakers about global hunger and agriculture. 

Lee met with his state's senators to discuss how they can play a role in food security and agricultural development. He says it's important for politicians to spend time with farmers who are advocating for a cause rather than for a company.

"We didn't travel all the way to our nation's Capital for any form of financial benefit," he says. "We volunteered our time and energy, as do other Farm Team members because we believe in trying to make a difference. We are not there for self-promotion. We are there for the big picture and for the greater good."
Farm With Pride. Lee thinks taking extra pride in one's work can foster a more rewarding environment.

One case in point: He and Terry wax every sprayer and tractor before it rolls into the field, and they keep farm trucks polished. "It's part of our brand," Lee says. "We believe in taking pride in what we do. When we pull out of a field doing whatever task needs to be done, we want to say, 'This job represents us, and we're proud to put our name on it. We want to take care of the land, take care of the equipment and take care of the people.'"

Lately, the Lubbers have taken to mentoring another set of farming brothers about 100 miles away. 

For Lee, it's another opportunity to pay it forward. He gives a respectful nod to his own mentors, banker Johnson and Nebraska marketer Gary Cram. "We're driven to open the door for some other people because the door was held open for us," Lee explains. "We see a lot of us in them, and we feel they have what it takes to be successful."

They've pulled their fair share of 20-hour days, and the work can be hard, but the Lubbers continue to take pride in what they do. 

That attitude not only gets them through hard times; it also keeps them grounded when things are going their way.

"If you can't smile at least once during the day, you're being too serious," Lee says. "A positive attitude is so important. You can't take it with you, after all. Many have tried. All have failed."  
---
Longtime Mentors Shape Business Philosophy
Emotion plays a big role in farming, but South Dakota producer Lee Lubbers says it has no place anywhere near a marketing plan. Fortunately for him, Lee says, Nebraska marketer Gary Cram helped him understand the distinction. The two met more than 20 years ago. As their business relationship grew into a true friendship, Lee says, Cram helped him shape his risk-management philosophy using a framework of objectivity.

"Gary was instrumental in changing the way I think," Lee explains. "Defining and managing risk is now part of virtually every thought process. It has been a great experience, and I feel very fortunate to have learned from Gary."

Lee's other mentor, lender Roger Johnson, also proved instrumental to the operation's success. Johnson took a chance on the brothers when they were just getting started. "Roger didn't just see numbers; he saw us," Lee says. 
---
Lubbers Farms at a Glance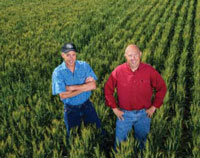 Lee Lubbers (right) and his brother Terry raise winter wheat, corn, soybeans and sunflowers near the town of Gregory, S.D. 
Operation: Lee and Terry Lubbers farm 20,385 acres, of which 4,100 acres are owned by the brothers. Their primary crops are corn, soybeans, winter wheat and sunflowers. They are involved in numerous other ventures and businesses in and outside of agriculture. 

Family: The brothers' mother, Lynda, is active in daily farm responsibilities. Lee and his wife, Jane, are expecting their first child, a baby girl, in January 2015.

Community: The Lubbers are big believers in charity and in strengthening the small but vibrant community of Gregory, S.D. That generosity manifests itself in various ways, including donations to veterans' groups, a local 4-H chapter, the high school's after-prom party and the town hall theater. They also sponsor a Make-A-Wish child each year. "We like to contribute in different ways whenever we can," Lee says.

Technology: Lee and Terry embrace new technology but always check the return on investment first. Data management allows them to look at every field, hybrid and farming practice for constant benchmarking. "We're analyzing every pass through the field," Terry explains. "When it takes $1,200 to fuel up a tractor, that drives home the cost of everything."
To read more coverage of Lubbers Farms from the 2014 Top Producer Seminar annual award banquet, visit www.TopProducer-Online.com