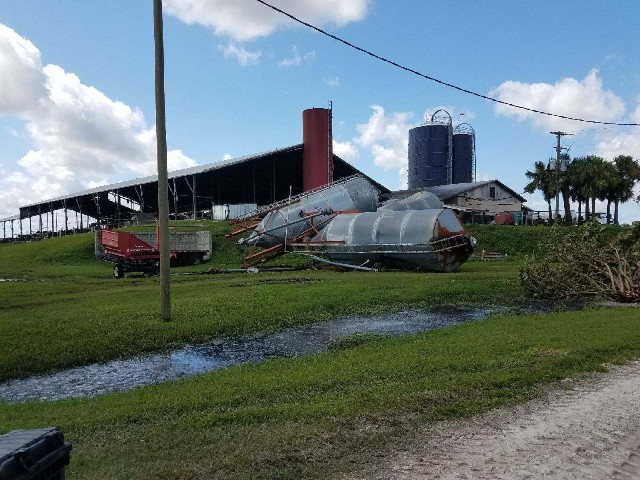 Farmers Reel From Two Big Hurricanes
Producers in southern Florida are likely to feel the punch of Hurricane Irma for years to come, just as those in southern Texas will rebuild for the foreseeable future from the devastation of Hurricane Harvey.
Irma threatened Florida's $1.2-billion produce industry and could prevent some strawberry farmers from planting a crop at all this season, Bloomberg reported. Grocery prices could rise with damage to the state's crops including fresh tomatoes, oranges and green beans.
Harvey followed a path that includes more than 1.2 million beef cows across 54 counties that were declared a disaster area.
"That's 27% of the state's cowherd," says David Anderson, Texas A&M AgriLife Extension Service livestock economist in College Station. Because the numbers are from January's USDA-National Agricultural Statistics Service inventory report, "that's a conservative estimate of beef cow numbers." 
Flooding in late August severely hampered rescue efforts by ranchers. The disaster area also includes several livestock auction markets and Sam Kane meat processing. Sanderson Farms Inc., the third-largest U.S. chicken processor, shut down its plant in Bryan, Texas, on
Aug. 28. Dean Foods Co. also closed an area factory, which makes fluid milk products, juices and teas, according to the company.
Meanwhile, the ratoon rice crop could be a near-total loss in Texas and Louisiana.  —Sara Brown and Chris Bennett
Executive Insights
Nov. 29–Dec. 1: Executive Women in Agriculture
Join women in farming and agribusiness in Chicago for business education, networking and inspiration. Hone your commodity-marketing knowledge, advance your team's human resources capabilities and learn financial strategies.
Dec. 11–13: AgTech Expo
Visit Indianapolis to discover the technology for farm operators, plus dive deep with the experts to learn how to extract maximum values from new tools and data. You'll hear from trusted tech firms, exciting startups and Farm Journal experts.
Jan. 23–26, 2018: Top Producer Seminar
Our annual business conference in Chicago provides engaging business education and networking to the nation's top farm operators. Celebrate the best U.S. farmers during our annual banquet, where we will honor our three finalists and reveal the 2018 Top Producer of the Year.
To register, visit AgWeb.com/events
The Case Against Contentment
Libertarian economist Tyler Cowen has offered practical arguments concerning modern economies over a wider range, and in more readable prose, than almost all academic or political voices.
"Complacent Class" adds to that body of work, but it's not at the top of the list. Disjointed and dispiriting, this investigation into his popular themes of stagnation and misguided policy has one big point: Americans are just too comfortable to do the work necessary to rev up the economic engine. He references evidence such as assortative mating (marrying like partners), slowing geographic mobility and residential self-segregation to make a forceful case for our lost ambitions.
The book is well-reasoned and articulate, meaning readers will soon recognize themselves in his list of bad actors. We don't mix enough, strive enough or rebel enough to make the changes that would propel us forward. Our culture and economy are becoming static, which is good news for some on top and bad news for many below.
Many of the causes, though, are tied to fundamental civic rights such as local government control (zoning), information matching by sophisticated algorithms (Facebook) and low odds for political challengers against incumbents. His diagnosis of our malaise is quite plausible but uncharacteristically apprehensive.
What goes unexamined is the possibility that if contentment is killing our economic system, maybe there is something wrong with our system.  —John Phipps