Office-to-Field Farm Knowledge
Farm Journal College
Jan. 14
Harrisburg, Penn.

Top Producer Seminar
Jan. 27-29
Chicago

Farm Journal College
Feb. 2
Mankato, Minn.

TPEN Signature Event 
(members only)
Feb. 8-10
St. Pete, Fla. 

Farm Journal Wheat College
Feb. 25
Enid, Okla.

Tomorrow's Top Producer
June 16-17
Nashville
---
By Alison Rice
Dow and DuPont Merger Would Forge $130B Business
The proposed merger of Dow Chemical and DuPont, announced in December, establishes a $130 billion company, with plans for a three-way split once the deal closes. In the months ahead, senior research analyst Brett Wong of Piper, Jaffray and Co. expects to see resulting changes in the ag space:
More mergers among chemical and seed companies.
Slightly higher input prices. "But grain prices will still dictate input pricing," Wong says.
More bundling of seed and crop protection products. Yet "bundling could be a tough sell," Wong says. 
---
By Nate Birt
Three Faces You Should Know: Famous Farmers Edition
Most producers wouldn't consider themselves celebrities. In fact, many would prefer to work hard, focus on their businesses and families, and invest in their communities outside the glare of the spotlight. Yet it's equally true that in the world of agriculture, there are plenty of people whose colorful experiences and backgrounds make our industry great—and the subject of substantial interest not only among farmers but also among consumers, investors and Hollywood. Here are a few folks whose farm ties might surprise you.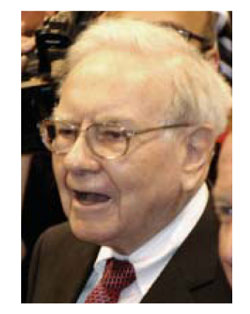 "I needed no unusual knowledge or intelligence to conclude that the investment had no downside and potentially had substantial upside. There would, of course, be the occasional bad crop, and prices would sometimes disappoint. But so what? There would be some unusually good years as well, and I would never be under any pressure to sell the property."-Billionaire investor Warren Buffett, who says he knows nothing about farming, describing his decision to purchase a 400-acre farm in 1986. 
"Keith and I eat at Wendy's.You've got to remember, I'm with a musician on a tour bus. We do drive-throughs."-Actress Nicole Kidman talking about her husband, country music singer Keith Urban. Kidman's relatives are believed to be among the world's largest landowners with an estimated 24 million acres, according to one report.
"As the number of farmers continues to decline, the number of people who understand where their food actually comes from declines as well. I think we, as farmers, need to be more proactive in educating the country and the world about how we do things and that the American farmer produces the safest and best products in the world."- Chris Soules, an Iowa farmer and star of the hit TV series "The Bachelor," who shared growth strategies for farm businesses and ways to advocate for agriculture during Top Producer's fifth annual Executive Women in Agriculture conference.
---
By John Phipps
You'll Go Hog Wild Over the Dramatic History of Pork and People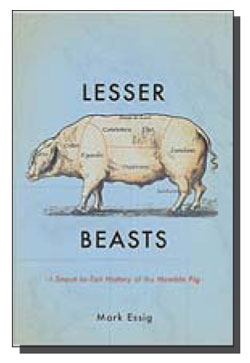 As farmers have specialized, some of our shared history of crops and livestock has faded. "Lesser Beasts: A Snout-to-Tail History of the Humble Pig," by Mark Essig, does a remarkable job of rooting out (heh) the long history of pigs and human civilization, concluding with a reasonably fair accounting of the economics and ethical issues roiling pork production today.

Essig's style is witty and engaging, even as he packs copious, curious details of our tumultuous relationship with swine into every paragraph. Perhaps more than with any other domestic species, human interaction with pigs has been a tumult of appetite and revulsion. 

Best of all, this book is studded with quotes that will make you the highlight of parties: "Of all the animals commonly eaten by humans, pigs are the only one that will return the favor." Or: "According to cannibals, our flesh tastes very similar; humans were known as 'long pigs' among Polynesian peoples." It's small-talk Sheldon of "The Big Bang Theory" would appreciate. In fact, this book would be an ideal farmer Christmas present had I reviewed it in time.
---
By Sonja Begemann
Want to Slash Chemical Costs? 
A Silicon Valley company that set out to shake things up in the farm-data world industry is now doing the same for chemical procurement in a move that could benefit top operators. 

Farmers Business Network (FBN) recently introduced FBN Custom Procurement. FBN buys chemicals and other farm products direct from manufacturers and then sells products to farmers at rates FBN says are 15% to 40% lower than retail. 

Launched a year ago, FBN says its mission is to "democratize farm data" in a farmer-to-farmer network across the country. It is funded in part by Google Ventures.

The procurement program will be available to FBN members in Illinois, Indiana, Iowa, Minnesota, Montana, North Dakota, Nebraska and South Dakota, says Laurence Trebesch, chief operating officer for FBN. Participants pre-order chemicals for later delivery.  If prices change between the purchase and time of delivery, FBN guarantees the lowest price.
---
Recommended App: Whitepages
The Whitepages app pairs the informational value of a traditional phonebook with the modern convenience of a searchable smartphone tool. Although it can't double as a child's booster seat, the app provides options for looking up people and businesses anywhere in the country. Use the "Around Me" feature to find nearby people, stores, restaurant reviews and more when you're traveling out of town. The app also includes reverse phone number and reverse address search functions.
---
By the Numbers: Rural Demographics
46 M- Americans living in rural counties in 2014

2010- Year in which rural America began an overall population decline, the first on record 
116,000- Residents who left rural communities over the four years ending in 2014