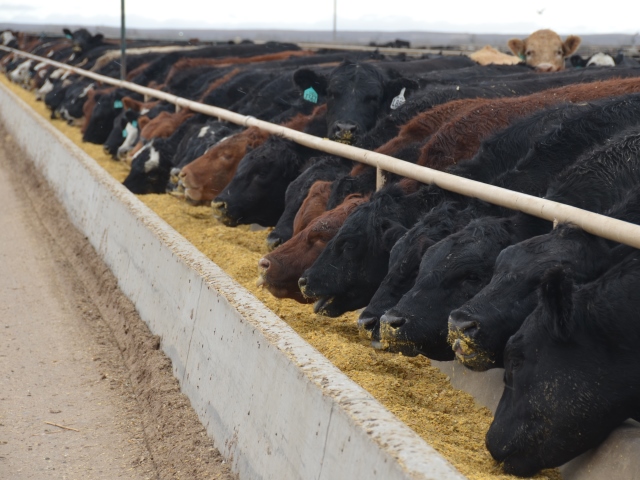 By Anna-Lisa Laca
Drought Conditions Could Yield $6 Corn, Weather Expert Says
Would you believe a $6 to $7 corn price prediction? Bill Kirk, a weather statistician and owner of Weather Trends 360, asserts corn prices could hit the $6.50 to $7 range this summer. According to his weather outlook, 2016 will mean lower yields both in the U.S. and in Brazil, reversing the current supply and demand debacle.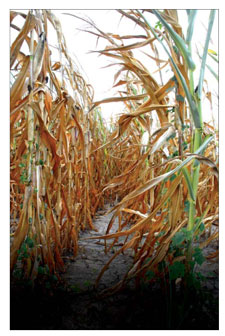 Data suggest drought will be a major   threat this season in the Corn Belt,   one expert says. 
Among the weather issues he expects: a wet spring in most of the country, thanks to El Niño. 

"We anticipate a wetter April," Kirk says. "It could delay planting."

Although Kirk doesn't expect farmers to see huge amounts of flooding, he doesn't "anticipate the spigot to turn off until April." Once crops are in the ground, Kirk warns there will likely be a freeze in late May. "If you plant too early, you might be replanting," he says.

As El Niño becomes La Niña, Kirk says the transition will cause drought and warmer-than-normal Corn Belt temperatures.

He anticipates very dry weather once the U.S. crop is in the ground. His outlook warns of pollination risk June 26 to July 9 because of an extreme heat wave. Kirk expects a wetter harvest than in 2015, a frigid fall and an early frost in late September.

Elsewhere in the world, Brazilian farmers face the prospect of lower corn yields because of moderate to severe drought, says Kirk, speaking at the 2016 Top Producer Seminar. Overall, he predicts U.S. producers will see a crop year similar to 1998 or 2005. How confident is he in his price prediction? He's got money invested in corn.  
---
By Sara Schafer
How to Cope With 10 Growing Pains Your Farm Might Face
Just like middle schoolers who complain of muscle aches and soreness, farm businesses can also face growing pains during significant growth periods.

"Growing pains are problems that occur as a result of inadequate organizational development in relation to business size and complexity," says Allan Gray, director of the Center for Food and Agricultural Business at Purdue University who spoke at The Executive Program for Agricultural Producers (TEPAP) this winter. 

In working with farms, Gray has found common complaints, drawing on observations from the book "Growing Pains," by Eric G. Flamholtz and Yvonne Randle:

1. There aren't enough hours in the day.
2. Too much time "putting out fires."
3. Don't know what others are doing.
4. Don't know where the firm is headed.
5. Not enough good managers.
6. "I have to do it if it is to be done right."
7. Meetings are a waste of time.
8. Very little follow-up on plans, meaning things 
don't get done as they should.
9. Some feel insecure about their place.
10. Sales are growing, but profits aren't keeping pace.
"Every business has growing pains," Gray notes. "You can recognize it and do things to improve it, but you can't cure it." He encourages farm CEOs and managers to determine which ones might be occurring on their operation. Once concerns are identified, managers can put a professional management system in place to address them with strategic planning, organizational structure enhancements and leadership development training.  
---
By John Phipps
Step Into a Fictional (Yet Frighteningly Plausible) Vision of Our Digital Future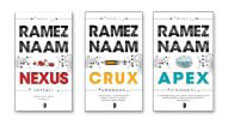 OK, I've waded through the history of chickens and grappled with superforecasting. It's time for some fun reading. Only the sci-fi spy-thriller novels that make up "The Nexis Trilogy" are just plausible enough to haunt your ideas of the future—a post-human future. A widely respected computer scientist, author Ramez Naam has a background at Microsoft in everything from web browsers to artificial intelligence (AI). 

His vision of singularity, the point at which humans and technology merge, is grounded in today's already unsettling developments (e.g., computers winning "Jeopardy!"). Even better, his character development, intricate plot lines and polished prose depict the computer techno-world like John Grisham does the legal system. 

He pictures a world of nanotech human enhancement that allows mind-to-mind communication and enormous intellectual upgrades for all. These new possibilities are used for good, evil and everything in between in a story featuring a heroic programmer, Chinese super-AI mind control, virtually unlimited human augmentation, industrial espionage and deadly political intrigue. Read it for the action and suspense, get the science for free.  
---
By Nate Birt
Consumers Set to Shell Out More for Meat, Tightening Up Supplies
Supply and demand for U.S. beef, pork and poultry are set to align better this year than in 2015, according to a report from agricultural lender CoBank, headquartered in Denver. 

"It's clear that in the coming year, the headwinds and adverse conditions created by excessive protein stocks are clearing," says Trevor Amen, animal protein economist at CoBank. "Surprisingly strong U.S. consumer demand helped lay the groundwork for improving market conditions in the coming year, meaning the net trade balance is expected to shift toward growing exports and fewer imports."

Heightened consumer interest in dining out is supportive, Amen says. CoBank calls for two years of headwinds for beef prices and upside potential for pork and chicken. 
---
Recommended App: TuneIn Radio
An app that includes music as well as international news and political coverage, TuneIn Radio comes in free and premium versions for the iPhone and Android devices. Listeners may browse by local radio stations, trending channels and topics. Enable push notifications to get alerts with live audio of breaking news from around the world, as well as current political events such as debates from the U.S. presidential race. For more details, visit agwebappfinder.com
---
By the Numbers: Top Producer Seminar
4M Acres represented at the 2016 conference in Chicago

1,000 Attendees on hand for business education and networking

26 States represented, in addition to Canada and Morocco