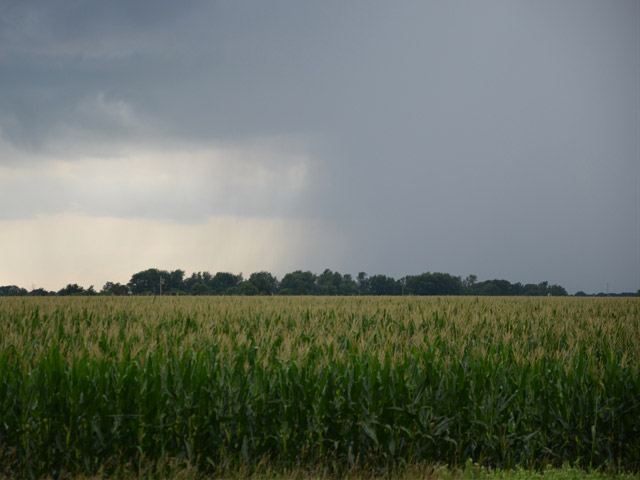 Matthew's Wind And Rain Punches Eastern States
For several days in early October, Hurricane Matthew battered East Coast farms, packing firms and other agricultural businesses after causing destruction in Haiti and beyond. The storm affected Florida's eastern shores, which are major vegetable- and citrus-growing regions. The storm also fell at a time when some eastern states often are wrapping up corn harvest.
    Heavy rains destroyed this cotton in      Pinetown, N.C.
"We had about 10" to 12" of rain and 50- to 60-mph winds but not much storm surge," says Darren Armstrong, who farms in the Blacklands coastal region of Hyde County, N.C. "The cotton looks rough, and many fields are completely flooded. It was much worse than expected. Several towns west of me are really in trouble. I-95, I-40 and U.S. 264 are closed in several places. This is the second tropical storm this year."

Other states that felt the brunt of the storm included South Carolina and Georgia. 

Back in North Carolina, Gov. Pat McCrory says thousands of animals drowned, most of them chickens on poultry farms. 

Hog slaughter fell in the week after the closure of three facilities in the Southeast because of flooding. Lagoon breaches were a concern. 
---
By Tyne Morgan
Producers Say They're (Mostly) Sold On Merits Of Trans Pacific Trade Deal
Trade is a lifeline for livestock and crop producers, which is one of the reasons farmers are paying attention to the debate over the proposed Trans Pacific Partnership (TPP) this fall.
"About 20% of the volume of all products grown in the U.S. are exported," says Veronica Nigh, American Farm Bureau Federation economist.

That has a direct effect on the U.S. economy: 7,500 jobs stem from every $1 billion in trade, according to USDA estimates. Trade might be a buzzword for presidential candidates, but it's something many commodity producers see as an essential business need.

As a result, many farm groups are hopeful Congress will take up the TPP in the lame-duck session and try to beat the calendar before a new president takes office. TPP involves 12 countries lining the Pacific Rim, including the U.S. Producers are hopeful the agreement would help reduce hefty tariffs, increasing access to sell products such as beef, pork and rice to Japan—the fourth-largest export market for American producers—as well as Cuba, China and other destinations. 

Yet not all farmers are fans of these major deals. 

"We're not exporting any sugar," says Duane Maatz, executive director of Red River Sugarbeet Growers Association. "So for us, we would just assume temper all of these agreements, and if you want to trade something with someone else, that's fine. But you could leave us out, and we'd be happy with that." 
---
Learn From Farm Journal Experts
Farm operators can take advantage of ongoing education from our business experts. Attend and bring back concrete tactics to your team.
Nov. 7–9: MILK Business Conference
Previously called Dairy Today's Elite Producer Business Conference, this event in Las Vegas will challenge you to network and to gain a competitive edge in the ever-changing global dairy market.
Nov. 30–Dec. 2: Executive Women in Agriculture (EWA)
Our only conference exclusively for women in farming and agribusiness will feature hundreds of attendees in Chicago for speakers and breakouts on commodity marketing, human resources and more.
Jan. 24–27, 2017: Top Producer Seminar
Learn concepts and strategies to improve your operation at our premier annual event in Chicago, which includes the unveiling of the Top Producer of the Year Award.
---
By John Phipps
Why Machine Learning Matters
Although not an easy book, "The Master Algorithm" by Pedro Domingos is a great brain exercise for farmers on winter days. The central theme is ambitious, a One Ring of machine learning: a master algorithm that rules all other algorithms to create self-learning machines.
Most of us think of computer programming, in which humans writing rules in code that instruct computers to generate correct answers, as the key to the future. But machine learning is reversing that idea. Instead, "learners" takes masses of data (such as the kind farmers are accumulating on every acre), match it up with the correct answer, such as yield, and let the machine figure out the program that can predict those outcomes. The result is already reality: the U.S. Postal Service let machines learn how to read addresses with this data-fed technique, for example.

Domingos writes in a style that disappoints computer experts but remains accessible for folks like us. This book can be unsettling, but it will help you envision what the heck we are going to do with those exabytes of farm data we are so carefully recording. Or rather what a machine might do. 
---
By Anna-Lisa Laca
Six Ag Workforce Trends To Watch
As U.S. producers struggle to find and keep qualified labor, Tom Maloney of Cornell University Extension sees multiple workforce patterns that could affect hiring practices.

1. Continued Efforts to Reform Immigration Policy. Dairy producers, in particular, seek legalization for undocumented workers and a usable guest-worker program, Maloney says.

2. Migration From Mexico Is Changing. Fewer Mexican workers are coming to the U.S. out of fear of drug cartels when crossing the border, an improving Mexican economy and more.

3. Increased Worker Advocacy. Advocacy organizations are coordinating protests, demanding improved safety and housing, disrupting farmer meetings and funding worker lawsuits.

4. Heightened Interest in Farm Employment Practices. Whole Foods rates employment practices of farms, and companies such as Ben & Jerry's want dairy employees to have higher wages, better housing, improved hours and mediation boards.

5. Uptick In Mechanization. As labor issues pile up, producers will start to look even more seriously at robotics. 

6. Wage Hikes And Regulation. The U.S. Department of Labor is increasing compliance rules. Some states face collective bargaining for farm workers and minimum-wage increases.
---
Podcast of the Month: Reply All
If you spend any amount of your office time on the internet, and chances are extremely good that you do, Gimlet Media's "Reply All" is a perfect escape from that feeling of constant attachment to a computer or smartphone. Hosts PJ Vogt and Alex Goldman unlock the mysteries behind seemingly obscure tweets, confront Internet scammers and reveal how our interconnected world is helping people discover medical solutions and find lost treasure. For a nice snapshot of the podcast, try Episode 71 titled "The Picture Taker," which chronicles the hope and peril of storing your family photos on the cloud.
---
By the Numbers: Acreage Assessment
912M- Acres operated by all U.S. farms

$4,090- Average cropland value per acre

$1,330- Average pasture value per acre