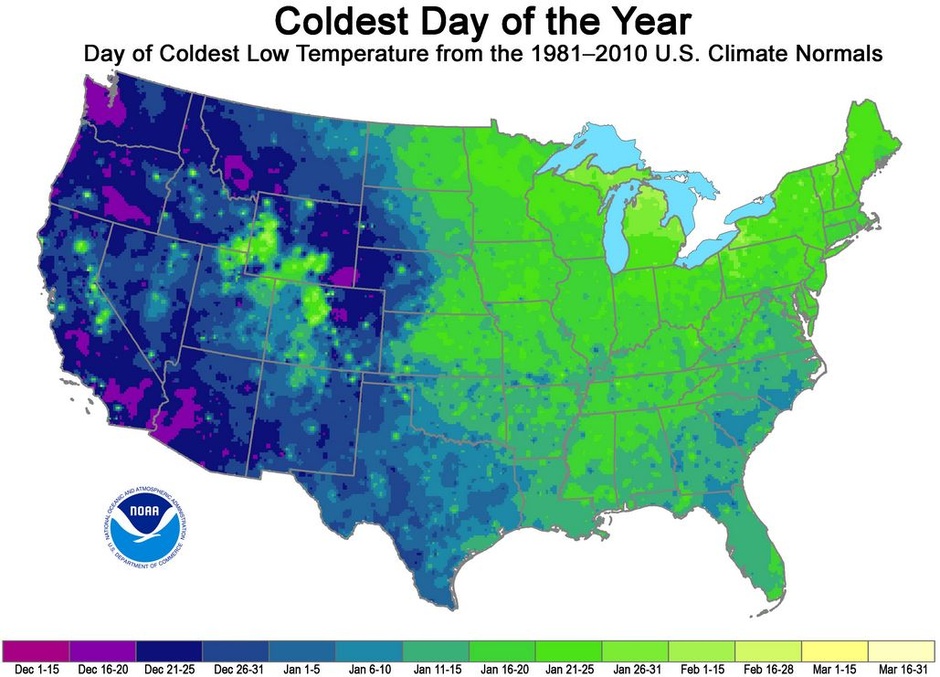 Weather tends to be talked about in relative terms. People don't tend to settle on knowing current conditions – they want to compare and rank to other locations, and with years past. This is especially true in winter. Which snowstorms were the most severe? Which winters were the worst? Who got the most snowfall, and who lucked out?
In that spirit, the National Climatic Data Center (NCDC) created a new map that visualizes when the average coldest day of the year happens across the United States.
So what does that map reveal? Most locations west of the Rockies can expect to experience the coldest day of the year sometime in December. A late January "coldest day" is more likely across the Corn Belt, meantime. And a very few locales (bits of Hawaii and Alaska, for the most part) wait until February or even March before the coldest day of the year arrives.
The map isn't just a pretty picture, the NCDC argues, but also serves as a helpful tool for many.
"Temperature Normals are important indicators used in forecasting and monitoring by many U.S. economic sectors," the NCDC writes. "Knowing the probability of low temperatures can help energy companies prepare for rising heating demand. They are also useful planning tools for the healthcare, construction, and tourism industries. You may want to check the Normals before planning your next event or vacation."
The NCDC also points out that the map indicates averages only. This year's actual conditions may vary widely based on weather and climate patterns.
Stay on top of emerging weather news and analysis, plus dive into more than a dozen maps that track temperature, rainfall, soil moisture, frost warnings and much more at http://www.agweb.com/weather/. Share your best wintertime stories on AgWeb's Winter 2014-15 discussion thread.