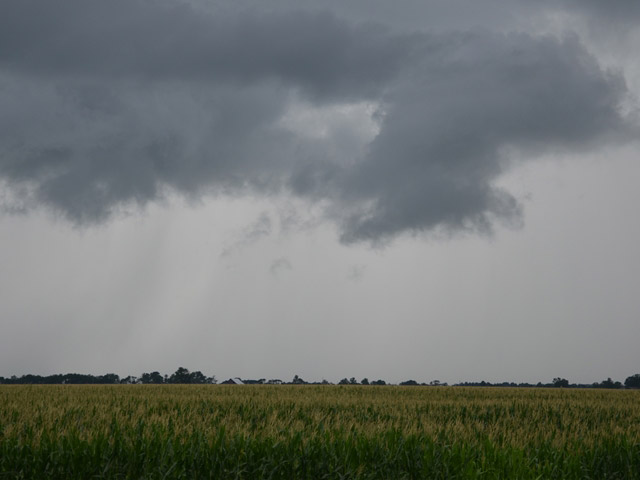 Weather should pose few obstacles for planting
March is supposed to come in like a lion, but it will probably make a gentler entrance in 2016—with a few exceptions—if the weather prognosticators are correct.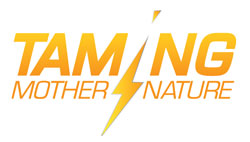 The National Oceanic and Atmospheric Administration's (NOAA) March through May 2016 outlook, for example, calls for warmer-than-average weather across the northern U.S., with a cooler-than-average pocket in the Southwest. As for precipitation, the eastern Corn Belt could experience drier conditions during this time, with a wetter West as El Niño hangs on.

Just how long it hangs on is a topic of great interest among weather enthusiasts. El Niño could shift to moderate intensity by early spring and weak intensity by late spring, according to Kyle Tapley, senior agricultural meteorologist for MDA Weather Services. After that, there's a fast transition to La Niña.

"There is still a large spread in the model solutions for summer and fall," Tapley says. "While the vast majority of models show at least negative/neutral ENSO (El Niño Southern Oscillation) conditions by mid- to late-summer, several now show full-fledged La Niña conditions by summer."

NOAA says the overall chance of a La Niña event increases to 40% from August through October 2016. This could be significant because La Niña tends to bring "less favorable" growing conditions across North America during summer months. For example, hotter, drier weather.

Mark York with Weather Analytics says they are also predicting a wetter and warmer spring and have their fingers crossed it happens, for the sake of the winter wheat crop. That's because large sections of the Midwest and Great Plains had zero snow cover for most of the winter, exposing the crop to potentially damaging low temperatures.

"We may expect to see lots of rain in March and April in the Midwest and Southern Plains," he says. "If it plays out that way, it would spell a pretty good crop for hard red winter wheat."

While a warm spring with decent moisture could cause planting delays, York isn't too concerned it will. 

"There will be some pockets of trouble, but it shouldn't be widespread," he says.

Before planters roll, don't count out the possibility of one last late-winter snowstorm, adds Paul Pastelok, long-range meteorologist for AccuWeather.

"There could be a last surge of winter before we see the transition into spring," he says. "For the Northeast [in particular], there's still an opportunity for some snow in March, although there's a higher chance we'll see a cold snap rather than a big snowstorm."
April will bring the greatest opportunity for severe weather in the Midwest, Central and Southern Plains and Mississippi Valley, Pastelok says.

Historical climatologist Evelyn Browning Garriss says a paper published in the journal Nature Geoscience in 2015 suggests positive weather news for farmers and ranchers, particularly in the Great Plains or Midwest.

"According to their research, the warm Tropical Pacific waters alter weather patterns as far north as the U.S.," she explains. "In springtime, El Niños reduce the number of tornadoes and hailstorms in key agricultural parts of the U.S."

Typically, springtime El Niños bring more total rainfall but fewer severe weather events into Texas and the Great Plains. The eastern Corn Belt and Ohio Valley also see fewer destructive storms but experience drier weather overall on average.

Conversely, cold tropical Pacific La Niñas can increase the number of severe weather events, including 
tornadoes and hailstorms, Browning Garriss says.

"When storms hit, they tend to be unusually strong—remember the floods this past May and snows from December," she says. "However, if history repeats itself, this spring farmers and ranchers might have to endure some nice weather."

Currently, NOAA is predicting the Northern Hemisphere will return to ENSO-neutral conditions by late spring or early summer. By the May through July time window, the Climate Prediction Center (CPC) and International Research Institute (IRI) for Climate and Society has forecast probabilities as follows:
10% chance for La Niña
46% chance for ENSO-neutral 
44% chance for El Niño
Don't like current conditions? CPC and IRI say you usually don't have to wait long for change. Individual 
El Niño and La Niña events typically last nine to 12 months (although they can last two years), and they typically recur every two to seven years.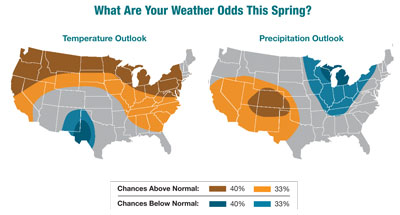 As the 2016 crop season unfolds, farmers can expect a few localized weather hiccups, but meteorologists are not anticipating many widespread problems during this year's planting season.
---
A Perfect Storm is Brewing in South America
Weather Analytics doesn't just have an eye on U.S. weather this spring, says Mark York with the company. It's important to keep close watch on South American weather, particularly Brazil and Argentina.

"South America should see some pretty mild weather to finish their season," York says.

Favorable weather, a strong dollar and good shipping conditions would form a "perfect storm" of soybean exports from Brazil. 

"Brazil can only store about 75% of its soybean harvest, so the other 25% has to go to port," he says.
---
El Niño in 2 Minutes
You know El Niño has a significant influence on agriculture, but you might not understand exactly what 
it is. The National Oceanic and Atmospheric Administration (NOAA) has developed a two-minute instructional video on its new website to explain why NOAA scientists, such as Ned Gardiner, refer to the warm 
water phase of the El Niño Southern Oscillation (ENSO) as "the most influential climate pattern used in seasonal forecasting."

NOAA recently consolidated all of its information about ENSO onto a single website landing page. Learn more about how El Niño and La Niña impact weather worldwide, get daily weather briefings and read the ENSO blog for expert insights at www.climate.gov/enso.