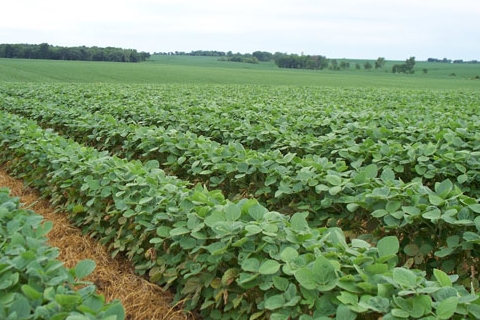 As the growing season for corn and soybeans continues, the market will continue to do the trendline tango. That means market volatility isn't going anywhere.

"I think that most people right now are a little bit below trendline on both corn and soybeans," says Pro Farmer editor Brian Grete on the "AgDay" Profit Briefing segment. "A lot of that has to do with the problems in the eastern Corn Belt, obviously. Those up-and-down areas bring a lot of uncertainty into the equation."
That's true even though much of the Midwest saw favorable weather conditions in July.
"USDA's out there counting stocks, counting ears," Grete says. "They told us 90% of that [corn] yield variable is July weather, temperatures and precipitation through the heart of the Corn Belt during the month of July. This year was the first year since, I think, 2009 that we had below-normal temperatures and above-normal precipitation for July. Really good growing conditions as you plug it into USDA's model for the month of July. That variable, that extra 10%, though, based on the stock counts, the ear counts, that could swing things one way or the other."
For soybeans, August weather is a critical yield driver.
"We've seen the temperatures, they've been trending a little bit below normal here," Grete continues. "But the rainfall hasn't been there for the most part. We've seen spotty showers here and there, but it doesn't take a lot of rainfall, either, it just takes some timely rains, and we've seen that over the course of time."
He advises marketing around the expectation that prices will continue to see-saw in the weeks ahead.
"Sell on periods of price strength, buy it back when it looks cheap and low and bottoming, and build a better price that way," Grete says.
Click the play button below to watch the complete interview with Grete.