Winter weather has been a factor in beef and cattle prices lately, but it didn't keep the market down for boxed beef this week.​
By: Andrew P. Griffith, University of Tennessee

FED CATTLE: Fed cattle trade was not well established Friday afternoon. Feedlot managers were holding out for higher prices which was likely encouraged by firmer futures market prices. The 5-area weighted average prices thru Thursday were $156.69 live, down $3.34 from last week and $251.37 dressed, down $4.99 from a week ago. A year ago prices were $150.64 live and $239.98 dressed.

Cattle feeders are being hit hard from a number of angles. Fed cattle prices have faltered and are showing winter weakness which is a seasonal tendency and should be no surprise.

A less predictable factor negatively impacting cattle feeders is the winter weather and the difficulty of cattle to perform. Many cattle feeders are experiencing performance slowdowns due to sloppy pens and it appears another winter storm system is on the horizon to further exacerbate the slowdown in weight gains.

The slowdown in weight gain may not be as big a problem as it appears at first glance since cattle marketings appear to be backing up due to a reduction in slaughter numbers. However, the slaughter slowdown is led by packers as they look to manage beef cutout prices and grab some leverage from cattle feeders who dominated the market for many months.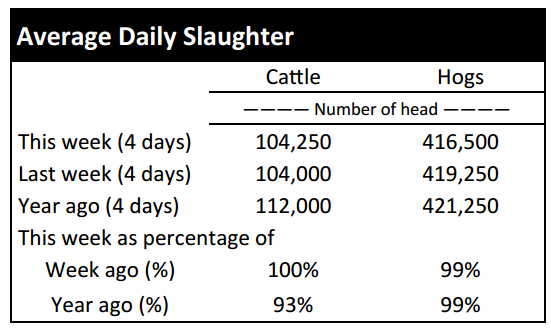 BEEF CUTOUT: At midday Friday, the Choice cutout was $247.84 up $0.81 from Thursday and up $7.72 from last Friday. The Select cutout was $245.93 up $1.03 from Thursday and up $9.07 from last Friday. The Choice Select spread was $1.91 compared to $3.26 a week ago.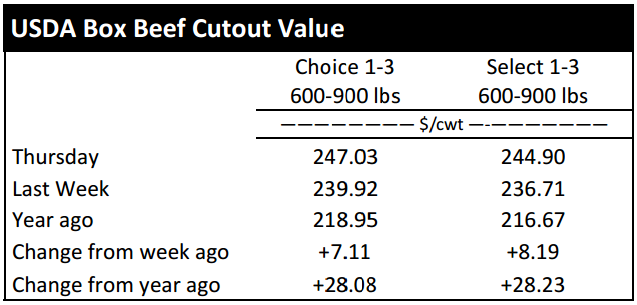 Do not tell packers that beef cutout prices cannot increase in February and March when beef demand is generally at its lowest point. Packers have been successful in pushing beef prices higher even though winter storms, an appreciating U.S. dollar, and west coast ports have tried their best to rain on the parade.

The winter storms will eventually dissolve into spring as consumers start firing up the grill and as baseballs begin to be thrown in parks across the nation.

The labor dispute on the west coast has been resolved, but the backup of goods cannot be disseminated overnight and not even in the next couple of months for that matter. It will take a while before the port situation is back to its former functionality.

The appreciating dollar will have longer term effects than the other two situations. If the value of the dollar continues to increase relative to other currencies then it may be difficult to maintain the value of level of exports. An appreciating dollar makes United States exports more expensive which may put a further damper on beef exports.
TENNESSEE AUCTIONS: Trends on Tennessee auctions could not be established for the second week in a row due to inclement weather. Two auctions with a total of 513 head were reported this week, but this few head does not allow for trends to be established.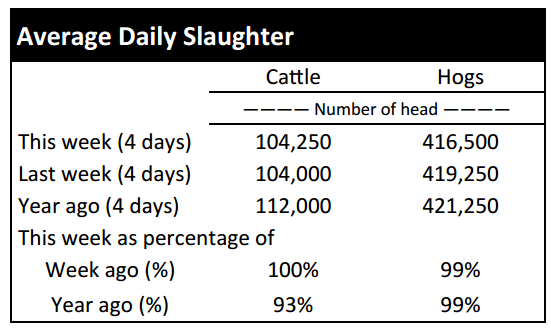 OUTLOOK: Winter precipitation continues to hamper cattle movement across Tennessee and much of the Southeast. Producers in Tennessee have struggled for two weeks just to feed cattle. Struggle would be an understatement for the process of gathering cattle to ship to market.

The question now is when these calves are coming to market. There are sure to be some producers who set wheels under some calves this next week as warmer weather is forecast. However, the expectation of rain and muddy fields and pens may result in cattle marketings being delayed one more week.

The delay in marketings may affect stocker producers and backgrounding operations more so than cow-calf producers who have not been able to cash in on their efforts. Many stocker producers are in the market for securing cattle at a particular time so they can put the calves through their receiving program before sending the cattle to spring and summer pasture.

The limited offerings of calves the past two weeks has likely put a few folks behind. The inability to secure inventory the past several weeks may also result in stocker producers being forced to change the weight class of cattle they are looking to purchase.

It is not perceived that this is a major factor yet, but another week or two of not being able to purchase calves or the quantity of calves necessary to fill the pasture may result in changes to management and marketing tactics. For producers looking to hedge cattle, opportunities have been few and far between. Limited opportunities have presented themselves using futures and options as the market has remained volatile.

Similarly, livestock risk protection insurance policies have not been the most favorable. Though insurance has been available, most policies have been rather expensive. Producers are still encouraged to watch the futures market closely and keep an eye on livestock risk protection insurance in case a favorable opportunity to price cattle presents itself.
TECHNICALLY SPEAKING: Based on Thursday's closing prices, April live cattle closed at $149.80. Support is at $148.08, then $145.48. Resistance is at $150.68, then $153.28. The RSI is 46.09. June live cattle closed at $142.95. Support is at $142.00, then $140.08. Resistance is at $143.00 then $144.00. The RSI is 46.33. August live cattle closed at $141.80. Support is at $141.38, then $139.53. Resistance is at $142.10, then $142.68. The RSI is 46.11. March feeders closed at $200.30. Support is at $197.87, then $193.67. Resistance is at $202.07, then $206.27. The RSI is 45.77. April feeders closed at $199.05. Support is at $196.71, then $192.56. Resistance is at $200.86 then $205.01. The RSI is 43.98. May feeders closed at $198.93. Support is at $195.58, then $194.33. Resistance is at $200.90 then $201.35. The RSI is 43.58. Friday's closing prices were as follows: Live/fed cattle – April $151.70 1.90; June $143.85 0.90; August $142.05 0.25; Feeder cattle - March $201.90 1.60; April $200.33 1.28; May $198.88 -0.05; August $201.18 -0.55. March corn closed at $3.85 up $0.05 from Thursday.