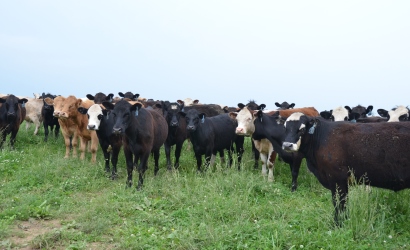 Fall calf prices show no sign of slowing down.
By: Andrew P. Griffith, University of Tennessee
FED CATTLE: Fed cattle trade was not well established at press. Asking prices were between $159 and $161 in the South and $245 plus in the North. The 5-area weighted average prices thru Thursday were $153.12 live, down $0.63 from last week and $242.00 dressed, down $3.23 from a week ago. 

A year ago prices were $124.31 live and $194.95 dressed. Fed cattle will likely continue to come under pressure this fall, but the bottom is not expected to fall out by any means. 

Fed cattle marketings are not current at this time as the weight of cattle being harvested far exceeds weights from a year ago. Heavier weight cattle will likely result in feedlot managers moving a few more head in the weeks to come which will pressure live cattle prices. Even with prices declining, closeouts for cattle feeders should remain positive as many of these animals were placed at a much lower feeder cattle purchase price. The concern arises with the cost of purchasing feeder cattle to refill the pens and what the projections on closeouts will be for cattle placed in the near term.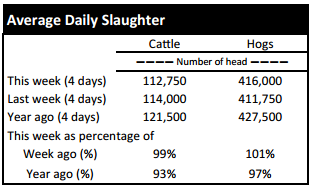 BEEF CUTOUT: At midday Friday, the Choice cutout was $238.19 down $0.92 from Thursday and down $6.35 from last Friday. The Select cutout was $225.44 up $0.10 from Thursday and down $5.20 from last Friday. The Choice Select spread was $12.75 compared to $13.90 a week ago. The Choice cutout price has declined $12.34 over the past two weeks while the Select cutout price has declined $10.09 over the same time period.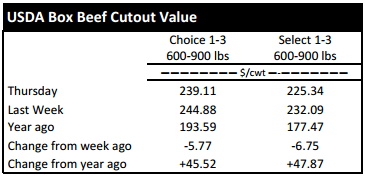 This is not welcome news for the packing industry as this could easily result in a bottom line with red ink on a cash-to-cash basis. Though live cattle prices have eased slightly the past two weeks, cutout prices have descended at a much quicker rate. 

Packers were able to support cutout prices through the summer by closely managing slaughter rates, but this may become more difficult as fed cattle marketings are likely to increase in the near future. 

Fed cattle marketings are not current relative to a year ago. The average dressed weight of steers is 927 pounds which is 19 pounds heavier than a year ago while heifers are averaging 813 pounds dressed which is 14 pounds heavier than last year. Thus, feedlots will have to start moving cattle into the beef chain which will further depress beef cutout prices into the fall. 

Fall has never been a "Knight in Shining Armor" for the beef industry, but the holidays are just around the corner.
TENNESSEE AUCTIONS: On Tennessee auctions this week compared to a week ago steers and bulls were steady to $7 higher. Heifers were steady to $5 higher. Slaughter cows were steady to $2 lower while bulls were steady to $2 higher. Average receipts per sale were 757 head on 12 sales compared to 733 head on 12 sales last week and 850 head on 10 sales last year.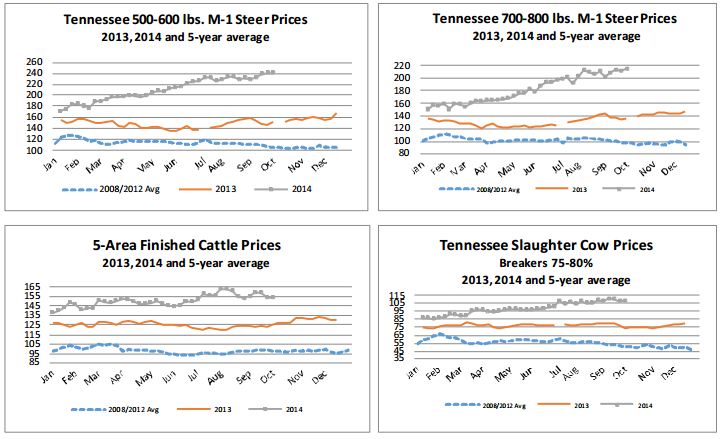 OUTLOOK: Calf and feeder cattle prices have continued to strengthen as the engine of the fall roundup starts to rev. Little to no weakness is evident in calf and feeder cattle markets as we head into October. The lack of price weakness at this point in the game may or may not be a surprise to producers and industry experts as the fall rush of cattle is slowly creeping upon the market. However, there has been no indication in the past twelve months of feeder cattle markets weakening and prices declining. 

If the November 2014 feeder cattle futures contract is considered, the contract was selling for $165 per hundredweight ten months ago. The contract steadily increased until the first week of July when it was trading for about $220 per hundredweight. The price has been quite volatile the past two and a half months, but the contract price has not fallen below $206 and is currently trading over $228 per hundredweight. Thus, calf prices could wane this fall when fall calf marketings peak, but there is tremendous support around the $210 level which would be a hard price to "complain" about. Additionally, even if prices were to decline to $210 on the futures market, producers should still be profiting from a cow-calf enterprise. 

The producers that may be facing an uphill battle are stocker producers making fall calf purchases. The market is heading into a time of year when stocker producers in the Southern Plains as well as locally are purchasing cattle to graze winter wheat or other winter annuals. It would be wise for producers to set a floor price on intended marketings at this time in case volatility continues to envelop the market. However, leaving the top side of the market open is favorable since the majority of what the market has witnessed the past twelve months is increasing prices. 

The market is likely to continue to see ebbs and flows as traders and industry participants continue to feel their way through a record setting and unfamiliar market. Volatility is to be expected while producers are encouraged to prepare for the expected and unexpected.
TECHNICALLY SPEAKING: Based on Thursday's closing prices, October live cattle closed at $155.45. Support is at $154.82, then $153.59. Resistance is at $156.04, then $157.27. The RSI is 53.39. December live cattle closed at $159.10. Support is at $158.42, then $157.02. Resistance is at $159.82 then $161.22. The RSI is 58.62. February live cattle closed at $160.00. Support is at $159.40, then $159.08. Resistance is at $160.60, then $160.80. The RSI is 58.95. November feeders closed at $228.60. Support is at $228.58, then $227.55. Resistance is at $229.00 then $229.60. The RSI is 70.80. January feeders closed at $223.18. Support is at $222.58, then $221.50. Resistance is at $223.50 then $223.51. The RSI is 72.64. March feeders closed at $221.60. Support is at $220.80, then $220.78. Resistance is at $221.63, then $221.64. The RSI is 73.14. Friday's closing prices were as follows: Live/fed cattle – October $158.45 3.00; December $162.10 3.00; February $162.00 2.00; Feeder cattle - October $233.10 3.00; November $231.60 3.00; January $226.18 3.00; March $224.50 2.90; December corn closed at $3.23 down $0.03 from Thursday.