Cattle futures showing that prices may have been inflated the past few months.
By: Andrew P. Griffith, University of Tennessee

FED CATTLE: Fed cattle traded steady to $3 higher on a live basis compared to a week ago. Prices were mainly $160 to $162 on a live basis while dressed trade was not well established.

The 5-area weighted average prices thru Thursday were $158.73 live, down $0.74 from last week and $252.00 dressed, up $1.93 from a week ago. A year ago prices were $140.56 live and $225.35 dressed.

The fed cattle market is trying to hold its ground and maybe even attempting to press forward again as many packers are short bought. With packers being short bought, some leverage shifts to the feedlot which can then holdout for higher asking prices.

The short bought aspect may allow feedlot managers to climb out of the deep abyss of red closeouts that are prevalent across the industry on a cash-to-cash basis. Packers continue to be wary of demand issues as the retail price of beef remains at record highs and as competing protein prices are on the decline.

The slowdown in meat exports the past couple of months and the appreciation of the dollar do little to set packers minds at ease that they will be able to profit from harvesting cattle. Packers and cattle feeders will be like bulls butting heads for the next several months.



 
BEEF CUTOUT: At midday Friday, the Choice cutout was $239.98 down $1.20 from Thursday and down $3.41 from last Friday. The Select cutout was $234.84 down $0.55 from Thursday and down $2.19 from last Friday. The Choice Select spread was $5.14 compared to $6.36 a week ago.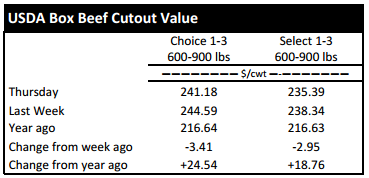 Beef cutout prices continued their decline for the third consecutive week and there may be more declines ahead for the beef market.

The Choice cutout has lost about $21 the past three weeks while the Select cutout has declined about $17 in the same time period. This is not to say cutout prices are bad or are too low, because Choice beef is trading nearly $28 per hundredweight higher than the same time last year while Select beef is trading nearly $25 higher than a year ago. However, packers are paying about $27 per hundredweight more on a dressed basis for cattle this week than the same week last year.

Packers will likely have to remain patient the next several weeks before grocers and restaurants start making purchases leading into the summer grilling season. Cutout prices should start to escalate in that time period, but beef prices could continue to be dampered by relatively low pork and chicken prices.
TENNESSEE AUCTIONS: On Tennessee auctions this week compared to a week ago steers and bulls under 500 pounds were $9 to $13 higher with those over 500 pounds steady to $6 higher. Heifers were $1 to $5 higher. Slaughter cows were $3 to $8 higher while slaughter bulls were $3 to $5 higher. Average receipts per sale were 429 head on 10 sales compared to 442 head on 12 sales last week and 567 head on 12 sales last year.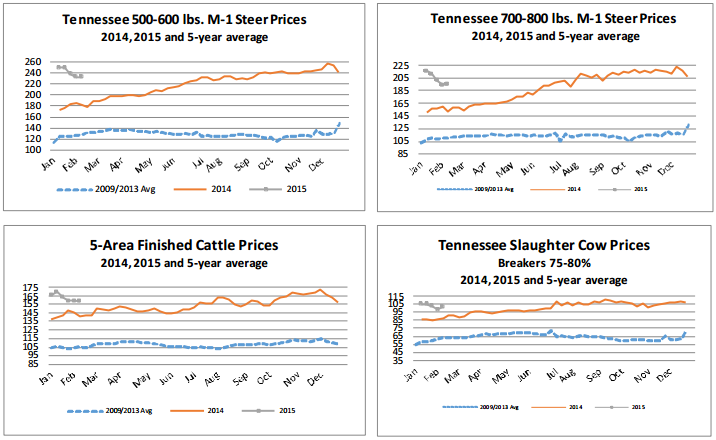 OUTLOOK: Local calf and feeder cattle prices this week did not move in the same direction as feeder cattle futures market prices. Feeder cattle futures prices continued their decline this week as they have been doing since the beginning of December.

Current market prices would indicate that the feeder cattle market was likely overpriced the last two or three months of 2014. Thus, a market correction occurred resulting in futures contract prices plummeting.

Though the futures market price declined this week local auction market prices witnessed a slight resurgence with lightweight calves experiencing the largest gains. Many market analysts keep a close eye on futures market contracts to gain some perspective on the direction of the cash market in future time periods.

This has historically been an effective manner of staying up to date on market prices. However, in the past nine to twelve months the futures market has been fairly unpredictable.

The volatility in futures prices has far exceeded the volatility in local cash markets which has made it difficult to hedge cattle using futures and options. The one upside to this story is the lower volatility in local cash market compared to the futures market.

The lower volatility has provided most cattlemen the opportunity to continue marketing cattle without too much strife. Case in point, producers marketing calves this week were welcomed with slightly higher prices than one week ago.

The increase in prices is likely due to some stocker producers attempting to secure a few calves to place on grass this spring and due to the low availability of calves at this time. The February and March time period is well known for stronger prices for lightweight calves and history is not failing us this year.

Lightweight calf prices probably have a little more upside potential in coming weeks as more buyers look to secure grass cattle. However, it would not be surprising to see those prices drop dramatically sometime between mid-March and mid-April. Producers may also want to keep an eye on slaughter cow prices the next three or four months as the price of slaughter cows generally peaks in May or June.
TECHNICALLY SPEAKING: Based on Thursday's closing prices, February live cattle closed at $153.43. Support is at $152.48, then $150.70. Resistance is at $154.25, then $156.02. The RSI is 40.37. April live cattle closed at $148.02. Support is at $146.73, then $144.01. Resistance is at $149.46, then $152.18. The RSI is 33.74. June live cattle closed at $141.25. Support is at $140.25, then $140.10. Resistance is at $141.75 then $142.75. The RSI is 32.70. March feeders closed at $195.65. Support is at $193.27, then $188.80. Resistance is at $197.75, then $202.23. The RSI is 29.72. April feeders closed at $195.85. Support is at $193.55, then $189.25. Resistance is at $197.85 then $202.15. The RSI is 28.45. May feeders closed at $196.48. Support is at $196.45, then $196.44. Resistance is at $197.63 then $200.45. The RSI is 28.34. Friday's closing prices were as follows: Live/fed cattle –February $156.08 2.65; April $151.03 3.00; June $144.25 3.00; Feeder cattle - March $199.45 3.80; April $199.15 3.30; May $199.68 3.20; August $203.03 2.90. March corn closed at $3.86 up $0.01 from Thursday.