Beef and cattle prices both went up this past week.​
By: Andrew P. Griffith, University of Tennessee

FED CATTLE: Fed cattle traded $4 to $5 higher on a live basis compared to a week ago. Prices were mainly $170 on a live basis while dressed trade was mainly $270. The 5-area weighted average prices thru Thursday were $169.88 live, up $3.95 from last week and $270.62 dressed, up $5.83 from a week ago. A year ago prices were $139.54 live and $221.48 dressed.

The cash fed cattle market continues to amaze onlookers and participants in the market. It is not unusual for the fed cattle market to witness small increases in prices the first week or two of January following two consecutive weeks of reduced slaughter. However, it is unusual for the market to open the year in a 'full steam ahead' mode.

There seems to be a large discrepancy between the cash market and what purveyors in the futures market think is going to happen in the fed cattle market by February as is indicated by the positive $5 to $6 basis. Conventional wisdom would say the market should prepare for a small down turn heading into February, but recent market strength is trying to say otherwise. The most likely situation is for the fed cattle market to soften the next few weeks before challenging record prices this spring.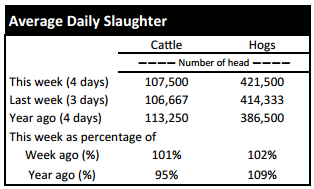 BEEF CUTOUT: At midday Friday, the Choice cutout was $256.39 up $1.82 from Thursday and up $8.39 from last Friday. The Select cutout was $247.58 up $2.24 from Thursday and up $8.61 from last Friday. The Choice Select spread was $8.82 compared to $9.04 a week ago.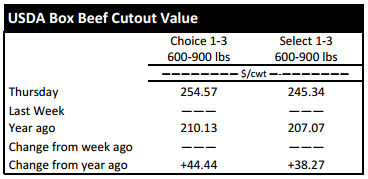 The Choice and Select beef cutout prices continue to surge following the holiday season. It is not uncommon for beef cutout prices to be supported following the holiday season as the beef counter is being restocked, but it is generally not a sustained pace. The current price escalation may be short lived but packers are more than willing to sell boxed beef at higher prices because the pressure of cattle cost remains high. The reason it may be short lived is because beef movement generally slows in February before regaining momentum in late March.

The Choice Select spread is likely to continue narrowing in coming weeks as consumers continue to move from Choice middle meats to Select grade end cuts. The elevated boxed beef prices will not allow the retail price of beef to soften in the near future. Thus, the question among many in the industry will continue to come back to what consumers are willing to pay for beef.
TENNESSEE AUCTIONS: On Tennessee auctions this week compared to three weeks ago steers were $6 to $10 higher while bulls were $3 to $7 higher. Heifers were $2 to $8 higher. Slaughter cows were steady to $3 lower while bulls were unevenly steady. Average receipts per sale were 552 head on 9 sales compared to 0 head on 0 sales last week and 455 head on 11 sales last year.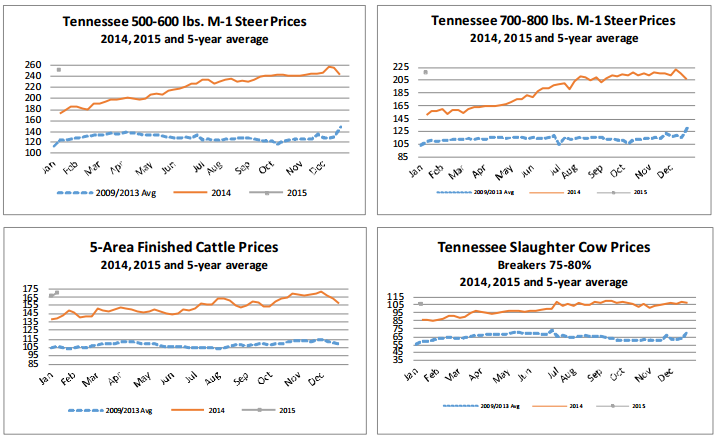 OUTLOOK: Feeder cattle prices struggled the last couple of weeks of 2014 before cash trade took a break for the holidays. The time of softening prices at auction markets coincided with a drastic sell off of futures market contracts. Futures market contracts have rebounded slightly since that decline and have found a somewhat steady state the past few days. However, the rebound in futures prices has resulted in a rebound at local auction markets.

Futures contract prices could escalate to the upper bound that was set in late November and early December but many purveyors in the market would say the market was overbought. Due to the market being overbought, feeder cattle futures witnessed a correction in prices which is why prices dropped so quickly.

Though prices could escalate again, it is more likely feeder cattle contracts will settle in a trading range between $210 and $225 per hundredweight. The trading range seems large at first glance. However, the trading range is rather small considering the magnitude of price fluctuations the past six months. Lightweight calves in local markets might be fairly immune to fluctuations in futures markets the next few months as the market approaches the grass fever run of calves.

Feeder cattle, on the other hand, will be less immune to these price fluctuations. Regardless of the uncertainty in the futures market, cattle buyers are full speed ahead and looking for cattle. This has been very evident for feeder cattle marketed in load lots.

A number of loads of Tennessee steers and heifers have been marketed this week with 825 to 950 pound steers bringing between $1,800 and $1,900 per head while heifers weighing between 775 and 850 pounds have brought about $1,600 to $1,750 per head.

Most market indicators point to prices remaining relatively strong for the foreseeable future, but there is little information pointing toward continued increases in prices. It is almost guaranteed the market will not witness the same linear price increases as experienced in 2014.
TECHNICALLY SPEAKING: Based on Thursday's closing prices, February live cattle closed at $163.60. Support is at $162.01, then $157.93. Resistance is at $166.08, then $170.16. The RSI is 48.03. April live cattle closed at $162.43. Support is at $160.88, then $156.93. Resistance is at $164.83, then $168.78. The RSI is 47.33. June live cattle closed at $153.40. Support is at $153.35, then $152.80. Resistance is at $156.75 then $156.88. The RSI is 44.18. January feeders closed at $225.63. Support is at $223.33, then $218.46. Resistance is at $228.21 then $233.08. The RSI is 52.54. March feeders closed at $217.05. Support is at $214.32, then $207.34. Resistance is at $221.29, then $228.27. The RSI is 42.74. April feeders closed at $216.43. Support is at $216.40, then $212.70. Resistance is at $221.25 then $222.33. The RSI is 41.37. Friday's closing prices were as follows: Live/fed cattle –February $160.60 -3.00; April $159.43 -3.00; June $150.65 -2.75; Feeder cattle - January $222.43 -3.20; March $212.55 -4.50; April $212.48 -3.95; May $212.78 -4.40. March corn closed at $4.00 up $0.06 from Thursday.