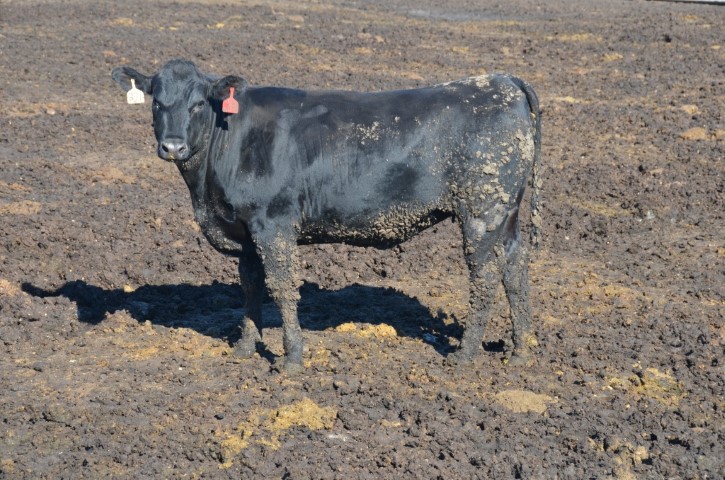 Cattle prices are at a standstill and feedlot mangers are holding on for higher prices. ​
By: Andrew P. Griffith, University of Tennessee​

FED CATTLE: Fed cattle trade is at a standstill with asking prices between $164 and $165 in the South and $260 plus in the North. The 5-area weighted average prices thru Thursday were $160.54 live, up $1.81 from last week and $255.15 dressed, up $3.15 from a week ago. A year ago prices were $141.99 live and $223.00 dressed.

Feedlot managers continue to hold out for higher prices even though the beef cutout is on a slippery slope. Packers and feeders were both slow to do much business this week which is understandable given the direction of their underlying markets.

The nearby February futures contract for live cattle increased nearly $4 since last Friday which has tightened the basis, but feedlot operators were working to achieve a similar basis to last week. Alternatively, packers are watching beef cutout prices slip which reduces the revenue side and thus tightens packer margins.

The market still has several weeks before retailers begin purchasing inventory for the summer grilling season which generally results in higher cutout prices and higher fed cattle prices. Feeders appear to maintain leverage the next few months which will have packers in the hot seat.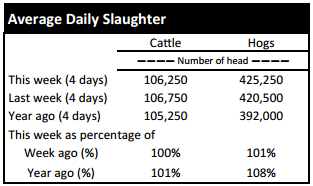 BEEF CUTOUT: At midday Friday, the Choice cutout was $238.09 down $1.01 from Thursday and down $1.89 from last Friday. The Select cutout was $234.37 down $0.82 from Thursday and down $0.47 from last Friday. The Choice Select spread was $3.72 compared to $5.14 a week ago.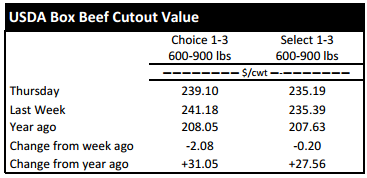 February is known for its weak beef demand and it is living up to its reputation. Packers are closely managing slaughter rates in fear of further downside price pressure in beef cutout values as fed cattle prices remain strong.

Packers reduced federally inspected cattle and calf slaughter last week by 4.4 percent compared to the previous week and 6.4 percent compared to two weeks ago. Similarly, slaughter last week was 3.4 percent lower than the same week one year ago.

The first five weeks of federally inspected slaughter for 2015 is 5.6 percent lower than the same period one year ago and 9.7 percent lower than the same five weeks in 2013. Packers will continue to closely monitor slaughter and beef production since the ratio of the retail price of beef to the retail price of pork in December was 1.50 and 3.89 when compared to the broiler retail price. These numbers are compared to the average price ratio of 1.33 for retail pork and 3.26 for retail broilers from 2009 to 2013.
TENNESSEE AUCTIONS: On Tennessee auctions this week compared to a week ago steers and bulls were $1 to $10 higher. Heifers were $5 to $8 higher. Slaughter cows were $3 to $4 higher while slaughter bulls were $3 to $5 higher. Average receipts per sale were 674 head on 8 sales compared to 411 head on 9 sales last week and 440 head on 10 sales last year.


OUTLOOK: Calf and feeder cattle prices have gained a little steam the past two weeks which is likely indicative of the warming of the spring market.

Producers are likely beginning the process of purchasing cattle to place on spring grass. Many of these purchases are being made so producers can acquire inventory at a little lower price than what may be seen in a month or so and to insure enough cattle are available to stock pastures.

The largest price gains have been seen on lightweight calves that will be efficient in converting grass to pounds. Many of these calves have gained $6 to $7 per hundredweight in the past two weeks and the expectation is for the price of grass cattle to continue to surge into middle or late March.

This is largely viewed as a positive price movement for cow-calf producers as prices slipped between $20 and $27 per hundredweight from the first week of December to the last week of January. Calf and feeder cattle prices may not reach the Tennessee record price witnessed late last fall, but they will come within striking distance which will result in record profits for producers normally marketing calves in the early spring time period.

On the opposite side of the coin from cow-calf producers are stocker producers looking to secure inventory. Stocker producers are margin operators working with the margin of the purchase value, the sale value, feed cost and other input costs. Thus, it can be a complex decision deciding what weight class to purchase to maximize profits.

In the spring, many producers purchase cattle weighing between 400 and 550 pounds. However, producers are advised to keep close tabs on purchasing opportunities of slightly heavier cattle as the spring market continues to heat up. It may be that a producer could purchase the additional weight cheaper than they can put it on the calves.

The purchase of heavier calves will reduce the number of head that can be placed on a particular pasture, but if supplemental feed is also being fed then purchasing heavier calves may be a favorable alternative as we head towards spring. Additionally, producers are encouraged to evaluate price risk management strategies to protect margins as the market is expected to remain volatile.
TECHNICALLY SPEAKING: Based on Thursday's closing prices, February live cattle closed at $159.10. Support is at $157.80, then $155.70. Resistance is at $159.90, then $162.00. The RSI is 55.85. April live cattle closed at $151.13. Support is at $149.80, then $147.30. Resistance is at $152.30, then $154.80. The RSI is 43.61. June live cattle closed at $143.88. Support is at $142.25, then $141.25. Resistance is at $144.55 then $145.93. The RSI is 42.95. March feeders closed at $200.30. Support is at $197.85, then $193.88. Resistance is at $201.82, then $205.80. The RSI is 41.68. April feeders closed at $200.30. Support is at $197.86, then $193.88. Resistance is at $201.83 then $205.81. The RSI is 40.82. May feeders closed at $200.35. Support is at $198.28, then $197.75. Resistance is at $201.83 then $203.23. The RSI is 40.20. Friday's closing prices were as follows: Live/fed cattle –February $160.00 0.90; April $153.23 2.10; June $146.03 2.15; Feeder cattle - March $203.85 3.55; April $203.25 2.95; May $202.53 2.18; August $204.98 1.63. March corn closed at $3.87 up $0.04 from Thursday.