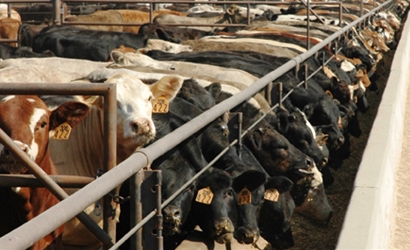 Not only was a record high price set but it blew the previous record out of the water. 
By: Andrew P. Griffith, University of Tennessee

FED CATTLE: Fed cattle traded $6 higher on a live basis compared to a week ago. Prices were mainly $170 on a live basis while dressed trade ranged from $264 to $266. The 5-area weighted average prices thru Thursday were $168.67 live, up $4.93 from last week and $263.80 dressed, up $6.05 from a week ago. A year ago prices were $132.29 live and $207.80 dressed.

Fed cattle traders decided it was time to set a new record cash price for fed cattle this week. Not only was a record high price set but it blew the previous record out of the water. Current fed cattle prices bode well for cattle feeders who have continued to pay monumental prices for feeder cattle.

Higher and higher feeder cattle prices have not reared an ugly head at cattle feeders yet as feedlot managers have had abundant success with regards to pushing fat cattle prices higher. This means many cattle feeders have been able to maintain strong margins and even improve feeding margins in a time of record prices.

At some point this thrill ride will turn into a horror movie but not in the imminent future.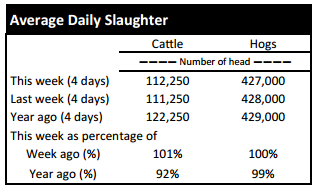 BEEF CUTOUT: At midday Friday, the Choice cutout was $247.04 down $2.39 from Thursday and down $1.87 from last Friday. The Select cutout was $232.44 down $1.10 from Thursday and down $2.09 from last Friday. The Choice Select spread was $14.60 compared to $14.38 a week ago.




Folks in the packing industry are not having as much fun as those in the cattle feeding business. Packer margins have moved from good to fair to poor and now they are starting to appear dismal. Packers have not been able to successfully move cutout prices higher, but they continue to pay higher prices for fed cattle.

Pushing cutout prices higher will be a constant struggle in the months and years to come as consumers will have to adjust to record high retail beef prices, or they may be forced to do without. It is evident that some consumers have started walking past the beef counter and spend more time in the pork and poultry sections of the grocery store. However, not all consumers are as willing to give up beef for other meat alternatives.

Consumers will continue to be diligent with disposable income and food purchases, but they will keep close tabs on beef prices. One factor that may benefit beef sales is the decline in fuel prices. The decline in fuel prices will free up some disposable income and some consumers will spend it at the meat counter.
TENNESSEE AUCTIONS: On Tennessee auctions this week compared to a week ago steers and bulls under 400 pounds were $4 to $7 lower while those over 400 pounds were steady to $3 higher. Heifers were steady to $2 lower. Slaughter cows were steady to $1 higher while bulls were steady. Average receipts per sale were 989 head on 12 sales compared to 708 head on 12 sales last week and 880 head on 10 sales last year.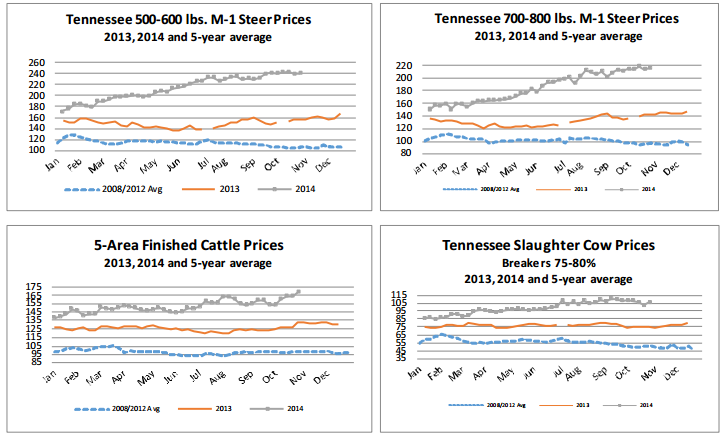 OUTLOOK: The calf market is starting to feel a little pressure from the fall rush of calves as many producers are hauling freshly weaned cattle to town. Another factor playing into a slightly weaker market is due to the fact that these freshly weaned calves are high risk with an immature immune system. An immature immune system and increased temperature variability in October and November generally results in an increase in death loss during these months. Thus, stocker producers are not as willing to pay premiums for high risk calves especially with each one costing between $1,200 and $1,300 a head.

Cow-calf producers will continue to sale calves for strong prices and large profits this fall, but those profits may be a little short of what some of their neighbors made at a different time period. Cow-calf producers who have not marketed calves still have the opportunity to provide some management to their calves and lower the risk to the buyer which generally results in a higher price, but it is necessary to identify a marketing avenue that will return the added value for the effort.

Additionally, producers should be looking to market their available forage to its highest value. Many producers have stockpiled forage for the winter and identifying its highest value could prove beneficial to the operation. The highest value may be to over-winter cows that will be culled to put some more weight on them before marketing or it may be to sell heavy calves but continue to grow lighter weight calves. Producers should evaluate these and similar alternatives to maximize value.
The October cattle on feed report for feedlots with a 1000 head or more capacity indicated cattle and calves on feed as of October 1, 2014 totaled 10.06 million head down 0.5% compared to a year ago, which is on target with pre-report estimates . September placements in feedlots totaled 2.01 million head, up 1.0% from a year ago with the pre-report estimate average expecting placements up 1.4%. September marketing's totaled 1.68 million head down 0.5% from 2013 which is within the pre-report estimate expectation. Placements on feed by weight: under 700 pounds no change; 700 to 799 pounds down 8.0%, and 800 pounds and over up 8.0%.
TECHNICALLY SPEAKING: Based on Thursday's closing prices, December live cattle closed at $169.10. Support is at $167.80, then $165.40. Resistance is at $170.20 then $172.60. The RSI is 64.38. February live cattle closed at $168.85. Support is at $167.60, then $166.80. Resistance is at $168.86, then $168.87. The RSI is 64.50. April live cattle closed at $167.05. Support is at $165.80, then $165.78. Resistance is at $167.15, then $167.85. The RSI is 64.03. November feeders closed at $236.70. Support is at $235.56, then $233.58. Resistance is at $237.53 then $239.51. The RSI is 56.35. January feeders closed at $230.98. Support is at $229.28, then $228.25. Resistance is at $231.00 then $231.08. The RSI is 56.91. March feeders closed at $228.93. Support is at $227.70, then $227.35. Resistance is at $228.95, then $229.10. The RSI is 55.91. Friday's closing prices were as follows: Live/fed cattle – October $168.25 -0.80; December $166.90 -2.20; February $166.55 -2.30; Feeder cattle - October $237.90 -2.33; November $234.65 -2.05; January $228.90 -2.08; March $227.18 -1.75; December corn closed at $3.53 down $0.07 from Thursday.