Fed cattle prices fell on a live basis and beef prices also saw a slight decrease.
By: Andrew P. Griffith, University of Tennessee
FED CATTLE: Fed cattle traded $5 to $6 lower on a live basis compared to a week ago. Prices were mainly $166 to $168 on a live basis while dressed trade was mainly $263 to $265. The 5-area weighted average prices thru Thursday were $166.61 live, down $5.35 from last week and $263.97 dressed, down $2.44 from a week ago. A year ago prices were $131.89 live and $209.10 dressed.

The break from record high cattle prices may be starting to take form as futures prices have been pressured all week. The pressure on futures contract prices has resulted in the cash market taking a dive, and there does not seem to be much of any new information that will continue to support fed cattle prices at record levels.

A number of feedlot operators were resistant to trading cattle for a price less than what was received a week ago, but it appears the fate of the market is softening which means margins are about to tighten on feedlot managers. Some feedlots may hold onto cattle and try to market them at higher prices again next week, but it may simply result in moving cattle at further reduced prices than the current week. Feedlot managers can ill afford for fed cattle to move very low as break-evens are in the $160s.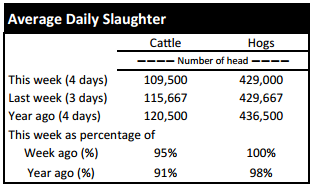 BEEF CUTOUT: At midday Friday, the Choice cutout was $253.87 down $0.55 from Thursday and down $3.28 from last Friday. The Select cutout was $237.78 down $2.48 from Thursday and down $8.11 from last Friday. The Choice Select spread was $16.10 compared to $11.26 a week ago.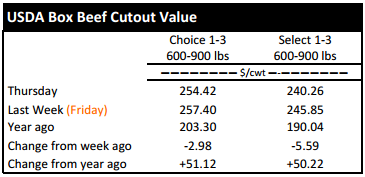 Packers find margins to be continually squeezed as cutout prices floundered this week. The only upside is that fed cattle prices softened which meant the squeeze was only coming from one direction instead of two. The Choice cutout has remained relatively strong due to some last minute holiday purchasing at the retail level. However, pressure against the Select cutout was strong as 60 percent of the gains in the Select market that occurred over the past five weeks were erased in one fell swoop.

It is not uncommon for the Choice Select spread to widen this time of year as most beef purchases are focused on Choice middle meats while end cuts and Select cuts are pushed to the side. The Choice and Select cutouts will be under extreme pressure as retailers finish the last of their holiday beef purchasing which could result in continued negative margins at the packer level if fed cattle prices do not decline significantly.
TENNESSEE AUCTIONS: On Tennessee auctions this week compared to two weeks ago steers and bulls were $6 to $9 higher. Heifers were $8 to $13 higher. Slaughter cows were steady to $1 lower while bulls were steady to $1 higher. Average receipts per sale were 816 head on 9 sales compared to 600 head on 2 sales last week and 764 head on 11 sales last year.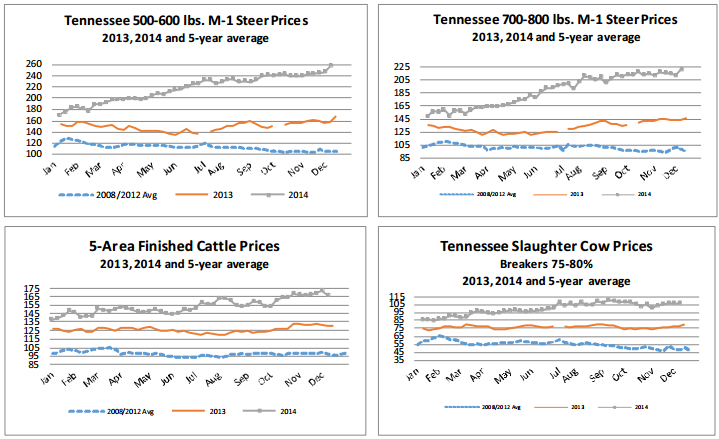 OUTLOOK: Cattle receipts generally tail off the in the weeks following Thanksgiving and leading up to the New Year. However, weather factors prohibited many cattle producers across the state from marketing the last of their calves and culled commercial market cows the last couple of weeks of November. Thus, there was an expectation that cattle movement would be strong this week and potentially next week. The failure of producers to market earlier in the fall has been to their benefit as calf prices continue to rise and commercial slaughter cow prices have remained elevated.

Cash prices have steadily increased for most classes of cattle, but a roller coaster ride on feeder cattle futures has been present since the beginning of October. January feeder cattle futures closed at $231.78 on the first day of October and then proceeded to climb to $236.33 seven days later but then fell to $228.13 the following week before closing at $237.48 in the middle of November. Subsequently, January feeder cattle futures fell to $230.50 the day before Thanksgiving and have now rebounded back to near $236. Most contract months follow a similar pattern.

What does not follow this pattern so well is the cash price for feeder cattle. The feeder cattle index traded over $244 this week which is an $8 premium to the nearby January futures contract. Futures prices and the feeder cattle index generally converge as the expiration of a contract month approaches. This is important because the CME feeder cattle index is used to settle open contracts. Thus, either the feeder cattle index will have to drop off sharply or the nearby feeder cattle futures price will have to continue to escalate.

What may be more feasible are a small decline in the index price and an increase in the nearby futures price. Such discrepancies in the market can make it difficult to hedge cattle successfully as basis risk is relatively high. Additionally, the cost of at-the-money puts and calls are relatively expensive due to volatility in the market and the sheer magnitude of prices.
TECHNICALLY SPEAKING: Based on Thursday's closing prices, December live cattle closed at $166.45. Support is at $166.00, then $164.85. Resistance is at $167.15 then $168.30. The RSI is 43.87. February live cattle closed at $166.98. Support is at $166.40, then $165.07. Resistance is at $167.72, then $169.05. The RSI is 44.03. April live cattle closed at $166.45. Support is at $166.40, then $166.10. Resistance is at $167.40, then $168.75. The RSI is 45.36. January feeders closed at $235.95. Support is at $234.61, then $232.01. Resistance is at $233.06 then $235.08. The RSI is 58.78. March feeders closed at $232.05. Support is at $231.03, then $229.01. Resistance is at $233.06, then $235.08. The RSI is 53.72. April feeders closed at $232.55. Support is at $231.20, then $230.78. Resistance is at $232.85 then $234.38. The RSI is 54.07. Friday's closing prices were as follows: Live/fed cattle –December $164.45 -2.00; February $164.88 -2.10; April $164.30 -2.15; Feeder cattle - January $234.88 -1.08; March $231.23 -0.83; April $230.93 -1.63; May $231.35 -1.25; December corn closed at $3.82 up $0.06 from Thursday.