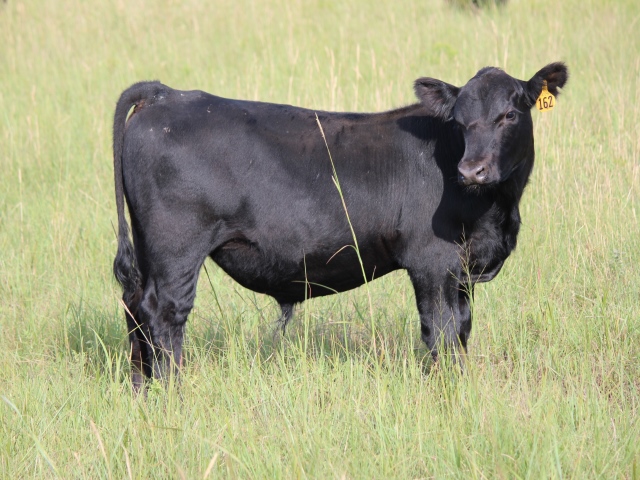 By: Andrew P. Griffith, University of Tennessee
FED CATTLE: Fed cattle trade was not well established at press. It appears trade will be $5 or $6 lower than a week ago on a live basis. Expected live prices are $121 to $123 with dressed prices $194 to $196. The 5-area weighted average prices thru Thursday were $121.03 live, down $5.78 from last week and $195.03 dressed, down $7.84 from a week ago. A year ago prices were $151.29 live and $240.20 dressed.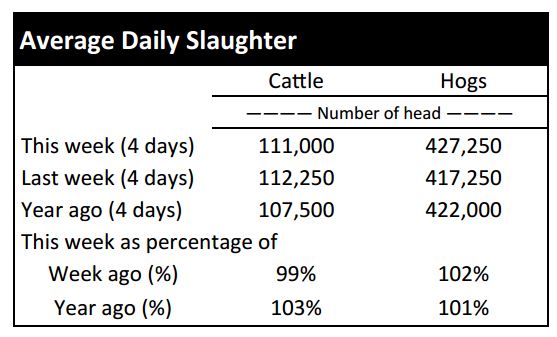 Live cattle prices are hitting the summer wall and hitting it hard. Cattle feeders continue to pull cattle forward due to the deep discounts represented on the futures market which provides little incentive to continue growing animals to heavier weights. This corresponds to a time when live cattle prices seasonally struggle as calf fed animals are coming off feed in large numbers.
Packers have fear of the beef cutout price collapsing during the summer heat which is a valid concern while cattle feeders continue to take punches to the gut as margins get cut to barely above breakeven. Live cattle prices will likely struggle the next couple of months as hot temperatures set in and cattle are pulled forward. Replacement cattle may be fairly inexpensive though.
BEEF CUTOUT: At midday Friday, the Choice cutout was $222.98 down $0.50 from Thursday and down $4.00 from last Friday. The Select cutout was $200.50 down $2.25 from Thursday and down $3.22 from last Friday. The Choice Select spread was $22.48 compared to $23.26 a week ago.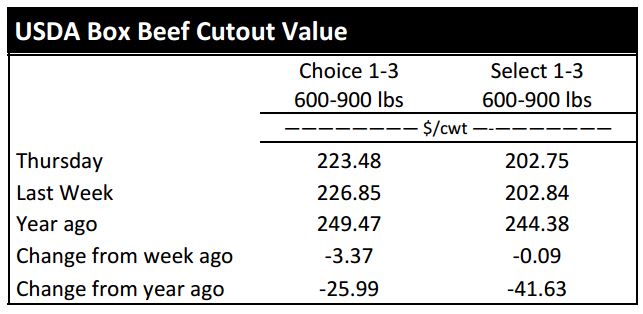 Beef cutout prices remain elevated relative to live cattle prices. This fact likely has many feedlot managers a little hot under the collar as packers continue to experience strong margins. Thus, packers are taking advantage of lower finished cattle prices while finding a way to support cutout prices.
The biggest advantage for packers is the willingness of feedlot managers to sell cattle given the discount in live cattle futures which is pricing in lower finished cattle prices the next several months. The retail sector has been featuring beef items for Father's Day which has likely supported cutout prices. It is evident that the demand remains strong for Choice meats as the Choice Select spread remains extremely wide even by historical standards.
There is a good possibility that cutout prices have begun their inevitable summer price decline this week. There are several summer grilling holidays still to come, but there will be a transition by consumers from middle meats to ground and processed products. Thus, the market will wait and see what happens with loin and rib prices as well as 90s and 50s ground beef.
OUTLOOK: It was not a good week for sellers based on feeder cattle futures. Actually, it was a terrible week for feeder cattle futures sales which translated into a terrible week for local calf and feeder cattle prices. The August contract declined more than $8 from last Friday's close to today's close. The shock to the futures market resulted in steer prices declining $11 to $15 based on Tennessee auction averages while heifer prices declined $4 to $8.
The price decline resulted in the value of steers declining about $70 per head from the previous week while heifer values declined $35 per head. This week's situation was not good from a selling standpoint, but it was advantageous for buyers trying to secure cattle for summer grazing programs and for feedlots looking to fill vacant pen space. Buyers are even more excited about the fact that the capital outlay to purchase an animal is much smaller than one year ago.
The price of a 550 pound steer was $114 per hundredweight lower than the same week one year ago which translates into $627 per head less than one year ago. Similarly, the price of a 750 pound steer based on Tennessee auction averages was $91.50 per hundredweight lower than the same week one year ago which results in a value reduction of $686 per head.
A similar story can be told concerning heifers. The question for cow-calf producers is if they can be profitable at the current price level. A 550 pound steer had a total value of $767 this week while a 750 pound steer had a value of $922. Maybe a better question is if cow-calf producers can be profitable at even lower prices than what was experienced this week. The expectation is for calf prices to bounce back from this low, but a small resurgence in price is not going to answer the questions raised.
Producers must begin managing costs and managing costs is not to just stop spending. Rather, producers are encouraged to evaluate the management practices that have the greatest return on investment and spend money on those practices that return the most for each dollar spent. One example is to castrate and implant calves, but producers are encouraged to do a thorough analysis because margins will continue to tighten.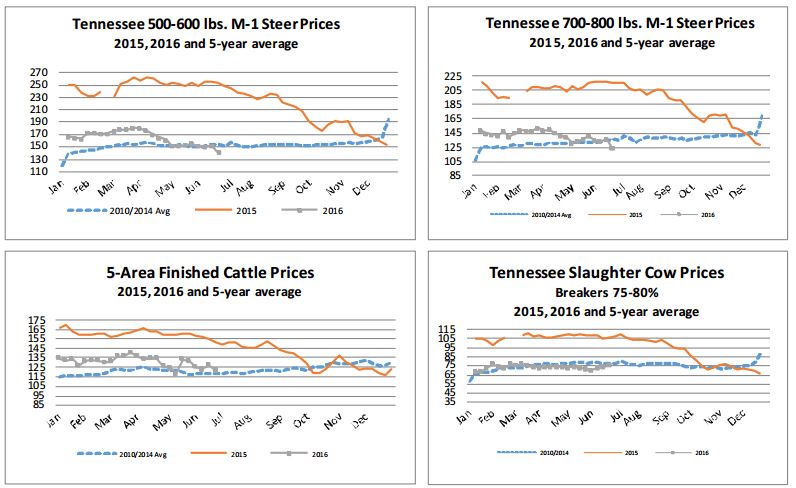 ASK ANDREW, TN THINK TANK: Several questions were raised this week with one related to the decline in cold storage inventories for beef and its impact on cattle prices. The quantity of beef in cold storage has declined every month in 2016 and as of April was 32 million pounds below the same month one year ago. Beef in cold storage in April was 452 million pounds which is equivalent to about one week's worth of federally inspected beef production. Thus, beef in cold storage does not account for a very large percentage of total production. With that being said, increasing or decreasing inventories of beef in cold storage have an extremely small impact on cattle prices. Cold storage inventories do provide supporting evidence for other indicators. It can help with understanding if imports are being placed in cold storage for future use or if the domestic market is backing up or clearing very quickly. However, additional information is necessary to draw such conclusions.
Please send questions and comments to [email protected] or send a letter to Andrew P. Griffith, University of Tennessee, 314B Morgan Hall, 2621 Morgan Circle, Knoxville, TN 37996.
FRIDAY'S FUTURES MARKET CLOSING PRICES: Friday's closing prices were as follows: Live/fed cattle –June $116.73 -0.55; August $112.55 -0.80; October $112.65 -0.65; Feeder cattle - August $137.43 -2.20; September $136.65 -1.88; October $135.45 -1.70; November $132.20 -1.68; July corn closed at $4.38 up $0.13 from Thursday.