By: Andrew P. Griffith, University of Tennessee

FED CATTLE: Fed cattle traded $4 to $5 higher on a live basis compared to a week ago. Prices were mainly $166 on a live basis while dressed trade was mainly $265.The 5-area weighted average prices thru Thursday were $165.93 live, up $3.92 from last week and $264.79 dressed, up $7.82 from a week ago. A year ago prices were $137.46 live and $217.14 dressed.

Most of the losses in fed cattle prices witnessed the first couple of weeks of December have been erased during the two holiday shortened weeks. This was a welcome rebound for cattle feeders that are in the midst of marketing cattle that were purchased at record feeder cattle prices in late summer. The rebound in prices alleviates most of the pressure from losses cattle feeders were experiencing, but cattle feeders will be looking to force prices higher next week as packers pick back up a more normal harvest schedule.

Though fed cattle prices are on the rebound, it will be difficult for prices to challenge the record of $172.94 which was set the last week of November. Cattle continue to be fed to heavier weights and this could pressure many feedlot managers as cattle marketings become less current which may shift a little leverage to the packer.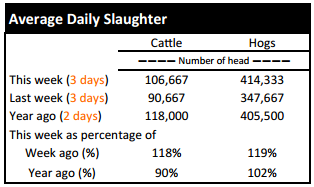 BEEF CUTOUT: At midday Friday, the Choice cutout was $248.00 down $0.90 from Thursday and up $3.39 from last Friday. The Select cutout was $238.97 up $0.40 from Thursday and up $3.06 from last Friday. The Choice Select spread was $9.04 compared to $8.70 a week ago.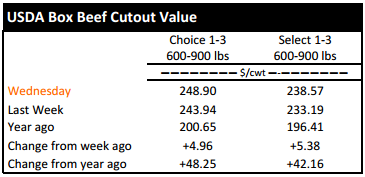 Much like fed cattle prices, the Choice and Select beef cutout prices received a boost the past couple of weeks. The Choice cutout has gained $5.48 the past two weeks while the Select cutout has gained $8.41 over the same time period.

Some of this strength comes from reduced slaughter while some of it may be due to the decline in fuel and energy costs. A decline in fuel prices frees up consumer disposable income which is then spent on other goods such as beef.

The market is starting to indicate consumers shifting from middle meats to end meats for the winter time period. This is a common occurrence as many consumers begin preparing more stews and soups which generally results in the purchase of more Select graded cuts which is evident in the narrowing of the Choice Select spread. The Choice Select spread is likely narrow into the late February and early March time period before Choice beef comes back into play.
TENNESSEE AUCTIONS: Tennessee auctions have not been reported the previous two weeks due to the Christmas and New Year's holidays.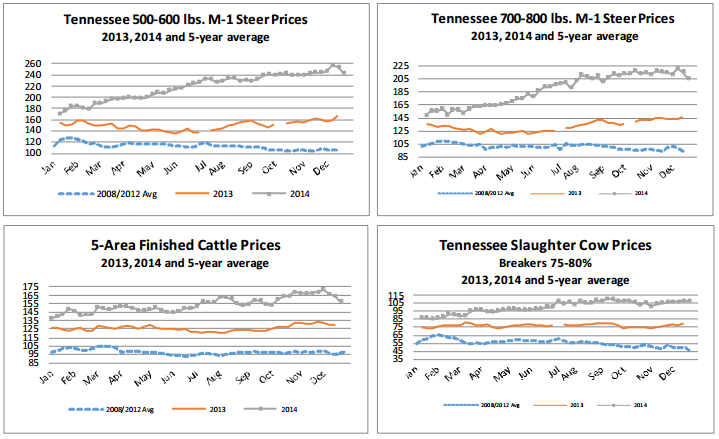 OUTLOOK: Auction markets across the nation have been silent the past couple of weeks as have most other avenues for trading calves and feeder cattle. There are sure to have been some animals traded the past two weeks, but too few to develop trends. Thus, the only market to analyze is the feeder cattle futures market.

Trade on the futures market can provide information in relation to the direction of the market being implied by recent trades. A quick look backwards to the first week of December reminds industry participants that many of the feeder cattle futures contract months for 2015 were trading in the $233 to $237 range before hitting a rough patch through the month of December.

Most of the months currently being traded are experiencing contract prices $15 to $20 lower than just one month ago. This may be perceived as a negative to many in the industry, especially cow-calf producers. However, margin operators such as stocker producers and feedlot operators may welcome the price decline as it reduces the overall capital necessary to secure inventory.

It also bodes well for feedlot managers in relation to overall margins if live cattle prices remain strong and feeder cattle prices soften. Though cow-calf producers may be slightly perturbed by price declines on the futures market, record profitability should remain in play.

Calf and feeder cattle prices the first half 2015 are likely to be well above price levels experienced the first six months of 2014. For instance, 500 to 600 pound steers in Tennessee averaged $171 per hundredweight the first week of 2014 and then proceeded to trade at $226 per hundredweight the final week of June. However, prices continued to escalate and peaked just above $246 in December. Therefore, producers normally marketing calves the first six months of the year will experience significantly higher prices than a year ago.

Producers marketing cattle the second half of the year are less likely to experience higher prices than received in 2014. The industry is in the process of setting itself up for a more seasonal trend in 2015 as herd expansion is in full motion, but the peaks and valleys associated with the seasonal trend may not be as well defined due to the availability of cattle. The one class of cattle that may continue to avoid the usual seasonal pattern is slaughter cows, because producers are focused on herd expansion.
TECHNICALLY SPEAKING: Based on Wednesday's closing prices, February live cattle closed at $163.55. Support is at $162.15, then $158.82. Resistance is at $165.47, then $168.80. The RSI is 49.32. April live cattle closed at $162.40. Support is at $161.75, then $161.48. Resistance is at $164.30, then $164.70. The RSI is 48.47. June live cattle closed at $154.90. Support is at $153.40, then $152.80. Resistance is at $155.13 then $155.50. The RSI is 49.76. January feeders closed at $219.45. Support is at $217.87, then $215.04. Resistance is at $220.69 then $223.52. The RSI is 40.91. March feeders closed at $217.32. Support is at $215.80, then $213.17. Resistance is at $218.42, then $221.05. The RSI is 42.02. April feeders closed at $218.05. Support is at $217.03, then $216.45. Resistance is at $219.05 then $219.65. The RSI is 42.67. Friday's closing prices were as follows: Live/fed cattle –February $165.68 2.13; April $164.58 2.18; June $157.05 2.15; Feeder cattle - January $223.95 4.50; March $221.45 4.13; April $222.33 4.28; May $223.43 4.38. March corn closed at $3.96 down $0.01 from Wednesday.