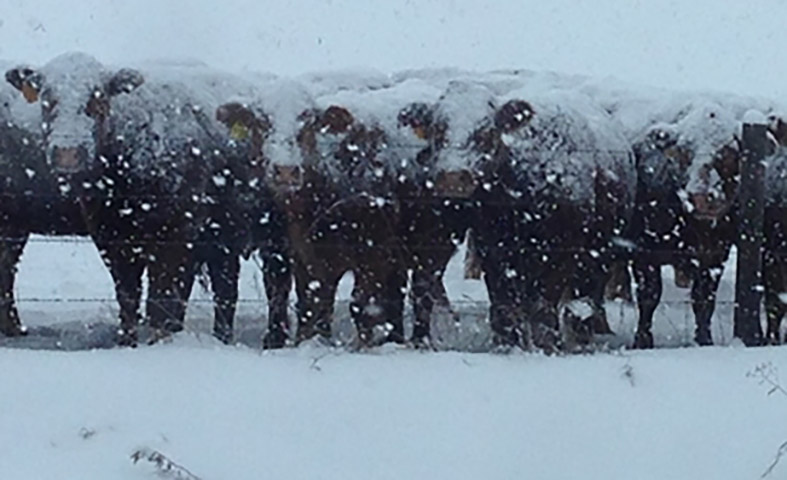 The winter precipitation and cold temperatures in the eastern part of the country have not been beneficial to beef cutout prices.​
By: Andrew P. Griffith, University of Tennessee

FED CATTLE: Fed cattle traded steady on a live basis compared to a week ago. Prices were mainly $160 on a live basis while most dressed trade took place between $256 and $258. The 5-area weighted average prices thru Thursday were $159.99 live, down $0.55 from last week and $256.36 dressed, up $1.21 from a week ago. A year ago prices were $142.00 live and $230.00 dressed.

Packers have gained some leverage on feedlots the past few weeks as packers are closely managing harvest rates. Packers will continue to pressure feedlot managers into lower cattle prices the next few weeks since there is no expectation for beef prices to strengthen until spring. Thus, cattle feeders will continue to feel a margin pinch as closeouts come back negative on some cattle.

Cattle feeders have had somewhat of a reprieve as it relates to the cost of replacement cattle to fill pen space, but the results of margins on these cattle will not be experienced for five to six months. Cattle feeders will be in cost management mode the next several weeks to minimize losses on finished cattle, but the losses experienced in the near term will not rival the losses experienced by cattle feeders in 2013.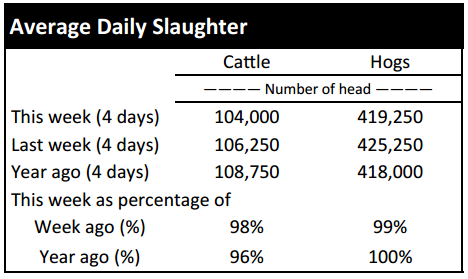 BEEF CUTOUT: At midday Friday, the Choice cutout was $240.12 up $0.20 from Thursday and up $2.03 from last Friday. The Select cutout was $236.86 up $0.15 from Thursday and up $2.49 from last Friday. The Choice Select spread was $3.26 compared to $3.72 a week ago.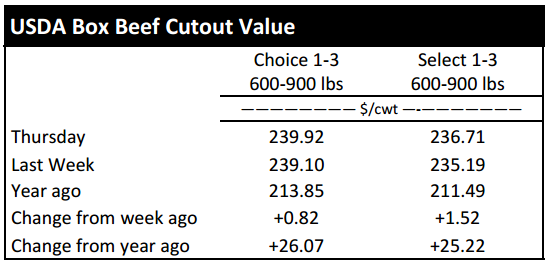 Somehow, the beef cutouts were able to gain a little ground this week. The winter precipitation and cold temperatures in the eastern part of the country have not been beneficial to beef cutout prices. This type of weather along the most densely populated regions of the country generally keeps consumers from venturing to restaurants and grocery stores and results in slower beef movement. However, packers have been combating part of the problem with reduced harvest.

The situation on the west coast is not much better as exports have continued to be held up due to labor disputes. Pork is more greatly influenced than beef, but that will result in lower domestic pork prices which will mean beef is less competitive with pork. On the other side of the coin, the discovery of a cow with BSE in Canada has resulted in South Korea halting imports of beef from Canada which may result in pulling more beef from the U.S. However, the effect will be small since South Korean beef imports from Canada are rather small.
TENNESSEE AUCTIONS: The Tennessee auction summary is not available this week as markets were not covered due to inclement weather.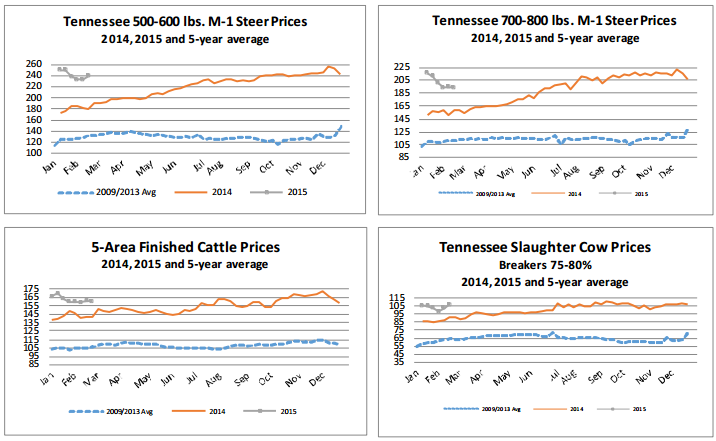 OUTLOOK: Even if markets would have been reported, it is likely very few cattle would have ever made it to market as many producers chose to submit to Mother Nature and stay indoors. Conditions that have been experienced across the state have made it difficult to feed cattle much less set wheels under them and ship them to the market. With that being said, there are a number of implications that can be garnered from the inclement weather.

The first observation is in relation to cattle coming to market this week. If weather conditions are favorable then more calves will come to market since very few were able to make it this week. However, with the expectation for temperatures to never exceed forty degrees the next several days then it may be the first week of March before cattle movement starts again in the state. Thus, producers looking to secure stocker cattle to place on spring grass are advised to keep their eyes open the next couple of weeks as lightweight calves are likely to start rolling into the auction market.

A second observation in relation to the weather is from a cost standpoint. Producers have likely been forced to feed more hay the past week with ice covering the ground and with cold temperatures resulting cattle requiring more energy. The additional energy necessary for cattle to combat cold temperatures can sometimes be provided through high quality hay, but often times it requires a supplement that is high in energy. The additional feed resources necessary will increase production cost and narrow profits slightly. A third implication could be in relation to fall calving herds which are in the midst of breeding season.

Cold weather may inhibit reproduction efficiency which will have huge profit implications in 2016 for fall calving herds if a few females fail to breed. Thus, producers are encouraged to pregnancy check the herd following the breeding season. Open females can either be rolled into the spring calving herd or they can be placed with the bulls later on and marketed as bred females for a spring calving herd. These alternatives allow a producer to capitalize on some value of the female and not lose a full year of production.

The February cattle on feed report for feedlots with a 1000 head or more capacity indicated cattle and calves on feed as of February 1, 2015 totaled 10.71 million head, up 0.3% from a year ago, which is consistent with pre-report estimates. January placements in feedlots totaled 1.79 million head, down 11.3% from a year ago with the pre-report estimate average expecting placements down 13.7%. January marketing's totaled 1.63 million head down 9.1% from 2014 while the pre-report estimate expectation was down 8.8%. Placements on feed by weight: under 800 pounds down 16.5% and 800 pounds and over up 6.0%.
TECHNICALLY SPEAKING: Based on Thursday's closing prices, February live cattle closed at $158.93. Support is at $158.50, then $157.75. Resistance is at $159.25, then $160.00. The RSI is 54.28. April live cattle closed at $151.50. Support is at $150.80, then $149.05. Resistance is at $152.55, then $154.30. The RSI is 45.84. June live cattle closed at $144.00. Support is at $143.85, then $143.65. Resistance is at $144.25 then $144.70. The RSI is 44.76. March feeders closed at $202.55. Support is at $201.42, then $198.74. Resistance is at $204.09, then $206.77. The RSI is 46.09. April feeders closed at $201.57. Support is at $200.39, then $197.69. Resistance is at $203.09 then $205.79. The RSI is 44.16. May feeders closed at $200.90. Support is at $200.08, then $198.28. Resistance is at $201.35 then $202.53. The RSI is 42.55. Friday's closing prices were as follows: Live/fed cattle –February $156.70 -2.23; April $148.53 -2.98; June $141.88 -2.13; Feeder cattle - March $199.18 -3.38; April $198.35 -3.23; May $197.83 -3.08; August $201.00 -2.65. March corn closed at $3.85 down $0.05 from Thursday.