Now is the time to consider rebuilding the herd, but holding onto cows could be risky.
By: Andrew P. Griffith, University of Tennessee

FED CATTLE: Fed cattle traded steady to slightly weaker on a live basis compared to a week ago. Prices were mainly $167 to $168 on a live basis while dressed trade ranged from $260 to $263. The 5-area weighted average prices thru Thursday were $166.87 live, down $0.55 from last week and $261.13 dressed, down $2.17 from a week ago. A year ago prices were $130.95 live and $206.04 dressed.

Maybe the question of how high can fed cattle prices go has been answered. The fed cattle market has met resistance for two weeks which is almost a trend in today's volatile market. Fed cattle peaked at $170 two weeks ago but were not able to maintain that level either last week or regain any follow through this week.

Two weeks of softer prices is not enough to say prices cannot press farther forward, but a number of market factors indicate significant pressure in the beef and cattle markets which will make it difficult for prices to continue escalating. However, it does not mean the market is going to fall apart and prices plummet, because many of the market conditions that caused prices to rise to this level will continue to provide support.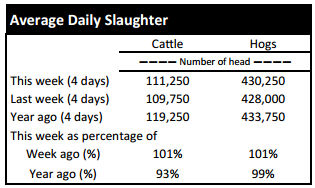 BEEF CUTOUT: At midday Friday, the Choice cutout was $249.16 down $1.36 from Thursday and down $2.61 from last Friday. The Select cutout was $238.44 up $1.19 from Thursday and down $0.73 from last Friday. The Choice Select spread was $10.71 compared to $12.60 a week ago.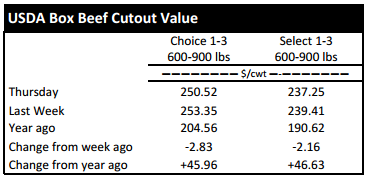 Packers continue to struggle forcing boxed beef prices higher and these struggles will likely persist as retailers continue to slowly increase the retail price of beef products.

The retail value of Choice beef in September was $625.60 per hundredweight which is a 17.0 percent increase since January. Similarly, the all fresh beef retail value in September was $592.40 per hundredweight which is an increase of 17.4 percent since January. It is unlikely retail prices have peaked which means consumers will be faced with even higher beef prices in the grocery store which will further test beef demand which has been strong all year.

Pork and poultry prices have also been on the increase, but the poultry and pork industries look prepared to increase production which will likely result in lower retail pork and chicken prices. Consumers pay attention to relative prices of meat which is why beef has remained competitive. However, if pork and poultry prices begin their descent while beef prices continue ascending then it will place pressure on the beef industry.
TENNESSEE AUCTIONS: On Tennessee auctions this week compared to a week ago steers and bulls were mostly steady to $8 higher. Heifers were $6 to $8 higher. Slaughter cows were steady to $4 higher while bulls were mostly steady. Average receipts per sale were 811 head on 11 sales compared to 820 head on 12 sales last week and 1,257 head on 7 sales last year.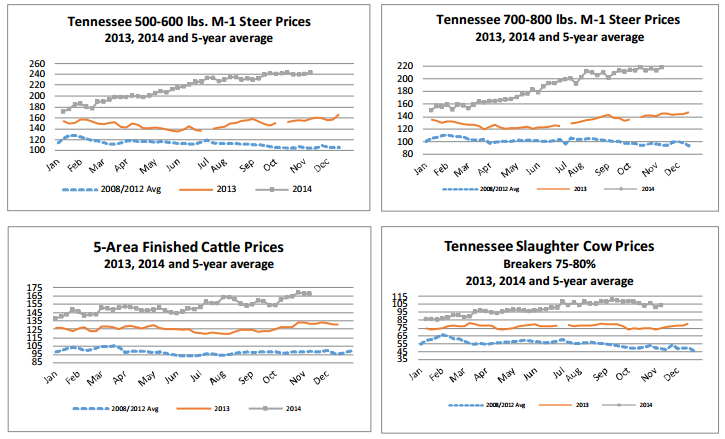 OUTLOOK: Commercial slaughter cow prices remain relatively strong for the fall marketing period. Many producers are in the process of increasing herd size to capitalize on record calf prices. Growing the herd is achieved by retaining heifers, purchasing heifers, or retaining cows that would normally be culled and marketed.

Producers considering retaining cows that would normally be culled should evaluate the consequences of such a decision. It is not likely many advantages exist to deviating from the normal culling practices as most cows are culled due to feet problems, udder problems, sickness, age, poor calf performance, or reproductive inefficiency.

In most instances, it does not pay to retain breeding stock that would normally be sorted off and marketed. Many of the cows that should be culled have a salvage value between $1,200 and $1,400 given current market prices. It would be an expensive decision if one of these cows were retained and failed to rebreed or even worse if it died on the farm.

The revenue from the sale of two inefficient cows comes close to matching what it would cost to purchase a bred heifer. Thus, it may be more beneficial for the operation to replace older stock with younger stock to improve efficiency.

Bred heifer prices have continued to strengthen throughout the year and many producers are asking if a $2,800 heifer can pay for herself. For the sake of brevity, let us use back of the feed sack figures to discuss this question.

Assuming it costs $750 to carry a cow for a year and she weans a 550 pound calf that can be marketed for an average price of $230 per hundredweight ($1,265 per head) over the lifetime of that cow then it will take about six years before the initial investment is paid off. However, some heifers will not remain in the herd for six years due to problems already discussed meaning her salvage value will have to make up the difference to justify the investment.

This is an oversimplification of the purchase decision, but it does provide insight into the ability for a bred heifer to pay for herself over her lifetime in the breeding herd. Some producers will be able to make the heifer investment profitable while others will not be able to justify the expense.
TECHNICALLY SPEAKING: Based on Thursday's closing prices, December live cattle closed at $165.35. Support is at $164.80, then $163.43. Resistance is at $166.18 then $167.55. The RSI is 50.33. February live cattle closed at $166.55. Support is at $165.88, then $164.51. Resistance is at $167.26, then $168.63. The RSI is 54.07. April live cattle closed at $165.85. Support is at $165.60, then $165.25. Resistance is at $166.10, then $166.28. The RSI is 56.48. November feeders closed at $236.52. Support is at $235.82, then $234.52. Resistance is at $237.12 then $238.42. The RSI is 55.59. January feeders closed at $230.57. Support is at $230.12, then $229.12. Resistance is at $231.12 then $232.12. The RSI is 55.28. March feeders closed at $228.30. Support is at $227.55, then $226.93. Resistance is at $228.53, then $228.55. The RSI is 54.67. Friday's closing prices were as follows: Live/fed cattle –December $166.80 1.45; February $168.38 1.83; April $167.15 1.30; Feeder cattle - November $238.53 2.00; January $232.45 1.88; March $229.65 1.35; April $229.95 1.40; December corn closed at $3.68 down $0.04 from Thursday.