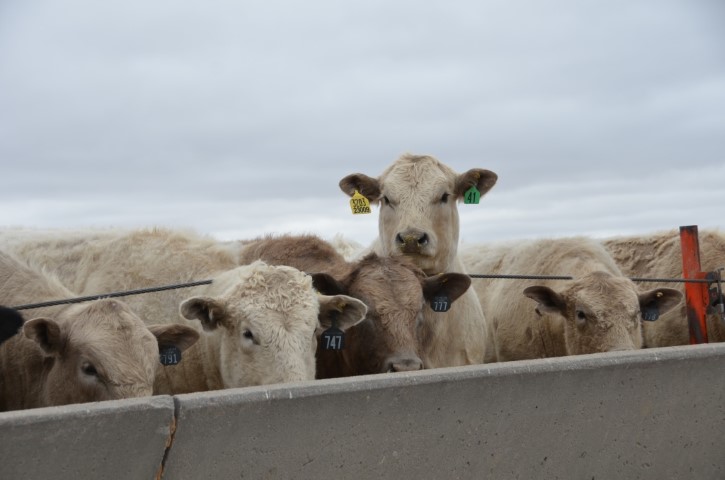 Record high feeder cattle prices could make profitability difficult in the coming months.
By: Andrew P. Griffith, University of Tennessee
FED CATTLE: Fed cattle traded steady to $1 higher on a live basis compared to a week ago. Prices were mainly $164 in the South while prices in the North ranged from $256 to $258. The 5-area weighted average prices thru Thursday were $163.74 live, up $0.20 from last week and $257.75 dressed, down $0.04 from a week ago. A year ago prices were $129.39 live and $203.57 dressed.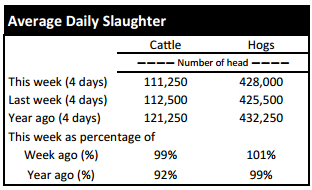 Though confusion and volatility ran rampant in the futures market, cash trade was relatively steady with a week ago. Cattle feeders and packers continue to trade on par with record prices though it feels inevitable that the cash price will take a tumble when packers gain a little leverage. However, feedlot managers will gladly continue to write closeouts in black ink, because record feeder cattle prices will make it difficult in coming months to finish with positive margins.

Next week's cattle on feed report may be very telling of the direction in which the market can expect fed cattle prices to head. However, September placements may appear strong relative to a year ago because September 2013 placements were relatively low.
BEEF CUTOUT: At midday Friday, the Choice cutout was $248.91 down $0.01 from Thursday and up $1.21 from last Friday. The Select cutout was $234.53 down $0.39 from Thursday and down $0.59 from last Friday. The Choice Select spread was $14.38 compared to $12.59 a week ago.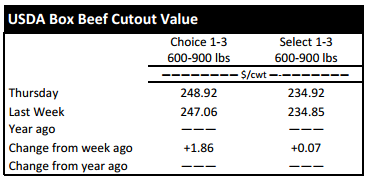 A modest gain was realized by packers as the Choice cutout inched higher this week. The cutout is currently being supported by roast cuts such as chucks and rounds while steak cuts are gearing up to make a move. Beef ribeye prices have begun a slow march forward as they usually do preceding holiday feasts, but it is going to take a consistent march the next couple of months to support cutout prices.

There is some evidence of consumers trading off to lower valued beef products from high valued steak cuts. It is clear consumers are chasing ground product at this time because 90 percent fresh lean beef is trading near the $3 per pound mark which is about 50 percent higher than the same time last year.

Packers are in need of relief from the fed cattle price, or they need a strong run in the cutout price. However, the shadow looming in the corner is the ramp-up in poultry production that could squash any hopes of pushing the cutout price further due to relative prices between beef and poultry products.
TENNESSEE AUCTIONS: On Tennessee auctions this week compared to a week ago steers and bulls were $3 to $8 lower. Heifers were mostly steady. Slaughter cows were $1 to $3 lower while bulls were $3 lower. Average receipts per sale were 649 head on 12 sales compared to 825 head on 12 sales last week and 940 head on 10 sales last year.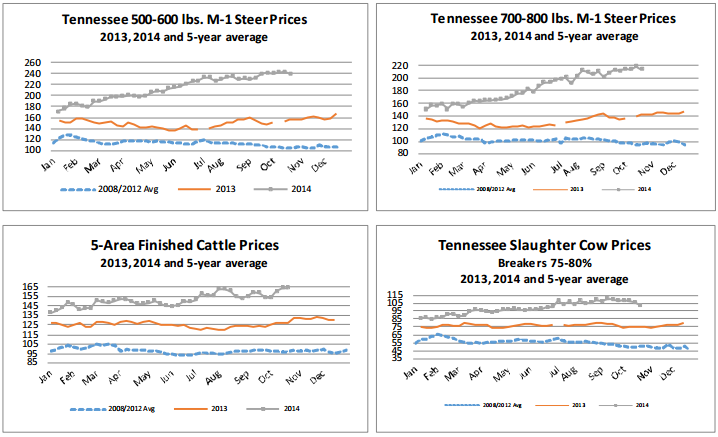 OUTLOOK: Feeder cattle futures prices took a ride this week but there is little change to speak of. Most contract months saw prices fall the $3 per hundredweight limit on both Tuesday and Wednesday before rebounding the $3 per hundredweight limit on Thursday. The volatility and quick movements of the market could be some concern to those trading futures whether in a speculative position or trying to hedge cattle. However, fluctuations on the cash market have been less of a concern.

Volatility in feeder cattle futures are driven by a number of factors. The most closely related factors driving the feeder cattle market are corn prices and live cattle prices. The December corn futures price has increased more than 30 cents a bushel since the first day of October which would generally apply downward pressure to feeder cattle prices.

Additionally, live cattle futures have met some resistance which would provide resistance to feeder cattle futures. However, the fed cattle cash price has not witnessed the same struggles.

Additionally, the aforementioned factors do not appear to be the cause of the sudden seesaw effect. The driver of volatility appears to be socio-economic factors and the broader macro economy. When the general marketplace is viewed as being weak or slower to develop than expected then investment dollars are often pulled from the market.

There is a concern domestically in relation to retail beef prices escalating and the consumer's willingness to pay for beef as prices increase. However, the broader industry is keeping an eye on places like China where economic growth has slowed and an underwhelming performance in Europe as of late.

Returning to the local market for feeder cattle, auction market prices were hampered by the same factors as the futures market, but it is more likely the rebound in corn prices played more of a factor in the failure of prices to maintain status quo. One benefit to folks selling calves and yearlings is that farmer-feeders continue to find more value in walking their corn to market than hauling it in a hopper bottom. This trend is not likely to change this year.
TECHNICALLY SPEAKING: Based on Thursday's closing prices, October live cattle closed at $165.25. Support is at $163.67, then $161.30. Resistance is at $166.05, then $168.42. The RSI is 62.88. December live cattle closed at $165.30. Support is at $163.29, then $160.19. Resistance is at $166.39 then $169.49. The RSI is 57.82. February live cattle closed at $164.10. Support is at $162.30, then $161.55. Resistance is at $164.25, then $166.00. The RSI is 54.89. November feeders closed at $237.15. Support is at $233.55, then $228.15. Resistance is at $238.95 then $244.35. The RSI is 59.53. January feeders closed at $231.13. Support is at $228.13, then $226.18. Resistance is at $233.10 then $234.13. The RSI is 59.89. March feeders closed at $229.65. Support is at $226.70, then $226.35. Resistance is at $231.30, then $232.70. The RSI is 59.46. Friday's closing prices were as follows: Live/fed cattle – October $165.05 -0.20; December $165.05 -0.25; February $164.03 -0.08; Feeder cattle - October $238.45 -1.75; November $234.15 -3.00; January $228.13 -3.00; March $226.65 -3.00; December corn closed at $3.48 down $0.04 from Thursday.