Cattle feeders have been fairing alright with higher live cattle prices, but packers aren't doing so well.
By: Andrew P. Griffith, University of Tennessee

FED CATTLE: Fed cattle traded $3 higher on a live basis compared to a week ago. Prices were mainly $170 to $171 on a live basis while dressed trade ranged from $264 to $265. The 5-area weighted average prices thru Thursday were $167.53 live, up $0.66 from last week and $262.00 dressed, up $0.87 from a week ago. A year ago prices were $130.85 live and $205.00 dressed.

Cattle feeders continue to pull rabbits out of the hat as they find ways to push live cattle prices higher. As soon as one might think prices will break and soften or at a minimum be steady with a weak ago, feedlot managers are able to squeeze a couple more dollars out of packers. The ability to squeeze a few more dollars out of packers has resulted in steady to stronger margins for the feedlot industry, but has pressured the packing industry into red ink on the bottom line. How long feeders can continue to rule over the packer is unknown because the seasonal leverage shift that normally occurs has been anything but normal, and it has been one sided for the most part.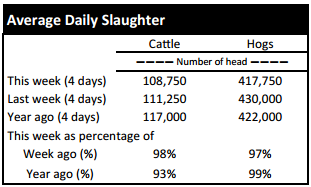 BEEF CUTOUT: At midday Friday, the Choice cutout was $252.87 up $1.52 from Thursday and up $3.71 from last Friday. The Select cutout was $238.35 down $0.58 from Thursday and down $0.09 from last Friday. The Choice Select spread was $14.52 compared to $10.71 a week ago.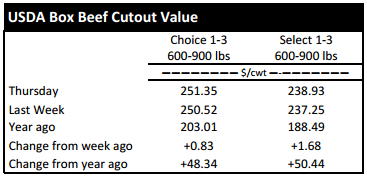 The market continues to give the packing industry fits. Though gains were made in the Choice cutout, packers are finding it difficult to move product at higher prices. Seasonality is playing into the uptick in Choice beef prices as retailers are gearing up for holiday beef sales as is somewhat represented in the widening of the Choice Select spread. However, packers are pressured on the front end purchase of live cattle as feedlot managers continue to hold steadfast for higher money.

Packers are showing resistance to paying higher prices, but they have orders to fill and feedlot managers are willing to feed cattle a little longer if the price is not satisfactory. The packer has little to no leverage in the marketplace, and there is no indication of the leverage shifting from the feeder at this time since cattle numbers are tight. The Choice cutout is expected to press forward and be supported by holiday purchases. However, as soon as holiday purchases wrap up then the Choice cutout could come under serious pressure.
TENNESSEE AUCTIONS: On Tennessee auctions this week compared to a week ago steers and bulls were mostly steady to $3 higher. Heifers were $2 to $4 lower. Slaughter cows were steady to $2 higher while bulls were $1 to $3 higher. Average receipts per sale were 905 head on 12 sales compared to 883 head on 12 sales last week and 964 head on 11 sales last year.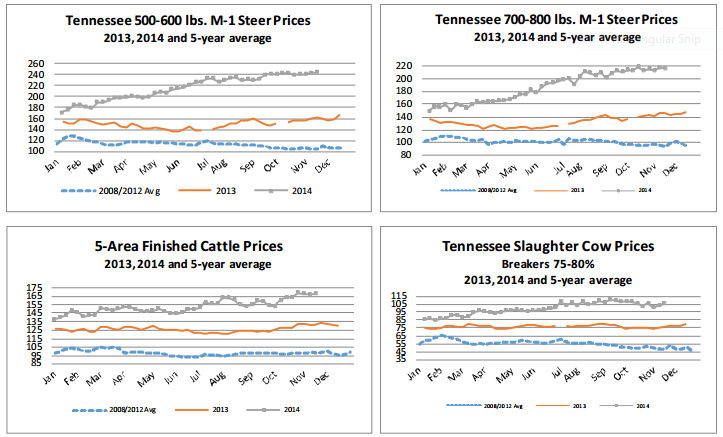 OUTLOOK: Cattle producers are actively weaning calves and hauling them to town. Many of these calves are green and will be high risk especially with the large swings in temperature. Stocker producers and feedlot operators are willing to pay higher prices for low risk cattle that have been weaned and have some health management behind them. It could pay cow-calf producers to consider adding value to calves by weaning and providing clostridial and respiratory vaccinations.

Additionally, some producers may need to defer income into the next year and alternative management strategies may provide that opportunity. Producers are encouraged to evaluate different marketing strategies provided the available resources. For instance, depending on forage availability and current year income, producers may find it advantageous to market some calves now and some after the first of the year. An example may be for a producer to market heavier steers before the end of the year and continue to grow lighter weight calves and market at a later date. Additionally, the correct decision may be to market all of the steers now and continue to grow heifers until a later marketing date. This is not an exhaustive list of alternatives, but they are a couple of alternatives worth considering to maximize the total value to the operation.

There are few if any signs of weakness in the calf and feeder cattle markets. The only market factor working negatively against feeder cattle is the uptick in corn prices the past couple of months. However, the increase in grain prices has not seemed to have as large of a negative impact as in years past. There are too many factors supporting the anticipated short supply of cattle and beef for feed prices alone to override the steady feeder cattle market. Market prices continue to encourage increased management of calves before entering a feedlot and this increased management will either take place on the cow-calf operation or stocker producers will look to capitalize on mismanaged calves. Regardless, feedlots are hesitant to take the risk on $1,800 to $1,900 per head animals.
TECHNICALLY SPEAKING: Based on Thursday's closing prices, December live cattle closed at $169.65. Support is at $168.56, then $166.71. Resistance is at $170.41 then $172.26. The RSI is 62.85. February live cattle closed at $171.02. Support is at $170.16, then $168.78. Resistance is at $171.53, then $172.91. The RSI is 65.70. April live cattle closed at $169.30. Support is at $169.00, then $168.23. Resistance is at $169.40, then $169.41. The RSI is 66.39. November feeders closed at $239.35. Support is at $238.98, then $238.36. Resistance is at $239.61 then $240.23. The RSI is 61.05. January feeders closed at $234.23. Support is at $233.44, then $231.69. Resistance is at $235.19 then $236.94. The RSI is 62.98. March feeders closed at $232.83. Support is at $232.80, then $231.80. Resistance is at $232.85, then $234.28. The RSI is 64.54. Friday's closing prices were as follows: Live/fed cattle –December $170.20 0.55; February $171.28 0.25; April $169.25 -0.05; Feeder cattle - November $240.00 0.65; January $236.13 1.90; March $234.60 1.78; April $234.80 1.25; December corn closed at $3.82 down $0.05 from Thursday