Cattle futures set record highs last week, while Choice cutout beef prices saw an increase.
By: Andrew P. Griffith, University of Tennessee

FED CATTLE: Fed cattle trade was not well established at press. Asking prices were firm around $164 in the South and $255 plus in the North. The 5-area weighted average prices thru Thursday were $159.98 live, up $6.86 from last week and $252.00 dressed, up $10.00 from a week ago. A year ago prices were $200.00 dressed.
Live cattle futures set record high prices this week as many contracts have increased about $8 in the past week and a half. This sudden run-up in prices has cattle feeders chomping at the bit to move cattle, but many packers are hesitant to start placing bills on the table because the beef cutout price has shown little to no sign of increasing. However, cattle feeders are expected to hold their ground as long as futures prices remain elevated.

If feedlot managers are able to force higher prices on packers then it will provide the opportunity for feedlot managers to continue capitalizing on strong margins for a little while longer. It is inevitable for cattle feeders given the price they are paying for feeder cattle that margins will thin and likely become negative.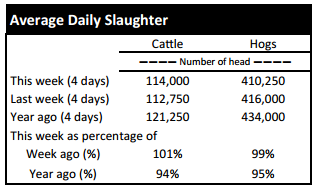 BEEF CUTOUT: At midday Friday, the Choice cutout was $239.03 up $0.58 from Thursday and up $0.84 from last Friday. The Select cutout was $226.80 down $0.53 from Thursday and up $1.36 from last Friday. The Choice Select spread was $12.24 compared to $12.75 a week ago.

After two weeks of major price declines in both the Choice and Select cutout prices, the market found some stability. Packers have been pressured on both sides of their margin in recent weeks with fed cattle prices trying to move higher and beef cutout prices faltering.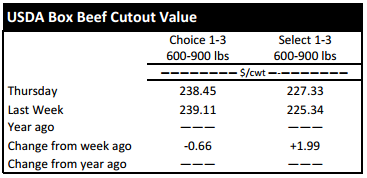 Margins have been fairly thin for the packing industry without the most recent price movements, but the recent strength in the fed cattle price and the decline in beef cutout price have caused the bottom line to result in red ink. Packers will likely have the opportunity to move prices higher late in the fall just prior to the holidays, but a lot of beef will be traded between now and then at not so profitable price levels.

It seems most of the leverage in the marketplace remains in the hands of feedlot managers as they have been successful at forcing higher fed cattle prices on the market. However, packers will regain some leverage in the future which will likely result in cattle feeders being forced to market cattle at unprofitable prices.
TENNESSEE AUCTIONS: On Tennessee auctions this week compared to a week ago steers and bulls were steady to $2 higher. Heifers were $1 to $3 higher. Slaughter cows were mostly steady while bulls were $1 to $3 higher. Average receipts per sale were 832 head on 10 sales compared to 773 head on 11 sales last week and 788 head on 8 sales last year.


OUTLOOK: The cash market for feeder cattle is not necessarily following the futures contract price for feeder cattle.

Modest gains were witnessed this week at auction markets across the state for most classes of calves and feeder cattle while nearby and deferred futures contract prices soared to higher altitudes. Thus, there appears to be folks in the cattle industry or speculators in the market place that think feeder cattle futures contract prices should be higher.

It is not evident what information has driven the most recent price increase on the futures market but it has a bullish tone. A large number of stocker calves are on the way to town in the coming weeks. Many of these lightweight calves will head west to wheat pasture in the Southern Plains while another large portion of them will stay in the state or in the Southeast for winter grazing of stockpiled forages or small grains.

The prospects of strong sale prices this fall has never wavered, but some insurance for relatively strong prices came in the form of modest rainfall in many parts of the Southern United States late in the week. Thus, another shower of rain in the coming days or next couple of weeks could firm the potential for promising late fall and winter grazing prospects.

Another factor that will continue to support cattle prices comes in the form of low corn prices that have constantly declined the past few months. Even if grazing prospects were to disappear due to a lack of rainfall, cattle feeders are willing buyers at this point in the game because pen space is available and feed is "cheap."

Cow-calf producers are going to make money this year and next year, but that does not mean the management and marketing side of the business can be omitted. Many producers will miss out on advantageous pricing situations over the next 18 months because of the lack of attention to the market. And, this lack of attention is primarily driven by the fact that prices are so high. On the other hand, producers in the business of purchasing calves may need to devote more time to pricing animals because margins will tighten.
TECHNICALLY SPEAKING: Based on Thursday's closing prices, October live cattle closed at $162.85. Support is at $161.88, then $160.18. Resistance is at $163.58, then $165.28. The RSI is 71.02. December live cattle closed at $166.43. Support is at $165.50, then $163.85. Resistance is at $167.15 then $168.80. The RSI is 73.47. February live cattle closed at $166.28. Support is at $165.88, then $165.70. Resistance is at $166.80, then $166.81. The RSI is 72.53. November feeders closed at $240.07. Support is at $238.63, then $236.13. Resistance is at $241.13 then $243.63. The RSI is 83.85. January feeders closed at $233.88. Support is at $231.78, then $230.85. Resistance is at $233.90 then $233.91. The RSI is 84.76. March feeders closed at $232.28. Support is at $230.75, then $229.78. Resistance is at $232.30, then $232.31. The RSI is 85.78. Friday's closing prices were as follows: Live/fed cattle – October $162.40 -0.45; December $165.88 -0.55; February $165.55 -0.73; Feeder cattle - October $240.88 -0.23; November $240.98 0.90; January $234.73 0.85; March $233.08 0.80; December corn closed at $3.23 up $0.01 from Thursday.