The record high beef prices that were the norm for much of the year have continued to drop off.​
By: Andrew P. Griffith, University of Tennessee

FED CATTLE: Fed cattle traded $3 to $4 lower on a live basis compared to a week ago. Prices were mainly $162 to $164 on a live basis while dressed trade was mainly $256 to $257. The 5-area weighted average prices thru Thursday were $163.11 live, down $3.50 from last week and $256.55 dressed, down $7.42 from a week ago. A year ago prices were $130.16 live and no trade for dressed.

Cattle feeders have been able to dictate the market for some time now, but the past two weeks are an indication of their inability to maintain record price levels. Cattle feeders knew the market would break, but the timing of such a break was less certain.

Cattle feeders were able to push fed cattle prices to higher levels and deeper into the fall season than many in the industry would have ever imagined. However, all the good times in 2014 have not erased the memories of a bleak and trying time in 2012 and 2013.

Fed cattle prices are likely to continue their descent in coming weeks, but it should not be too difficult to find a bottom for the early spring market. On the other hand, finding the bottom of the late spring and summer market could result in trying times again as the cattle coming off feed will have a high break-even price.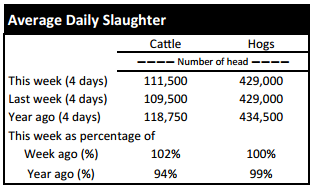 BEEF CUTOUT: At midday Friday, the Choice cutout was $245.63 down $2.16 from Thursday and down $8.24 from last Friday. The Select cutout was $234.93 down $1.01 from Thursday and down $2.85 from last Friday. The Choice Select spread was $10.70 compared to $16.10 a week ago.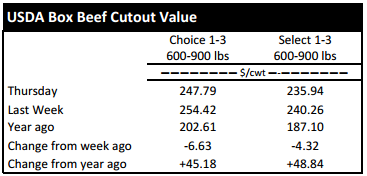 Choice beef cutout prices are beginning to find seasonal weakness as most holiday purchases have already been made at the retail level. There is always potential for some midnight hour purchases for short bought retailers and restaurants that would provide modest support, but the likelihood of such purchases is wearing thin as the retail price of beef maintains record levels.

It is more likely the Select cutout will be supported the next couple of months as consumers and thus retailers move from middle meats to end cuts. Consumers rarely differentiate between a Choice roast and a Select roast due to the preparation method. Thus, Select quality end cuts receive the consumer pull during the winter.

Though middle meats found their suaveness the past several weeks which helped support cutout prices through the fall, end cuts have been providing tremendous support since June and July and will continue to do so through the winter months.
TENNESSEE AUCTIONS: On Tennessee auctions this week compared to a week ago steers and bulls were unevenly steady. Heifers were steady to $4 lower. Slaughter cows were steady to $2 higher while bulls were steady to $1 higher. Average receipts per sale were 730 head on 12 sales compared to 783 head on 12 sales last week and 582 head on 11 sales last year.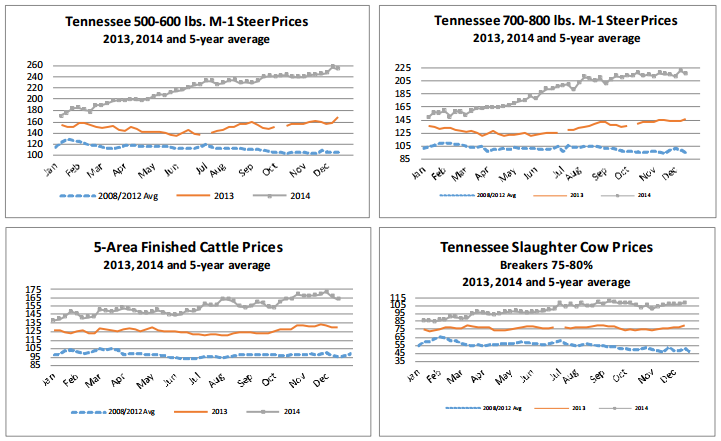 OUTLOOK: There seems to be confusion between the cash market and the futures market for feeder cattle. Many of the deferred contract prices have declined more than $10 per hundredweight in the last seven trading days. Additionally, most contracts are trading at their lowest price point since the last week of September.

Is this cause for concern for either buyers or sellers of feeder cattle? It could be cause for concern if a producer would like to hedge the purchase or sale of feeder cattle because cash prices have not fluctuated to the same degree as futures contract prices. Thus, basis risk seems to be rather high in the feeder cattle market at this time.

Compounding the situation is the cost of hedging cattle through the use of options. The cost of purchasing an options contract has become increasingly expensive as prices have escalated and as volatility the past three months has increased.

Though futures contract prices have been volatile, the cash price in most areas has been on a more even keel. However, the CME feeder cattle index has started to weaken as it now under $240 per hundredweight which is about $4 lower than the same time a week ago.

This will likely raise concern as many cattle producers made the decision to hold calves until the first of the year to defer income. If prices continue to decline then not only will a producer be deferring income, but also missing out on some income. Part of the thought process of holding cattle to the first of the year is because prices tend to start finding support again in January relative to the fall time period leading up to the holidays.

The decision to do so may or may not be a mistake as feeder cattle prices could find a spark after the first of the year, or they could continue spiraling downward. It appears the industry may find it difficult to push feeder cattle prices back to record levels in the near term, but it also seems unlikely that feeder cattle futures will continue declining at such a rapid pace. Feeder cattle should find some support near $218 and $210, but the market will not know unless we get there.
TECHNICALLY SPEAKING: Based on Thursday's closing prices, December live cattle closed at $162.40. Support is at $161.84, then $160.52. Resistance is at $163.17 then $164.49. The RSI is 35.14. February live cattle closed at $162.57. Support is at $162.01, then $160.56. Resistance is at $163.46, then $164.91. The RSI is 35.35. April live cattle closed at $162.10. Support is at $161.70, then $161.20. Resistance is at $164.30, then $166.45. The RSI is 34.79. January feeders closed at $228.60. Support is at $227.57, then $224.47. Resistance is at $230.67 then $233.77. The RSI is 40.52. March feeders closed at $224.25. Support is at $223.32, then $220.52. Resistance is at $226.12, then $228.92. The RSI is 34.68. April feeders closed at $224.10. Support is at $221.50, then $220.70. Resistance is at $227.10 then $227.23. The RSI is 34.10. Friday's closing prices were as follows: Live/fed cattle –December $162.05 -0.35; February $162.18 -0.40; April $161.40 -0.70; Feeder cattle - January $225.60 -3.00; March $221.25 -3.00; April $221.10 -3.00; May $221.43 -3.00; December corn closed at $3.96 up $0.06 from Thursday.