Demand for grass cattle has helped keep the price of weaned calves high.​
By: Andrew P. Griffith, University of Tennessee

FED CATTLE: Fed cattle traded $2 to $4 higher on a live basis compared to a week ago. Prices were mainly $172 to $174 on a live basis while dressed trade was mainly $267. The 5-area weighted average prices thru Thursday were $169.00 live, up $1.47 from last week and $265.00 dressed, up $3.00 from a week ago. A year ago prices were $130.43 live and $206.45 dressed.

Cash prices have again stepped to the tune of higher fed cattle futures market prices as they each continue to scale the mountain. The price of the December futures market contract has increased more than $20 since the middle of August and has increased a total of about $4 the past two weeks. The increase in the futures price has resulted in feedlot managers holding firm on asking prices.

If packers are not willing to pay then the feedlots just continue to feed the cattle, and this is becoming ever more noticeable as fed cattle weights are on the rise. Steers averaged 903 pounds on a dressed basis last week which is 26 pounds heavier than the same week a year ago. Similarly, heifers averaged 830 pounds on a dressed basis which is 26 pounds heavier than a year ago.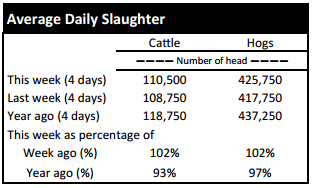 BEEF CUTOUT: At midday Friday, the Choice cutout was $255.65 up $0.26 from Thursday and up $2.78 from last Friday. The Select cutout was $243.33 up $0.34 from Thursday and up $4.98 from last Friday. The Choice Select spread was $12.32 compared to $14.52 a week ago.




It is probably not safe to say packer margins are out of the red since fed cattle prices continue to overshadow beef cutout prices. However, beef cutout prices are finding some support heading into the holiday season as beef ribeye prices are beginning to find a foothold, chuck prices continue to amaze, and 90 percent lean trimmings maintain the market strength that began in July.

There will be a number of grocers that do not focus on beef features before the holidays due to high retail beef prices. However, there will be a few in the retail sector who feature beef which will provide some support and help beef cutout prices to make some additional gains prior the end of the year.

Retailers will continue finding it difficult to move high valued cuts of beef, but consumers are speaking with their disposable income as they remain active in the ground product market resulting in a strong demand for beef. The export market will remain key to moving higher priced beef products the next several years.
TENNESSEE AUCTIONS: On Tennessee auctions this week compared to a week ago steers and bulls were steady to $3 higher. Heifers were steady to $5 higher. Slaughter cows were $1 to $3 higher while bulls were steady to $2 higher. Average receipts per sale were 558 head on 11 sales compared to 842 head on 12 sales last week and 770 head on 10 sales last year.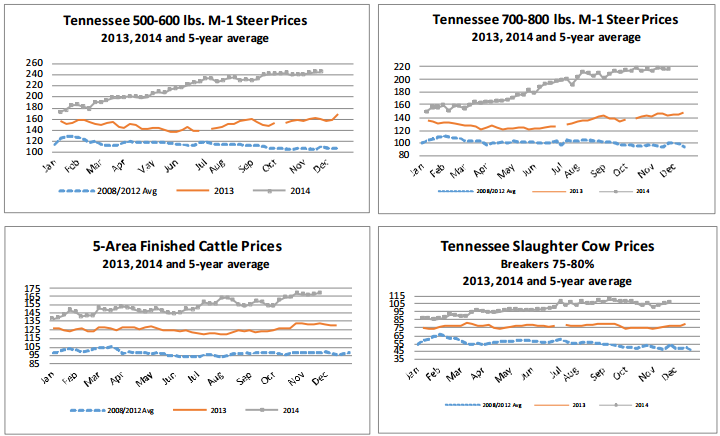 OUTLOOK: Cattle movement has been strong throughout the fall time period as cow-calf producers have been actively marketing freshly weaned calves. The Thanksgiving holiday will slow marketings next week, but numbers are expected to have a resurgence the first week of December as producers are attempting to market the last of the spring born calves before inclement winter weather.

Demand for grass cattle has remained strong locally and in the Southern Plains. Many of the primary wheat pasture regions have received multiple rains the past month which will support pasture growth and thus calf prices. Similarly, moisture in the Southeast has been adequate and a couple more weeks of warm weather will promote cool season grass and small grain growth.

If calf and feeder cattle prices maintain current levels then the cost of gain both on grass and in the feedlot will become more important than it already is.

The cost of gain has always been important for margin producers, but managing it along with the financial risk of owning feeder cattle worth $1,800 or more becomes more expensive if any negative risk information enters the market. However, information perceived as contributing to negative risk has not appeared to enter the market at this time as fed cattle margins continue to improve due to week-to-week gains in fed cattle prices. Producers are encouraged to consider all risk management tools as much more money or value is being passed between hands as cattle are traded.
The November cattle on feed report for feedlots with a 1000 head or more capacity indicated cattle and calves on feed as of November 1, 2014 totaled 10.63 million head slightly above a year ago, which is within the pre-report estimate range. October placements in feedlots totaled 2.36 million head, down 0.9% from a year ago with the pre-report estimate average expecting placements down 4.3%. October marketing's totaled 1.69 million head down 7.8% from 2013 which is on target with the pre-report estimate expectation. Placements on feed by weight: under 800 pounds down 4.5% and 800 pounds and over up 10.4%.
TECHNICALLY SPEAKING: Based on Thursday's closing prices, December live cattle closed at $170.25. Support is at $169.63, then $168.21. Resistance is at $171.06 then $172.48. The RSI is 62.36. February live cattle closed at $171.82. Support is at $170.95, then $169.18. Resistance is at $172.73, then $174.50. The RSI is 66.02. April live cattle closed at $170.30. Support is at $170.20, then $169.70. Resistance is at $170.40, then $170.45. The RSI is 69.11. November feeders closed at $240.43. Support is at $240.21, then $239.86. Resistance is at $240.56 then $240.91. The RSI is 63.25. January feeders closed at $235.57. Support is at $234.40, then $231.65. Resistance is at $237.15 then $239.90. The RSI is 61.60. March feeders closed at $233.73. Support is at $233.50, then $232.80. Resistance is at $234.00, then $235.33. The RSI is 61.91. Friday's closing prices were as follows: Live/fed cattle –December $170.90 0.65; February $172.15 0.33; April $170.43 0.13; Feeder cattle - January $236.35 0.78; March $234.45 0.73; April $234.60 0.65; May $234.63 0.63; December corn closed at $3.73 down $0.01 from Thursday.