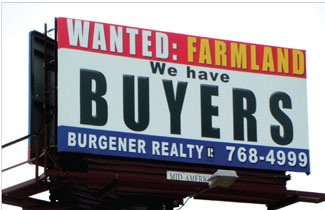 Individuals and families continue to be the primary investors in farmland, according to the 2014 Land Markets Survey conducted by the Realtors Land Institute and the National Association of Realtors. The survey found individuals and families account for 58% of all buyers in land sales transactions nationally. In addition, the survey reveals 17% of land purchasers are corporations or partnerships; 17% are investors; and 10% are expansion farmers. 

It's the first of many biannual reports aimed at developing accurate information on current trends in the land markets and on the general state of land sales. The results are representative of more than 625 land professional respondents across the U.S. According to the survey, 43% of the purchases where individuals or families were buyers were purposed for farm and ranch (24% agriculture and 17% ranch) and 31% for recreation. Of those surveyed, expansion farmers purchased 98% of land for farm and ranch (85% agriculture and 13% ranch). Investors purchased a diversified portfolio of land (21% agriculture, 20% timber, 17% development and 14% commercial). 

The findings "follow my experience in that 70% to 85% of land buyers are expansion farmers, individuals and families," says Terri Jensen, ALC Advanced, 2014 institute national president-elect of Realtors Land Institute. "The balance are investors and/or 1031 exchange buyers."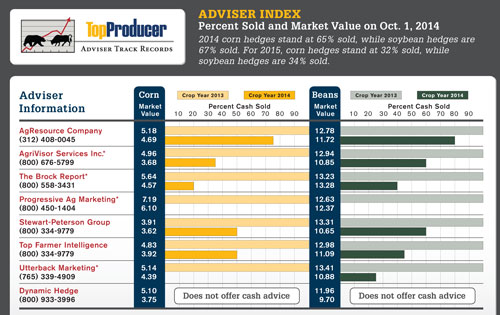 Advisers with no bars remain unsold. *Adviser uses hedge-to-arrive contracts, which do not show up as cash sales until the basis is set. Market value is the average of cash sales, unsold portion plus futures/options value. For methodology, visit www.TopProducer-Online.com.. To have your crops sold on the advice of one of these advisers, call (800) 933-3996. If you have any questions or comments regarding the track record information, please contact Mark Soderberg, Tim Smith or Scott Harms of Archer Financial Services Inc. at (800) 933-3996.