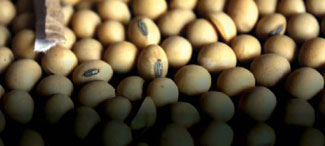 Will 2015 show big swings back to corn or continued strength in soybean acres? As the 2014 harvest continues, farmers and analysts already are penciling out and predicting next year's acreage mix.

Informa Economics recently released its predictions for 2015 acres. The firm expects:
88.5 million acres of soybeans, 4.3 million acres more than 2014
87.8 million acres of corn, 3.1 million acres less than 2014 
The Informa report pointed to profitability as being the biggest acreage driver, as soybeans continue to have the highest implied net revenue return per acre.

Delays this fall will likely impact next year's planting decisions, according to Matt Bennett, a location manager for Total Grain Marketing, a company that provides grain marketing services.

"When you look around the Midwest, farmers don't know if they will get their wheat crop planted," he says. "There are also a lot of areas where they don't know if they will be able to rip corn stalks. Corn-on-corn acres are probably going to be low."

Farmers agree. "We've been growing continuous corn year after year for a long time," says Dan Mitchell a Seneca, Ill., farmer. "We are successful doing it, but the cost is high to produce corn that way."

He says there isn't much incentive to plant continuous corn. "Right now you can't pencil a profit for corn in 2015, so it looks to me like there will be more beans."

Jayson Willimack, a farmer from Oxford Junction, Iowa, says his farmer's normal rotation is 2/3 corn and 1/3 beans. But, next year it might be different.

"We are going to be a little bit heavier soybeans next year because they will probably pencil better than corn does next year," he says.

Bennett says farmers should zero in on their cost of production for 2015. "Know what your profitability is," he says. Once you know at what level you can make money, his advice is to lock in prices.
---
By Ed Clark
Land Exits CRP Rapidly, Applies Pressure to Commodity Prices
A 9.9-million-acre drop in the Conservation Reserve Program (CRP) that began in 2007 is forecast to pressure commodity prices as more acreage enters agricultural production. Yet it's unclear which crops—corn, soybeans, wheat or others—will face the most competition.

"The drivers of this trend may continue into the future," says David Widmar, ag economist at Purdue University. The two factors largely responsible for the CRP reduction are lower total expenditures on the federal program and higher rental rates.

Since its creation in 1985, CRP has seen acreage stay pretty close to 35 million, with two exceptions: in 1998/99, when acres fell to about 30 million; and in 2006/07, when acres exceeded 35 million.

The reverse is true today. With just 26.8 million acres, 2013 represented CRP's lowest enrollment since 1988 when the CRP program was ramping up amid a massive financial crisis. "The scale of the CRP acre decrease from 2007 is equivalent to the entire 2014 soybean plantings in Illinois," Widmar notes. A state-by-state analysis shows the reduction in CRP acres has not been uniform, largely explaining how farmers found an extra 14.1 million acres for corn.

For example, North Dakota has decreased CRP acres by 47%, or more than 1.6 million acres, since 2007. South Dakota farmers reduced CRP acres by 38%; Nebraska by 34%; and Texas by 20%. The only "I" state among the top 10 for scaling back CRP is Iowa, which has cut more than 600,000 acres.

The U.S. has not planted fewer than 85 million corn acres since 2006. In 2012, acres soared to 97 million.

"As corn prices fall, look for farmers to again carefully examine alternative crops and rotations," says Brent Gloy, a former Purdue economist who farms full-time in Nebraska. "Expect to see changes in the states that showed the largest increases first."