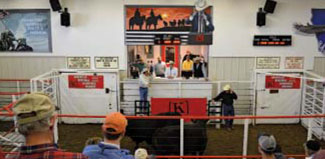 Cattlemen sorely miss Corbitt Wall's unique but accurate weekly market recap
Accurately determining value may be a cattleman's most critical piece of information, yet many producers wake up on sale day at a disadvantage. That's because they can't sit ringside at the local auction on a daily basis honing their market savvy.

Corbitt Wall built a career—and a national following of cattlemen—by sitting ringside and observing the cattle markets. Over the past decade, he transformed the Friday afternoon USDA National Feeder and Stocker Cattle Summary from a market compilation into the definitive price barometer for the industry. Cattlemen from every corner of the country relied on Wall's weekly summary of market prices and astute observation of trends to help them make crucial buy and sell decisions.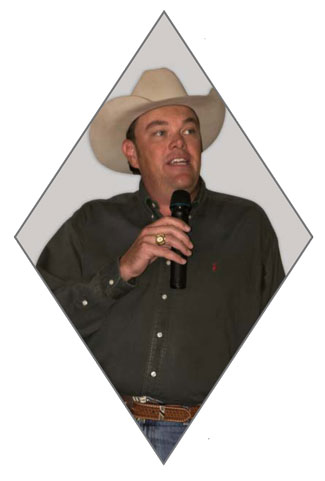 Corbitt Wall's popular weekly feeder cattle market recaps will soon return via DVAuction videos. 
Wall's career as a USDA Market News reporter, however, has ended. He says he was dismissed in September for a list of grievances his supervisors claim gave the impression of a conflict of interest. 
Peppered with cowboy lingo, Wall's reports brought a high level of market knowledge. As the supervisor of Missouri's Federal-State Market News Program, Wall was at the epicenter of cattle price reporting at USDA's Livestock and Grain Market News regional office in St. Joseph, Mo. The St. Joseph office is one of two locations where USDA reporters gather voluntary and mandatory price information. (USDA's other regional Market News office is in Des Moines, Iowa.) 

Riding point for USDA's feeder cattle reporting, Wall supervised a handful of market reporters, sat ringside to cover two sales a week and compiled the weekly National Feeder and Stocker Cattle Summary. In recent years, he's added a weekly video market summary disseminated by USDA and carried by many cattle industry websites. It was the weekly summary narrative and his video presence that put Wall's market acumen on display.

"Corbitt's weekly market reports, especially the video, were great," says Mark Harmon, marketing manager at Joplin Regional Stockyards. "He spoke the language of cattlemen—a sale barn lingo that those guys understand, and our customers just loved that."

That sentiment was echoed by Dave Foster, CEO of the Cattle Producers of Louisiana. "Corbitt has a unique ability to communicate, which made the market reports a great asset to the industry. Our members saw it as a valuable and useful tool to their businesses."

Wall's weekly summaries were descriptive and accurate, sprinkled with cattle lingo such as "fancy" and "two-way weaned calves," phrases that identified the reporter as familiar with the noise and smell of a cattle auction. Indeed, Wall grew up around auction markets and cattle trading. His great-grandfather rode a horse down country lanes buying small packages of cattle and drove them to market. After serving in World War II, Wall's grandfather constructed and operated the livestock auction in Clayton, N.M. Wall describes his late father, George Wall, as a "cattle trader," and he admits, "I just kind of grew up in the business."

While at West Texas A&M University, Wall first saw a USDA market reporter grading feeder cattle and reporting on prices for a video feeder cattle sale. "I can do that," he thought, so he began a pursuit of a career with USDA Market News. He first worked as a graduate assistant in Georgia in 1996, followed by stops as a USDA market reporter in St. Paul, Minn., and New Holland, Pa. In 2000, he landed in St. Joseph and began overseeing the weekly National Feeder and Stocker Cattle Summary and narrative.

It was that narrative that catapulted Wall's popularity among cattlemen but also led to issues with his USDA supervisors.

"They didn't like that I had established this niche," Wall says of the weekly market comments. "I couldn't tell [producers] as much as I wanted to tell them. They [USDA] always hobbled me."
Wall acknowledges his job was to report the markets, not make predictions or analysis, and he often pushed that invisible line. Additionally, he says he is guilty of "owning cattle, pulling a livestock trailer to sales," and selling cattle at an auction that he reported on, though the cattle were never sold under his name. He says he's also guilty of auctioneering for brief times during sales when the auction market was short-handed and the auctioneer needed a break—but never while he was reporting on those sales. While those may seem minor offenses, USDA says they can be perceived as a conflict of interest.

Yet, his dismissal after 19 years was somewhat stunning. "My performance appraisals were always extremely high," Wall says. "I guess I rocked the boat too hard."

Foster, a former 30-plus year USDA Market News employee, says Wall's dismissal is a failure of his supervisors. "Those allegations of a conflict of interest should have been handled by a supervisor. Corbitt is extremely talented, and his supervisors should have found ways to utilize him," rather than giving him a pink slip.

"He is a great asset to the cattle industry," Foster says. "I'm happy that he is now in private industry."

Wall's new employer is DVAuction, which specializes in real-time Internet broadcasting of cattle sales and special events. The service provides free online viewing to the public and will soon include a weekly market summary from Wall.

"I'm excited about my new position with DVAuction," he says. "I'll have a lot more freedom to give my audience my observations and perceptions of the market and trends. It's an exciting time to be part of this industry, and I'm looking forward to new challenges."