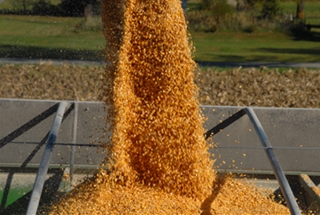 In November, USDA put a crimp in conventional trade wisdom that big crops get bigger with its corn yield reduction of about 1 bushel in the World Agricultural Supply and Demand Estimates (WASDE) report. In addition, ethanol and feed demand were raised. The result is a carryover of barely 2 billion bushels, in line with my expectations in previous columns this year.  

Carryout for the 2014/15 crop year could drop to 1.85 million bushels, a far cry from the bearish attitude that prevailed during September.

The reduction in carryover makes lows posted the Oct. 1 look underpriced. At press time, corn was trading above September highs after posting a monthly key reversal higher. The stage is set for an upward bias for the next 18 to 24 months. 

For soybeans, the WASDE report slightly increased production offset by an equal increase in usage. That left carryover unchanged at 450 million bushels, or about 350 million bushels (10 million metric tons) more than would reflect prices from $12 to $13. The first technical buy signal on Oct. 1 since the sell signal last May, resulted in a price increase of $1.75. The milestone coincides with a 50% retracement from the June-to-October down move and is in line with a typical  harvest  low recovery for soybeans. Any recovery beyond the 50% will require further production concerns for South America and farmer reluctance to sell after January 2015. Many soybean producers will keep bin doors shut until more is known about the Southern Hemisphere crop. 
A Look Ahead. Estimated production out of Brazil and Argentina has been estimated at 149 million metric tons. The U.S. excess of 10 million metric tons pales in comparison. It is no wonder the market views $9.12 January futures as having fully discounted a big crop in South America. A 5% production disappointment is a pittance when it comes to approximating soybean production. 

A lot can be done with corn at sub-$4 cash levels and little incentive to increase production. There was no shortage of $7 corn and $14 soybeans as production increased. But there might be a shortage of $3.50 corn and sub-$9 soybeans if prices offered for 2015 production don't improve, affecting global acreages. I'll review ways to skin the marketing cat at Top Producer Seminar.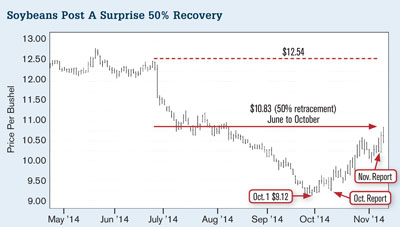 Soybeans saw a price increase of $1.74 from the Oct. 1 lows, coinciding with a 50% retracement from the May-to-October down move.