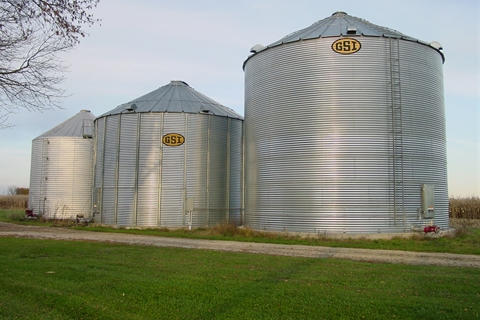 How quickly we have swung from being undersupplied to fearing whether storage will be adequate to handle record volumes of corn and soybeans, not to mention wheat.  

Fortunately, producers and elevators have built about 4 billion bushels of on- and off-farm storage in the past 10 years. As of a year ago, statistics put total U.S. grain storage on and off the farm at 23.5 billion bushels.

Although production of corn and soybeans collectively increased about 3.5 billion bushels since 2004/05, increases in storage met the challenge. The fact that we use about 1 billion bushels of corn monthly starting in September, plus the 4 billion-bushel increase in storage, could calm fears we won't have enough storage this fall.    

I am a proponent of on-farm storage capable of holding one to one-and-a-half years of production. Storage I built in the 1980s paid for itself quickly using the farmer-owned reserve that paid 26.5¢ annually during the oversupply years. Once paid for, those grain bins became a cash cow by acting like a small elevator during times of good market carry. The plant-and-sell-at-harvest focus that worked in recent years of short supply doesn't work well in oversupply years, especially in cases where basis is exceptionally wide.   

The carry charts on this page reflect futures prices going forward for corn, soybeans and wheat. For example, at press time there was a 35¢ carry in corn from December 2014 to September 2015. A basis gain of 20¢ to 45¢ from fall 2014 (-45) to early September 2015 (-25 to zero) would not be unexpected on my farm for a total gain of 55¢ to 80¢ against a $3.02 fall cash corn price. A 55¢ to 60¢ gain against a $3.02 cash price is a return on investment of 18% to 20% annually.

Wheat (especially soft red winter wheat) benefits from the carry market year after year due in part to the Chicago Mercantile Exchange storage scheme that tried to merge futures with cash. 

Soybeans don't normally have much market carry. A big crop is produced every six months in the world offering new supplies. Yet blending soybeans at 15% moisture with soybeans that ultimately reach 7% to 9% moisture can net a short-term 40¢ to 50¢ per bushel, avoiding discounts and permitting delivery to free up bins for corn. 

In lean and mean years, managed properly, capturing the carry might be the only line-item profit we have. On-farm storage offers the chance to bypass the middleman. A free economy isn't always a fair economy, but you can do something about it. Someone will get paid to hold the inventory, and it might as well be you. For more on state-by-state storage history, email http://info@gulkegroup.com and I will share an electronic copy.