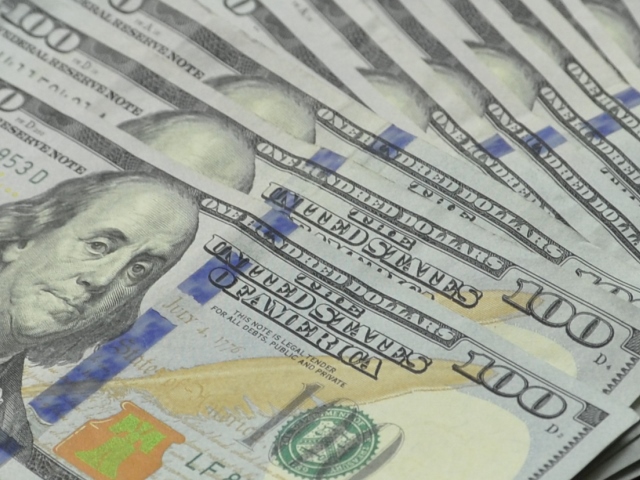 The U.S. Dollar Index (trading symbol USDX) is a measure of the value of the dollar relative to a basket of U.S. trade partners' currencies. It is weighted as follows: 
Euro, 57.6%
Japanese yen, 13.6%
Pound sterling, 11.9% 
Canadian dollar, 9.1%
Swedish krona, 4.2%
Swiss franc, 3.6% 
USDX goes up when the U.S. dollar gains strength (value) compared to other currencies. 

A revision of the make-up of the basket is overdue. China, Mexico, South Korea and Brazil are major trading partners that are not part of the index. Argentina also is left out of the basket, but its currency relationship and Brazil's are especially important to the global corn and soybean trade.  
Historical Highlights. The chart below shows eight points of historical importance coinciding with U.S. dollar movements from 1995 to the present. 

No. 1: Represents the end of a long period of uninterrupted economic growth from 1994 to 2000. A new administration took office afterward and was plagued by increased spending during the Iraq War. 

No. 2: Marks the 9/11 attack and subsequent rally, which was soon thwarted by the Wall Street financial debacle.

No. 3: Shows how an attempted recovery turned out to be a dead-cat bounce, followed by a further collapse because of the housing bubble.

No. 4: Illustrates the bottom we finally reached on the promise of "hope and change."  

No. 5: Highlights a post-election honeymoon rally that largely continued financial stimulus, bailouts and quantitative easing. It halted as the market bought more time and information for the next six years.

No. 6: Reveals the tightening trading spiral that finally created a breakout to the upside in 2014. The downward spiral of ag commodities also began here.  

No. 7: Marks a technical retracement of 61.8% of the total fall from 2000 to 2008. A new plateau of sideways trading lasted 18 months as the market digested news of an improving economy

No. 8. Brings us to another presidential administration that threatens to shake things up economically, reflecting new highs for the eight-year rally. 
Bottom Line. The next surge higher will be No. 9. If we see a 20-point post-election reaction, as we saw in 2009, the old highs made in 2000 are in our future.  

The action of the dollar has so far not influenced demand for U.S. corn and soybeans thanks to last year's South American production problems.  

But if there are normal conditions, the dollar could play a big part in price discovery, and not only for ag production. That does not bode well for continuing the "buy American" focus of the past year.