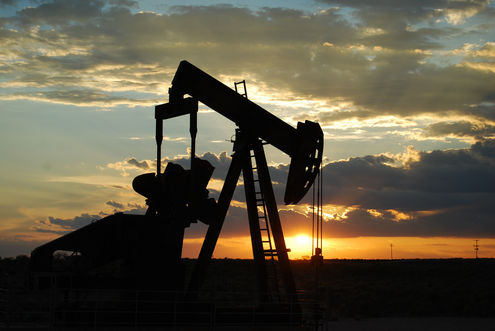 The collapse in energy prices, as measured by crude oil, should have offered some relief on the costs of our chemical and fertilizer inputs. Perhaps prices will reflect a more current price structure once "old inventories" held by suppliers have been sold?  

Winter is a busy time for The Gulke Group, as we host seminars  throughout the growing regions. One common theme has been the lack of advanced input purchasing by producers compared to previous years. Fall application of fertilizer lagged appreciably, partly because of the late harvest in the northern half of the Corn and Soybean Belts. Pre-pay seed corn sales also are lagging. 
Supply And Demand Swings. Many producers attribute purchasing shifts to disappointment over commodity prices, on-farm crop inventories from 2013 and 2014 and a general disgust for the lack of price response by suppliers. They perceive a double standard whereby input prices that rose in profitable years of production ag are not yet responsive to reduced profitability. USDA forecasts net farm income at $73.6 billion, down from a record $129 billion in 2013. A $50 billion drop should affect buying habits. 

The chart on this page shows the evolution of crude oil. I have labeled it with letters to illustrate how price can incentivize supply and curb demand: 

A. Prices begin to rise on "hints" of our first formal energy policy.
B. Renewable Fuel Standard (RFS) wins approval.
C. RFS revised higher.
D. Crude approaches $150 in 2008 as predictions of a supply shortfall flood the media and alternative energy 
and conservation gain traction.
E. Collapse of housing and financial sectors 
culminates in $35 oil one year later.
F. Price recovers 70% of loss and sustains while incentivizing fracking and Bakken exploration.
G. Price collapses as U.S. achieves energy independence and Saudis maintain supply pressure.
Economic Growth Continues. For years, we've heard high-priced energy deters economic growth. That has changed. The world is producing much more supply than demand in spite of emerging countries requiring more.  

The collapse in oil prices will create job losses, but will job growth from increased disposable income overshadow them? The average after-tax monthly savings per household might be as much as $139 thanks to the oil price decline, one estimate shows. This represents a huge increase in discretionary income to be used to buy stuff. There seems little, if any, economic disadvantage to lower energy prices except for those who produce it.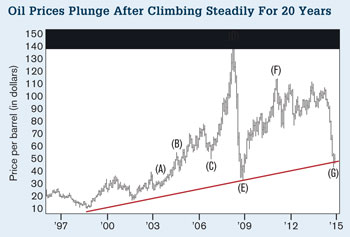 The cost of oil over the past 20 years illustrates how price can incentivize supply and curb demand. I chose to lock in off-road fuel needs in January 2015, as it seemed like a no-brainer, and I locked in at least one item below last year's prices.