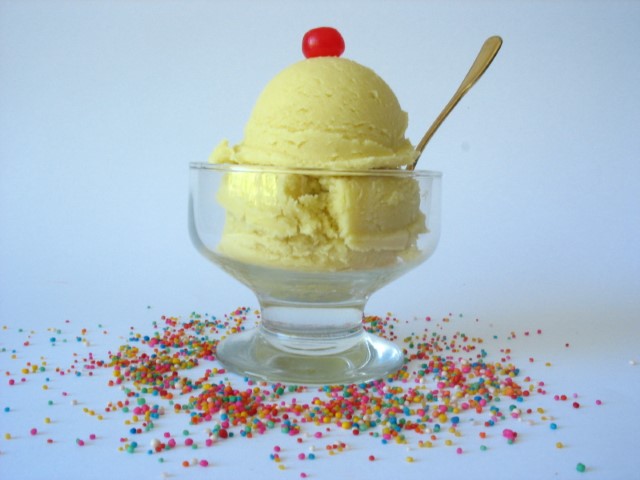 Every man, woman and child in this country eats on average an ounce of ice cream a day.

And that's just the tip of the iceberg, according to new per capita consumption data from USDA. The best news: Consumption of most dairy foods just keeps on growing.

Per capita consumption data is one of the key metrics used to measure progress or a lack thereof.
In the case of dairy, it looks at total U.S. annual consumption and divides that figure by the number of people in the country each year.

Per capita is a bite-size piece of data. We can visualize an ounce of ice cream much easier than we can picture the 1.1 billion gallons of frozen milk, cream, sugar and other ingredients to make the good stuff.
So, let's take a look at how dairy consumption did last year and, for perspective, I pulled some data from 2003. First, the bad news.

Ice cream consumption has been on a slippery slope for several years. Usage has dropped about 10% over the past 10 years. It fell to 22 lb. this past year. Cottage cheese is the other laggard. Per capita sales in 2013 were a mere 2.1 lb. Just 10 years ago, it was 2.7 lb. Thirty years ago, consumption was
almost 5 lb. a year.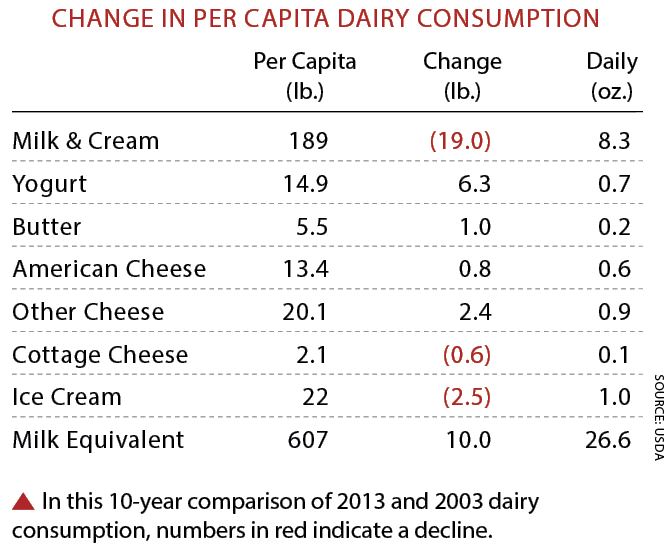 On a much happier note, growth in the cheese business keeps on rolling. In 2013, the average American consumed more than an ounce and a half of cheese every day—1.6 oz. to be exact. Ten years ago, we were consuming 1.3 oz. a day.

Three-tenths of an ounce doesn't sound like much of an increase until you understand that, on average, more than 300 million people are each eating an extra 0.3 oz. a day. That's an additional 164 semi loads of cheese each and every day.

Per capita American cheese consumption totaled 13.4 lb. in 2013, up from 12.6 lb. in 2003. Other (than American) cheese use grew at an even faster rate; up 2.4 lb. to total 20.1 lb. during 2013.
Everything is better with butter. Per capita use of butter has increased by 1 lb. during the past 10 years and usage now totals 5.5 lb. per annum. I don't own a television, but I've been told that much of the credit for this increase should be given to the reality-type cooking shows that have become so popular.

I prefer to believe it is the nice, clean flavor of the product and the simple ingredient label: cream (and sometimes salt)—none of those multi-syllable, tongue-twister ingredients—that makes butter a better choice.

And finally, our new best friend—yogurt. It seems that every man, woman and child is eating yogurt these days. Per capita usage of yogurt hit 14.9 lb. during 2013—up 6.3 lb. (73%) from 10 years ago.
Happy Per Capita.