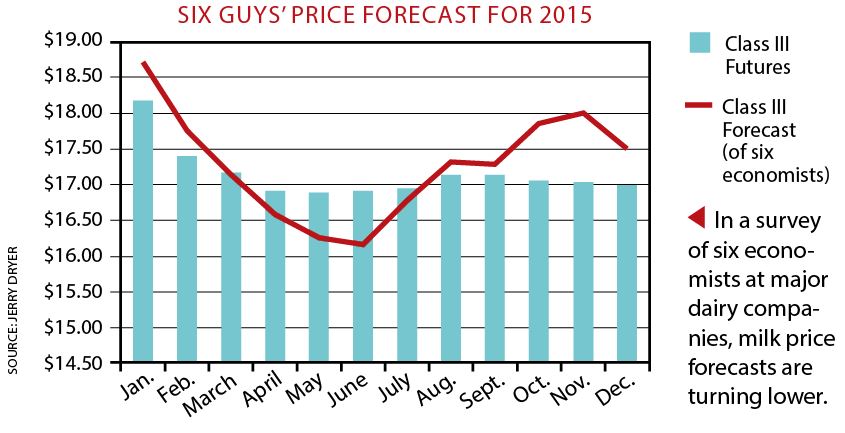 Just as producers get accustomed to operating in the black, lower milk price are in the cards.

It looks like the Class III milk price will average more than $22.50 this year; Class IV, more than $22—both record highs by a substantial margin. But multiple forecasters have lower 2015 prices.

My forecast is lower than that: Class III is pegged at $16.59, with a low of $15.73 in July.
USDA says the Class III price will average somewhere between $17.25 and $18.15 (mid-point, $17.70) next year.

My poll of dairy economists has the Class III price averaging $17.17. Each month, I survey six economists actively engaged in the dairy business. In their current assessment, the high forecaster has Class III averaging $18.06 next year and the low forecaster, $17.01.
Class IV forecasts also put me at the bottom. I'm expecting an annual average of about $15.95. This time, I do have a fellow forecaster sharing my vision and the high is $17.41. USDA's Class IV estimate ranges 50¢ on either side of $17.95.

These price forecasts reflect many issues putting downward pressure on the U.S. market. Milk production has been strong in Europe and Oceania. Chinese demand, which supported international prices, dried up in the second quarter and prices turned south. Then in August, No. 2-buyer Russia slammed the dairy market with a ban on imports from the European Union and Australia.

The good times are in the history book. Get ready for lower milk prices. 
Jerry Dryer is the editor of Dairy & Food Market Analyst, www.dairymarketanalyst.com. You can contact him at: