Feeder cattle are losing leverage thanks to large seasonal influx, but margins are still holding.
By: Andrew Griffith, University of Tennessee

FED CATTLE:
Fed cattle traded steady to $1 lower on a live basis compared to last week. Prices on a live basis were mainly $142 to $144 while dressed trade was mainly $230 to $232. The 5-area weighted average prices thru Thursday were $144.16 live, down $0.53 from last week and $230.72 dressed, down $1.54 from a week ago. A year ago prices were $124.81 live and $199.70 dressed. There was an increase in nearby live cattle futures prices this week, but the only effect it had on live cattle cash prices was the fact it weakened the basis. Feeders have lost most of their leverage due to the seasonal increase in market ready cattle. This leverage has shifted to packers which are taking every opportunity to increase margins. The decline in fed cattle prices have not hurt feedlot margins too badly, but feeders do not like to see margins decline in the slightest after facing tough margins the past few years. Fed cattle prices are expected to continue declining throughout the summer before finding a toe hold during the fall months. A major player in feedlot margins will hinge on corn and soybean production the next few months.
BEEF CUTOUT:
At midday Friday, the Choice cutout was $233.32 down $0.33 from Thursday and up $1.72 from last Friday. The Select cutout was $222.74 down $1.03 from Thursday and up $1.80 from last Friday. The Choice Select spread was $10.58 compared to $10.67 a week ago. Beef prices continued to strengthen immediately following Memorial Day as Memorial Day weekend is generally a strong time period for beef. Many retailers are gearing up for Father's Day in a couple of weeks which also tends to be a fairly active grilling day with beef being served in many households. The continued strength in Choice and Select beef markets coupled with a slowly declining fed cattle price has been a welcome relief for beef packers while also providing them an opportunity for positive margins. Packers have been able to achieve positive margins by monitoring and limiting the slaughter rate while also benefiting from a time period when fed cattle availability is seasonally strong. The Choice Select spread has continued to stagnate in the $10 region at a time when it is generally widening due to an increased supply of Select beef and a demand for higher quality Choice cuts. This may or may not indicate a change in beef consumption habits where consumers are trading down from high valued cuts to ground product.


TENNESSEE AUCTIONS:
On Tennessee auctions this week compared to a week ago steers and bulls were $1 to $3 higher. Heifers were $3 to $4 higher. Slaughter cows were steady to $2 higher while slaughter bulls were steady to $1 higher. Average receipts per sale were 441 head on 9 sales compared to 609 head on 11 sales last week and 410 head on 10 sales last year.


OUTLOOK: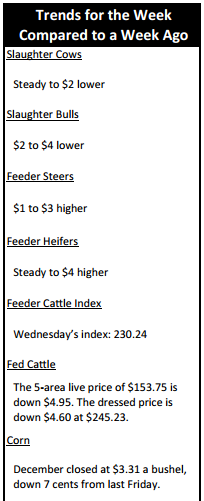 Cattle receipts were light given the holiday shortened week, but prices continued to show resilience with a strong uptick. Producers continue to concern themselves with when and where this market is going to peak, and how low the market will dip after it peaks. As has been said previously, this is a well-founded concern. However, even if the market price for calves and feeder cattle declined $20 per hundred-weight then producers would still be receiving about $60 per hundredweight more for 500 to 600 pound calves and $40 per hundredweight more for 700 to 800 pound calves than the same week a year ago. A $20 decline in cattle prices sounds atrocious given the level cattle have been trading. However, placing it in a historical perspective shines a brighter light on the subject which in actuality is still a strong price. Another concern potentially finding its way into the back of producers' minds is the hay and winter feed situation. Many folks have been out mowing and baling hay the past few weeks and many will continue this task into future weeks. At this juncture, hay yields for many producers are averaging 60 to 80 percent of average. The reduced production is primarily related to the late spring. However, portions of the state are starting to see symptoms due to a lack of precipitation. According to the U.S. Drought Monitor, 52 percent of Tennessee is either abnormally dry or in moderate drought including East Tennessee, southern Middle Tennessee, and part of southern West Tennessee. The abnormally dry conditions may not appear too daunting at this point, but similar conditions or worse throughout the summer will greatly impact available forage for grazing as well as second cutting hay yields. The cost associated with purchasing hay and winter feed supplements can quickly negate strong calf prices. Therefore, it is essential for producers to evaluate winter hay needs and current stocks as well as identify potential sources for purchasing hay in order to manage feed costs for future months.
TECHNICALLY SPEAKING: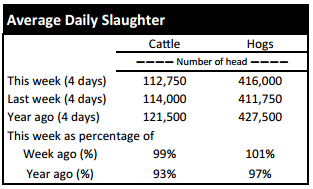 Based on Thursday's closing prices, June closed at $138.02. Support is at $136.77 then $134.54. Resistance is at $138.99, then $141.22. The RSI is 54.35. August closed at $139.18. Support is at $137.73, then $135.20. Resistance is at $140.25, then $142.77. The RSI is 59.24. October closed at $142.95. Support is at $142.65, then $141.33. Resistance is at $143.43, then $143.70. The RSI is 57.95. August feeders closed at $197.05. Support is at $195.66, then $193.11. Resistance is at $198.21, then $200.76. The RSI is 71.45. November feeders closed at $197.45. Support is at $197.03, then $195.78. Resistance is at $197.49 then $197.50. The RSI is 73.35. January feeders closed at $192.38. Support is at $192.35, then $191.08. Resistance is at $192.39 then $192.40. The RSI is 72.75. Friday's closing prices were as follows: Live/fed cattle– June $137.80 -0.23; August $138.60 -0.58; October $142.60 -0.35; Feeder cattle- August $197.05 -0.00; October $198.43 +0.03; November $197.58 +0.13; January $193.13 +0.75; July corn closed at $4.66 down $0.04 from Thursday.