Increased heifer retention is having an impact both on the fed cattle market and at the packer.
By: Andrew P. Griffith, University of Tennessee

FED CATTLE: Fed cattle traded steady to $3 lower this week compared to last week. Prices on a live basis were $162 to $164 while dressed trade occurred between $255 and $258. The 5-area weighted average prices thru Thursday were $162.97 live, up $0.11 from last week and $258.14 dressed, up $1.81 from a week ago. A year ago prices were $119.52 live and $190.18 dressed.

The fed cattle market seems to be in a state of flux as futures traders sold off contracts late in the week while the cash market was fairly steady. Most of the news coming from the cattle on feed report and July 1 cattle inventory report released last week supports a bullish fed cattle market.

Cattle slaughter rates have slowed significantly compared to last year, and the heifer slaughter rate supports the idea that cattlemen are attempting to expand cattle herds. The reduction in the number of heifers entering feedlots has further supported fed cattle prices, and it will continue to do so. That is because the retention of heifers means tighter feeder cattle supplies with the tightest supplies still likely on the horizon.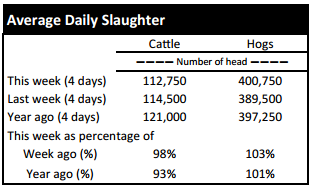 BEEF CUTOUT: At midday Friday, the Choice cutout was $263.77 up $0.11 from Thursday and up $5.87 from last Friday. The Select cutout was $258.71 down $1.89 from Thursday and up $4.07 from last Friday. The Choice Select spread was $5.06 compared to $2.66 a week ago.

Choice beef prices increased nearly 15 percent since the first week of June while Select beef prices have increased 17 percent over the same time period. Looking back to the beginning of the year, Choice beef prices have increased 30 percent since the first week of January while the Select beef price has increased 31 percent over the same time period.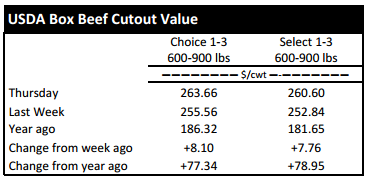 The most recent run-up in beef prices occurred during a period when beef prices are normally struggling through the dog days of summer. However, a short supply of cattle domestically and strong export demand has supported beef prices, and will continue to do so for the foreseeable future.

The narrowing of the price spread the market has witnessed is a seasonal tendency, but it may be more pronounced as the market place continues to see a higher percentage of animals grading Choice relative to Select. Another factor that may contribute more and more to the narrowing of the price spread is consumers trading down to Select product as the price of Choice beef escalates.
TENNESSEE AUCTIONS: On Tennessee auctions this week compared to a week ago steers and bulls were $3 to $11 higher. Heifers were $2 to $9 higher. Slaughter cows were $1 to $4 higher while bulls were $1 to $2 higher. Average receipts per sale were 725 head on 12 sales compared to 808 head on 12 sales last week and 790 head on 10 sales last year.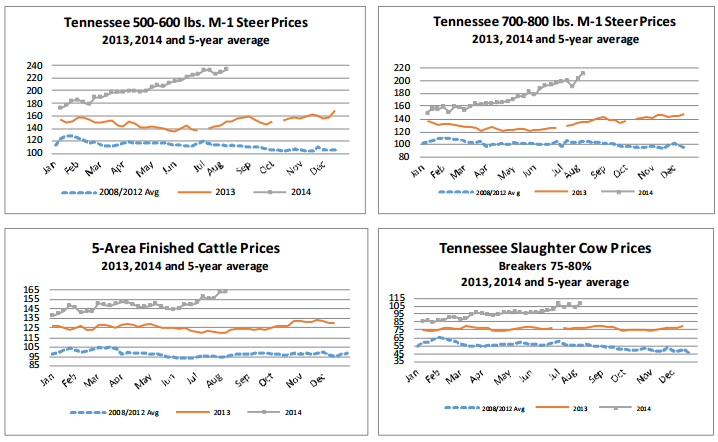 OUTLOOK: It is widely understood that prices throughout the cattle complex are near record high prices or are continuing to set record high prices, and there are only so many times a person can say that and it resonate with readers and listeners. However, record prices at the cow-calf producer level have major implications on profit potential for subsequent stages of production.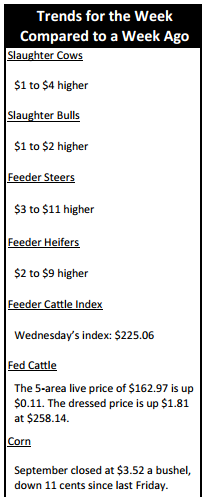 Many operators in the cattle business are margin operators including stocker producers, backgrounders, feedlots, and packing facilities. Thus, profit potential of the margin operator hinges greatly on the cost of securing animals and the value added to the animal.

Many of the margin operators have been faring well the past 12 months even though the financial risk they face has been skyrocketing due to the steady increase in cattle prices. Though they have been witnessing steady profits, cattle prices will begin to slow at some point.

When prices begin to slow or if they falter, margin operators will be put under severe financial stress. This stress may be standing at feedlot managers' gates right now. For instance, a load lot of 775 pound steers in Tennessee sold for $225 per hundredweight this week which is $1,744 per head while a load of 875 pound steers sold for $211 per hundredweight or $1,846 per head. If the cost of gain was assumed to be $80 per hundredweight then the breakeven price for the calf purchase and feed alone is in the $160 to $163 per hundredweight range. The stated breakeven does not include the cost of death loss or fluctuations in feed costs.

Live cattle futures on the December contract have been trading in the neighborhood of $156 to $159 which does not cover the cash cost associated with feeding and finishing cattle. The implication is that feedlot managers may have extremely thin margins or negative margins for the cattle currently being placed on feed. However, it appears feedlot managers are willing to continue paying strong prices for cattle ready to enter the feedlot as cattle supplies remain limited and will be limited the next several years. Producers will likely be looking at steady money the next several months.
TECHNICALLY SPEAKING: Based on Thursday's closing prices, August live cattle closed at $157.93. Support is at $156.89, then $154.22. Resistance is at $159.57, then $162.24. The RSI is 64.94. October live cattle closed at $157.32. Support is at $156.13, then $152.96. Resistance is at $159.31, then $162.48. The RSI is 58.83. December live cattle closed at $158.10. Support is at $157.55, then $155.40. Resistance is at $159.40 then $159.93. The RSI is 62.70. August feeders closed at $220.68. Support is at $219.47, then $216.22. Resistance is at $222.72, then $225.97. The RSI is 66.94. November feeders closed at $219.98. Support is at $218.28, then $217.03. Resistance is at $221.25 then $222.98. The RSI is 64.04. January feeders closed at $213.85. Support is at $212.20, then $211.28. Resistance is at $214.70 then $216.85. The RSI is 62.79. Friday's closing prices were as follows: Live/fed cattle –August $157.30 -0.63; October $156.00 -1.33; December $156.43 -1.68; Feeder cattle - August $220.28 -0.40; October $219.60 -1.43; November $218.20 -1.78; January $213.00 -0.85; September corn closed at $3.53 down $0.05 from Thursday.