The cattle markets are on a slight decline, but it's still better than last year.
By: Andrew P. Griffith, University of Tennessee
FED CATTLE: Fed cattle traded steady to $1 lower compared to last week. Prices on a live basis were $155 to $156 while dressed trade occurred between $246 and $248. The 5-area weighted average prices thru Thursday were $156.02 live, up $0.03 from last week and $246.54 dressed, down $0.68 from a week ago. A year ago prices were $120.71 live and $191.00 dressed.

Live cattle futures prices are jumping around like a child on a pogo stick with no destination in mind. Traders in the futures market are creating volatility that does not seem to exist in the cash market. The volatility in the futures market makes it difficult to hedge cash cattle successfully, because basis risk is starting to overshadow the traditionally more volatile price risk. Fed cattle prices on the cash market have not experienced the same type of price volatility the futures contracts have experienced. The futures price would normally converge with the cash price as the nearby contract approaches expiration and it may still occur. However, if previous months are any indication of the future, cash prices will likely remain at a premium to the futures the next few weeks.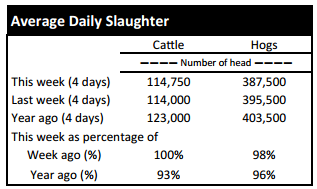 BEEF CUTOUT: At midday Friday, the Choice cutout was $248.32 down $1.49 from Thursday and down $2.97 from last Friday. The Select cutout was $242.27 down $1.97 from Thursday and down $2.39 from last Friday. The Choice Select spread was $6.05 compared to $6.63 a week ago. Not only have beef prices been moving contra-seasonally through the summer but they have been doing it at a torrid pace which has helped support thin packer margins. The dog days of summer however may have finally caught up with the beef market as the upward trajectory of prices has turned down this week.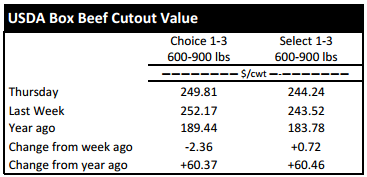 Beef prices are expected to continue to be pressured by the summer heat, but the short supply of beef and cooler fall temperatures are expected to elevate prices once again. Though Choice and Select beef prices have been strong through the summer, packer margins have been anything but robust. Packers have been forced to pay record prices for cattle, which has kept strong profit margins at bay. Packers will be looking to strengthen margins, but that will be difficult heading into the fourth quarter as the supply of market ready cattle thins. This will leave packers trying to push higher prices at the wholesale level while consumers will continue to face record retail beef prices.
TENNESSEE AUCTIONS: On Tennessee auctions this week compared to a week ago steers and bulls under 500 pounds were $10 to $18 lower while those over 500 pounds were $3 to $10 lower. Heifers under 400 pounds were $9 to $18 lower while those over 400 pounds were $2 to $5 lower. Slaughter cows were steady to $2 higher while bulls were $3 to $5 higher. Average receipts per sale were 875 head on 11 sales compared to 867 head on 12 sales last week and 673 head on 11 sales last year.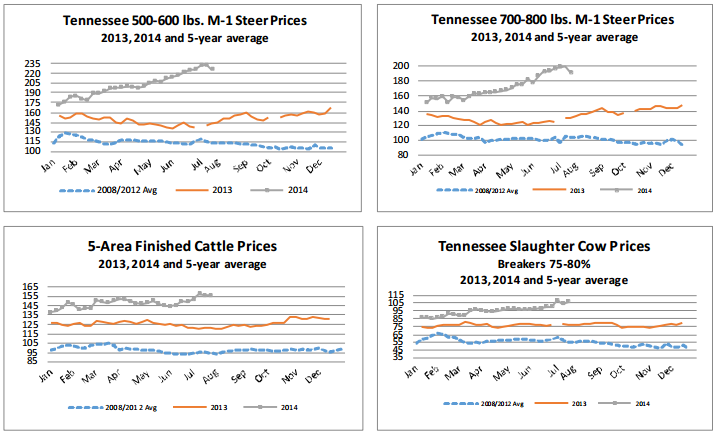 OUTLOOK: The signs of weakness in the local cash markets last week came to fruition this week in the calf and feeder cattle markets. The bottom fell out of calf prices this week which is not a totally unforeseen occurrence. Calf prices generally peak in the spring and then tail off through the summer and fall. However, current fundamentals in the cattle business supported calf prices through the middle of July. The structure that supported calf prices also contributed to the magnitude of the price decline as seasonality finally kicked in. Calf prices have the potential to decline further this summer and into the fall as grass availability fades and as producers bring the spring born calf crop to town. However, fall calf prices are expected to remain strong relative to previous years.

Similar to calf prices, feeder cattle prices lost some ground this week. However, yearling feeder cattle prices will continue to be supported as feedlot managers continue to purchase cattle to fill pens. Declining corn prices will also continue to support feeder cattle prices as it frees up capital to be spent on cattle instead of on feed. The factor that may be the most supportive of feeder cattle prices is the likelihood that farmer feeders will be looking to market their corn on the hoof instead of through a hopper bottom since corn prices continue to decline. It will likely take a significant negative external factor hitting the market to cause any major losses in the feeder cattle market, but strong prices have never been guaranteed and price protection should be considered.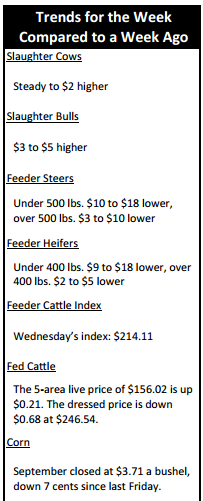 Slaughter cow and bull prices continue to remain strong with little information to indicate a turn in the market. Total cow slaughter as of the end of June is running 12.8 percent lower than a year ago and 10.1 percent behind the five year average. Additionally, it is expected lean beef imports from Australia will taper off as cattle inventory has been severely depleted due to drought which will limit future exports. These two factors have contributed to 90CL boneless beef prices increasing 45 percent from a year ago.
TECHNICALLY SPEAKING: Based on Thursday's closing prices, August live cattle closed at $150.65. Support is at $149.68, then $148.20. Resistance is at $151.15, then $152.63. The RSI is 56.95. October live cattle closed at $153.70. Support is at $152.77, then $151.27. Resistance is at $154.27, then $155.77. The RSI is 58.07. December live cattle closed at $153.85. Support is at $152.90, then $152.05. Resistance is at $154.05 then $156.30. The RSI is 57.66. August feeders closed at $211.60. Support is at $210.48, then $208.41. Resistance is at $212.56, then $214.63. The RSI is 56.14. November feeders closed at $211.80. Support is at $210.90, then $209.85. Resistance is at $211.85 then $211.90. The RSI is 55.21. January feeders closed at $206.78. Support is at $205.53, then $204.30. Resistance is at $207.00 then $207.03. The RSI is 54.45. Friday's closing prices were as follows: Live/fed cattle –August $151.63 +0.98; October $154.33 +0.63; December $154.55 +0.70; Feeder cattle - August $211.65 +0.05; October $212.55 +0.20; November $211.90 +0.10; January $206.75 -0.03; September corn closed at $3.71 down $0.08 from Thursday.