Advisers Take Their Time
Relatively few cash sales have been made on 2010 corn as advisers and farmers alike were not happy with prices early in the marketing window. Now, with higher futures price opportunities, elevators have widened basis, so cash prices have lagged. This has advisers looking more at futures hedges, options or hedged-to-arrive contracts, rather than cash contracts.
Basis is more than transportation cost, says Jay O'Neil, senior economist at Kansas State University's International Grains Program. "It is the market's adjustment factor," he says. "When futures are wacky, buyers may say, 'No, I'm not ready to buy into that.'"
Just a month or two ago, we were in a "supply push" market. Futures were rallying, but commercials couldn't find buyers, so basis widened. "Now, with wheat and oilseed production problems, there is less competition in the world market. End users perceive a need to own supplies, as evidenced by strong exports," O'Neil says. "We will see basis rise."
Key Market Factors
> The U.S. is an "island of supply;" strong exports continue.
> U.S. wheat acreage could jump.
> How much will South American bean acreage rise for the 2011 harvest?
—Linda H. Smith
---
September Stocks
The June Grain Stocks report led traders to think implied feed and residual use of corn during the second quarter was too large based on livestock numbers, use of distillers' grain and other factors. Several things could happen in the September report, says Darrel Good, University of Illinois economist:
• USDA reports larger-than-expected stocks; feed/residual use is lowered.
• Stocks stay low; USDA adjusts the 2009 crop downward.
• Stocks stay low; 2009 crop remains unchanged. The seemingly large use may be blamed on low quality and inefficiency requiring greater use.
• The large residual is never explained.
---
New Tool to Hedge Currency Risk
Investors don't have to be told that the price of one asset, whether it is stocks, commodities or currency, is more volatile than a market basket of assets. After all, that's the theory behind mutual funds and portfolios. Until now, however, dollar-index futures and options were limited to just six currencies against the dollar—all developed countries and not necessarily where investors and companies are doing business today.
The Wocu, or World Currency Unit, is a new trading index that allows hedging—or it can be used in place of sovereign currencies. When a buyer and seller are in two different countries, they no longer will have to agree on which currency the deal will be priced by.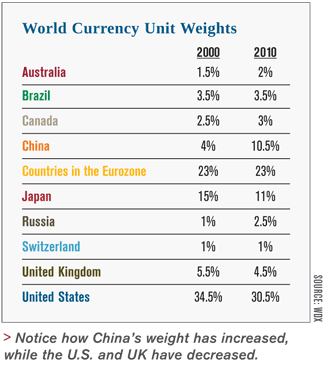 The Wocu includes the countries with the top 20 gross domestic products (GDP) as reported by the International Monetary Fund (IMF). The weights given to each currency are changed as GDP changes, so countries may be added or dropped from the top 20 and the weighting of the remaining countries adjusted. The U.S. dollar is one of the currencies in the basket, so American investors are not trading against it.
"We believe that because our basket includes the so-called BRIC countries [Brazil, Russia, India and China], which are increasing in importance in world trade, the Wocu index will mature to become the de facto index," says Andy Slater, director of sales for WDX Organisation Ltd., the owner and distributor of the real-time Wocu price quotation. "It is widely held that by 2027, China's GDP will outstrip that of the U.S. The Wocu basket will reflect that and the growing importance of the Asian zone."
Because the value of some currencies are rising while others are falling, the volatility in the value of the Wocu is less than that of currency. In fact, a study based on 2000 through 2009 values found that if crude oil had been traded via the Wocu, rather than with straightforward currency conversion, there would have been an average 10% savings in volatility.
"This applies to corn, soybeans and other commodities, as well," Slater says. "This can have a tremendous impact on the bottom line."
The Wocu is listed on the Polish Futures Market in Warsaw, and WDX is in discussion with other exchanges, the leading investment banks worldwide and IMF. "It will take time to gain traction, but some over-the-counter transactions are under way and we are confident the Wocu's risk-management value will carry it forward," Slater says. —Linda H. Smith
---
Financial Oversight Bill Could Limit Hedging
The massive, 2,300-page Dodd-Frank bill that became law on July 21 will touch the lives of most Americans. The question that is not so clear is "how?" At this time, most analysts believe it will not lead to a wholesale restructuring of the financial business, but it may result in higher costs in the financial industry and possibly some unintended consequences.
Depending upon how narrowly derivatives are defined, some worry that agricultural contracts may also be required to be traded and cleared through exchanges. According to Ohio State University ag economist Matt Roberts, "the primary intent wasn't to interfere with cash grain markets; one only hopes that it won't become collateral damage to the process. One area that will be affected is the burgeoning market for purely financial derivatives contracts for farmers to hedge fertilizer risk, or to simultaneously manage fertilizer and commodity price risk. Many brokers have been selling these in recent years, and they will probably be required to go through exchanges."
Hedge Status. A narrow definition of wording in the bill that was aimed at huge funds could result in a single futures position that doesn't strictly fit the hedge category (i.e., that a farmer or trader holds an equal and opposite position in the cash market) and could mean that farmers lose their hedge status. "Reowning" contracted or delivered grain would be an example.
This has income tax implications: Whereas farmers hedging to protect themselves against the risk of unfavorable price fluctuations treat profits or losses in futures or options as ordinary gain or loss, speculators are subject to mark-to-market rules and capital gains or losses. There are limits on how large a capital loss can be deducted each year.
For IRS information on tax treatment of futures and options transactions, see www.irs.gov/publications/p225/ch08.html. —Linda H. Smith
---

China Is Not Out of Corn
Chatter in Chicago runs along the lines of "China has no corn to export. Imports will only rise." China is importing, but it may be a short-term phenomenon driven by a reduced crop this past year and exports that are cheaper than domestic corn (see China Demand: Real or False Hope?).
An overlooked factor is that the export of higher-value corn-based industrial products has replaced the export of cheaper grain. This leads many to conclude that China no longer has corn available for export (see chart below).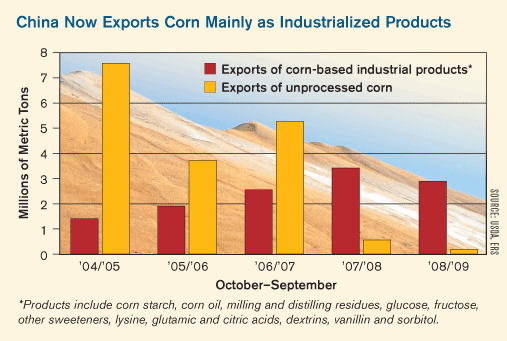 "In 1985, China used less than 2 mmt [million metric tons] for industrial processing. The amount reached 10.5 mmt in 2001, and then doubled to 20 mmt in 2004 and again to 40 mmt in 2006," says USDA economist Fred Gale. Growth slowed in 2007 and reversed in 2008 in light of the world recession, high commodity prices and the Chinese government's minimum corn purchase price being set at a level that erased profits.
"At first glance, growth in industrial and feed use of corn would be expected to raise demand to a level that will soon turn China into a corn importer," Gale says. "However, a significant portion of industrial-use corn emerges as feed additives and co-products." China's 40 mmt of processed corn may yield 8 mmt to 13 mmt of feed co-products that can be used in place of grain for feed. —Linda H. Smith
---
Top Producer, September 2010