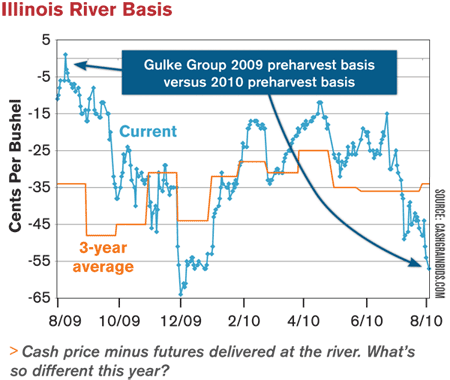 In the past, it was natural to assume the worst basis would occur at harvest and the best basis just prior to the next harvest. Proximity to an ethanol plant added a wrinkle. Perhaps blame can be placed on the poor quality of corn harvested in 2009 or the Chicago Mercantile Exchange's effort to converge the cash price of wheat with futures, but the basis-gone-wild game that began in 2007/08 seems to be worsening.
I could understand the excuses for the widening back in 2008, but I never agreed with the magnitude. I realize the need for elevators to expect producers to foot some of the "cost" of money to maintain margin calls during exploding markets. But at 6% interest, the cost to maintain a $1.50 margin call for the six weeks that December 2008 corn went from $6 to $7.50 and back down was about 1.5¢—not the 15¢ to 20¢ wider basis that was common during that price volatility. Although corn prices have dropped to half of what they were in the heyday of 2008, not only is basis still wide, but it's also volatile and unpredictable by location.

This Summer. Within a 20-mile radius of my farm in northern Illinois on June 29, just one day prior to the game-changing acreage and stocks report, corn was –25¢ for immediate delivery. Then September corn futures rallied 70¢ in the next six weeks, while the basis widened to 59¢, basically taking away half of the gain implied by the futures market. Worse yet, if I had delivered to the Illinois River terminals, the basis of September futures, which had widened to –73¢, would have made a mockery of the summer rally.
If I elect to not be subject to the "great basis robbery" and store for December delivery at a basis of –38¢, I could pick up 50¢ (–73¢ September at $4.03 futures versus –38¢ December at $4.18 futures), for an annualized return on investment of 45% (15% for four months).
It is certainly no wonder that the buyers/exporters we call commercials aren't in the farming business! Handling our corn production makes more sense economically than taking the risk of growing it.
Managing Our Destiny. In my early years of farming, I complained to my local buyer about what seemed like gouging via wide basis and widening the drying and discount schedules at will. His comment was, "If you think it is such a good deal, build your own," which I did over time.
On-farm storing/drying facilities paid for themselves quickly under the Farmer-Owned Grain Reserve program that paid us 26¢ per year for storing the surpluses of the 1980s. Never did I expect to gain double that amount in half the time in the absence of government policies.
Over time, I suspect that even at twice the cost per bushel to build, on-farm storage will become an income generator on your farm, as it did mine.
Commercial drying and 2009 quality discounts approaching $100 per acre make the blending flexibility of on-farm facilities another plus. Marketing decisions have become two-faceted: pre- and postharvest. Cash contracting may be less of a hassle, but you may leave a lot of money on the table.
If producing and marketing offered equal risk and reward, ADM, Cargill and Bunge would be in the production side of ag as much as they are in the marketing side. Remember, you will build someone a grain bin; it might as well be on your farm. 
 
Jerry Gulke farms in northern Illinois and North Dakota and has a consulting office at the Chicago Board of Trade. Contact him at jerry@gulkegroup.com or (312) 896-2090.
---
Top Producer, September 2010